Desserts to Die For:
Snickerdoodles to Chew not Spew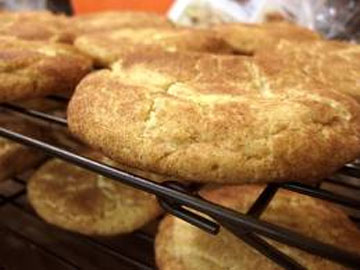 I do not like crunchy cookies. I would not like them in a boat, I would not like them on a goat. I would not like them laced in silk, I would not like them served with milk! Okay, enough with the Dr. Suess, but I just like my cookies chewy. Most snickerdoodles I try (one of my favorite cookies) are crispy. I made this recipe the other day and remembered how much I like them. They are so soft!
---
Snickerdoodles
Ingredients:
1 cup

margarine

, softened
1 1/3 cups
sugar
2
eggs
1 1/2 teaspoons
cream of tartar
1 teaspoon
baking soda
1 pinch

salt

or 1/8 teaspoon slightly rounded
3 cups
flour
4 tablespoons
sugar
1 tablespoon
cinnamon
Directions:
Mix margarine and sugar until smooth, add eggs. Mix well. Add cream of tartar, baking soda, salt. Gradually add flour. In separate bowl, mix cinnamon and sugar. Roll dough into 1 inch balls, then roll in cinnamon sugar mixture. Bake at 375 degrees Fahrenheit for 6 1/2 minutes. Remove from pan as soon as they hold their shape.

Recipe formatted with the Cook'n Recipe Software from DVO Enterprises.
---
Snickerdoodles on rack image:
http://t1.gstatic.com/images?q=tbn:ANd9GcTC2pOqmSsLiD3kS6pA_p5GMiIZXhAAeccqa7Zqtk_3WmVesUAXK7dx78yuRQ
Snickerdoodles on plate image:
http://2.bp.blogspot.com/_iQNEnV_E8MA/SSWM5UY1zUI/AAAAAAAAB74/Zy047izDz64/s400/DSC07931blog.JPG