Luscious Ways to Top Pancakes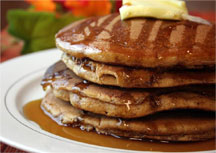 Our good friends at Prepared Pantry (www.preparedpantry.com), in Rigby, Idaho, love to experiment with traditional foods. They're always looking for new ways to serve or otherwise jazz up family favorites.
And pancakes are a perfect example of one of the staples they toy with. I thought you might like their ideas, considering snazzy pancakes could make a perfect New Year's Day breakfast!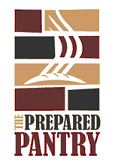 The Prepared Pantry suggests we consider syrup flavors other than maple, for instance. Vanilla and coconut cream, marionberry, raspberry, boysenberry, elderberry, strawberry-rhubarb, blueberry, huckleberry, peach, cherry, apricot, plum, lemon, buttermilk, cinnamon-apple, and cinnamon cream are some of their ideas.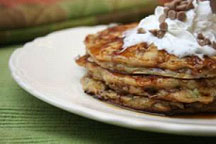 Then there's caramel whipped cream or any flavored whipped cream - always excellent on pancakes. Dennis Weaver, the gourmet chef and food experimenter guru, suggests spreading luscious Bavarian cream filling between pancakes before drizzling the syrup. He also likes making stuffed pancakes, filling them with bakery-grade fruit or cream fillings (fruit fillings: raspberry, lemon, cherry, blueberry, and apple; cream fillings: Bavarian, cream cheese, and chocolate Bavarian).
One of the things I love about the Prepared Pantry is that they consistently explain WHY they do what they do. Take stuffing a pancake, for example. I would just go buy a can of pie filling from the grocery store. Who needs bakery-grade fillings and what's the difference between those and grocery store canned fillings, anyway?
Here's Dennis' explanation: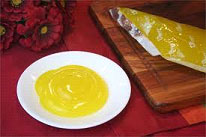 Flavor. The flavor is more intense. At least that is so with the fruit fillings. You get more fruit flavor in each bite.
Consistency. The consistency is different in two regards: The pastry filling is firmer, less runny, and the chop of the fruit is finer. In a bake shop, they'll apply the fillings with a pastry bag, which is what you need to do when stuffing pancakes. Whole cherries and large apple chunks won't flow through a pastry bag tip. You can also buy them in a tube (as shown) and just snip the end for applying the filling.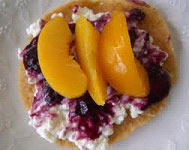 Prepared Pantry also suggests that besides unique syrups, we try adding fresh fruit slices (bananas, berries, peaches, even mangoes), canned drained crushed pineapple, chocolate chips, or some toasted nuts. And leave it to these guys to come up with a cool way to jazz up a typical maple-syrup-topped pancake: add crispy crumbled bacon and shredded Sharp Cheddar cheese!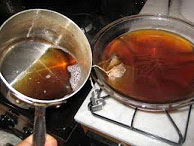 If you're excited about taking your pancakes to a whole new level with any of these ideas, you can create your own flavored syrups making a thick sugar syrup and adding your favorite flavorings (there are boatloads of recipes on the Internet). Or you can visit the Prepared Pantry site and find the syrups and fillings mentioned - many on sale right now, too.
Finally, (and here's another reason www.preparedpantry.com is one of my all-time favorite websites), Dennis is very generous with his talent and information and shares it all the time in the form of ebooks. So if you're looking for tips on how to cook up the best pancake on the planet, they offer a FREE ebook, The Perfect Pancake. Following the tips in this book has improved my pancake-making a lot. I send friends to this site just for this little book alone!
So here's to a Happy New Year, with perhaps one of the best New Year's Day breakfasts ever, and may your pancake making and serving never be the same again!
Sources:
www.preparedpantry.com
www.twosistersonekitchen.wordpress.com
www.thedelicioustruth.blogspot.com