6 Cool Tips for Warm Weather Meal-Making & Snacking
Cook'n Newsletter subscribers are great about getting back to us with thoughts, ideas, and questions. One question we've gotten a lot lately is "What do you suggest for getting dinner on during the hot summer months?" It's a super question, especially for those of us that either don't have or just don't use the air conditioner. So with that in mind, here are my ideas: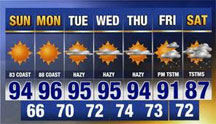 1. Watch the weather forecast. This is the first place I start with my planning. 101 degrees today? Then I know for sure we'll be having salad and rolls for supper.
2. Consider baking either in the early morning or late in the evening (if you bake at all). While evening baking does add heat to an already hot house, if you can bake around 8 or 9 PM, the outside ambient air temperature is starting to cool down (unless you live in Arizona!) and there is plenty of time for the house to cool down for the next day.
By the way, this advice applies to running the dishwasher as well. Run it at night. Even with the heated-dry feature turned off, dishwashers do emit some heat as they're washing dishes.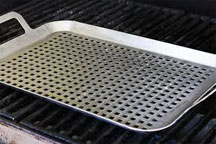 3. Use your grill. If you don't have one, get one. This device is truly a summer sanity saver! It's one of the easiest and tastiest ways to cook without heating up the house. Consider getting a grill/grid pan, which makes it easy to use the grill as an oven-substitute for roasting veggies. With the grill pan you can easily convert oven-based meat or veggie recipes to a grill-based recipe.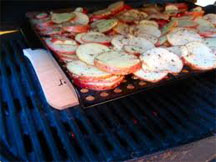 For instance, think of all the things you can do with grilled chicken and veggies? Gyros, wraps, chef's salad, and so on! With the grill pan, you can have hot, roasted potatoes as a summer side dish without adding one whit of heat to your home interior. You can even enjoy homemade pizza - hot off the grill. Life is good.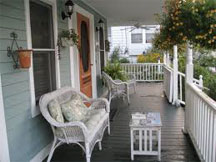 4. Use appliances outside. In a safe manner, of course - on an enclosed porch or deck, even in your garage. The slow cooker and bread machine are two examples that come to mind.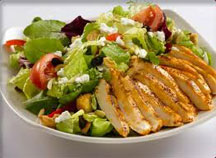 5. Eat simply. Salad and crackers (or rolls, or toast, or...) are a simple way to keep a healthy meal pattern going. Simple eating is especially good for digestion and of course, addressing weight issues as well.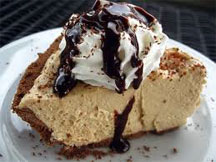 6. Stock up on no-cook snack recipes. Guacamole, salsas, dips for fresh fruits and veggies, no-bake cookies, pies, and other desserts, fresh fruit slushies and smoothies are just a few of the options out there. Orange Julius made with fresh-squeezed oranges is one of our favorites, but made with frozen OJ is just as acceptable on a hot, steamy day!