The Men and Women of Memorial Day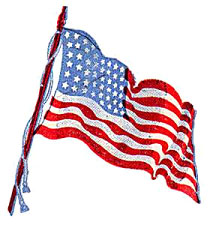 There are probably very few of us who do not know someone who served in the military defending the freedoms we love in America. There are many others of us who know of someone who died in defending those freedoms. Memorial Day is the day set apart to remember these fallen men and women.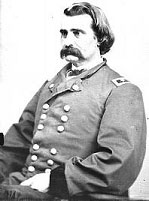 In 1862, General John A. Logan called for a nationwide day of remembrance for "the purpose of strewing with flowers, or otherwise decorating the graves of comrades who died in defense of our country during the late rebellion, and whose bodies now lie in almost every city, village and hamlet churchyard in the land". General Logan called this special commemoration, Decoration Day.
By the year 1890 every Northern state had claimed Decoration Day as an official state holiday, with the Southern states following the tradition after World War 1. Decoration day was officially changed to Memorial Day in 1967 and for years the date observed was May 30. However, in 1968 Congress passed what is known as the Uniform Monday Holiday Act, which established Memorial Day as the last Monday in May.
Are You Wearing a Poppy?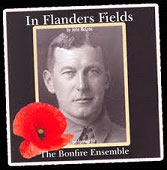 There are those who may wonder about the significance of the little red paper poppy that are given out by military veterans. The poppies refer to the poem written by Canadian physician, Lieutenant John McCrae. He wrote the lines following the death of a good friend in 1915, during a battle in France.
In Flanders fields the poppies blow
Between the crosses, row on row,
That mark our place; and in the sky
The larks, still bravely singing, fly
Scarce heard amid the guns below.
We are the Dead. Short days ago
We lived, felt dawn, saw sunset glow,
Loved and were loved, and now we lie,
In Flanders fields.
Take up our quarrel with the foe:
To you from failing hands we throw
The torch; be yours to hold it high.
If ye break faith with us who die
We shall not sleep, though poppies grow
In Flanders fields.
The story is told that McCrae was not satisfied with his poem and threw it away, only to have it retrieved and return to him by fellow soldiers.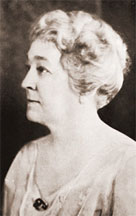 In 1918, after reading McCrae's poem, educator, Moina Belle Michael had an epiphany: it was her duty to hold "the torch" and to honor those who served and died for America. She grabbed an envelope sitting on her desk and wrote:
We cherish too, the Poppy red
That grows on fields where valor led,
It seems to signal to the skies
That blood of heroes never dies.
Moina then thought of the idea to wear red poppies on Decoration Day, now Memorial Day, in honor of those who died serving the nation during the war. She was the first to wear one, and sold poppies to her friends and co-workers with the money going to benefit servicemen in need. Shortly before Memorial Day in 1922 the VFW became the first veterans' organization to nationally sell poppies. Two years later their "Buddy" Poppy program was selling artificial poppies made by disabled veterans. Today, the little red paper poppy is made by disabled or hospitalized veterans of the American Legion Auxiliary. Volunteers from the Auxiliary distribute more than 25 million of these poppies in exchange for contributions; 100% of which go to assist and support veterans and their families. Funds are also used for the rehabilitation of veterans.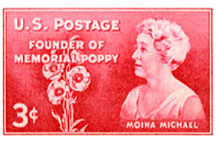 In 1948, four years after Moina's death, the US Post Office honored "The Poppy Lady" with a red 3 cent postage stamp. This honor was given to recognize a woman whose life-long humanitarian role was to honor and help rehabilitate veterans through her National Poppy movement.
While the Memorial Day celebrations of today are more about a 3 day week-end and bar-b-q with family, there are still those who see to it that our lost servicemen and women continue to be honored for their sacrifice.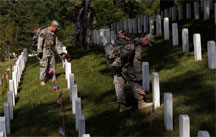 Every year American flags are placed on the graves at Arlington National Cemetery is what is called a "Flags In" ceremony. Members of the 3rd U.S. Infantry Regiment place over 220,000 of these flags at the graves of U.S soldiers.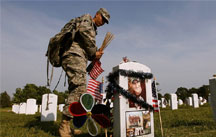 In the year 2000 Congress established a National Moment of Remembrance. They asked Americans to pause for one minute at 3 PM "in an act of national unity." The time was chosen because 3 PM "is the time when most Americans are enjoying their freedoms on this national holiday."
We at DVO honor our military men and women who have served and continue to serve this choice land of America. To those of you who gave your all, a simple "thank you" will never be enough.