Lemon Curd without Going to England
Several years ago Mr. Joker and I had the opportunity to tour England. One of the great treats provided by our little hotel was the 4 PM ritual of tea, with scones and lemon curd. After a long day of sightseeing, this was heaven! I never wanted to leave the English countryside and thanked Queen Victoria every afternoon, as I sunk deep into an over-stuffed chair and waited for the tea tray to be brought.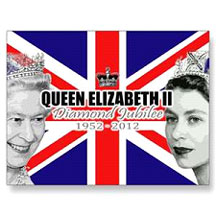 As much as I would like to return to England one day, I don't have to wait to sip my favorite chamomile tea, or make my own scones and curd. I always thought that this may be a bit difficult, (the curd part), but it isn't!
May I suggest that in celebration of Queen Elizabeth's Diamond Jubilee, we raise a dainty tea-cup in her honor, sit back, and enjoy our own lovely 4 PM ritual.
---
Lemon Curd
Makes 1 2/3 cups
Serves 12
3/4 cup fresh lemon juice
1 tablespoon grated lemon zest
3/4 cup sugar
3 eggs
1/2 cup unsalted butter, cubed
In a 2 quart saucepan, cream the butter and sugar
Add the eggs 1 at a time, blending very well into the creamed mixture
Add the lemon juice and lemon zest
Cook over medium-low heat preferably in a double boiler. If you don't have a double boiler, just place an aluminum mixing bowl on top of a pot of boiling water
Whisk constantly until thick enough to hold marks from whisk, and first bubble appears on surface, about 6 minutes. You are done!
Storing
You can make curd up to one week ahead of use. Cover surface with plastic wrap, and store in the refrigerator for up to 1 week.