Pumpkin - There's a Party Theme Goin' On!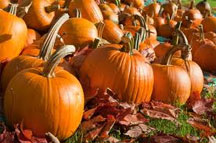 October and pumpkins - they go together like salt and pepper, sugar and spice, Laurel and Hardy... you get the idea. And give me a few pumpkins and I can throw one very cool dinner party!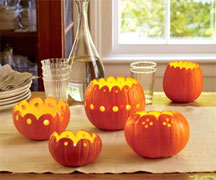 First, the table decor. To add to the table decor and create ambience, I would cut a candlestick-sized hole in three or five small pumpkins (we call them "pumpkinettes"), place candles in them, and set them down the middle of the table with brightly colored dried leaves arranged around them. A clever neighbor did more carving on them and created pretty votives for her party.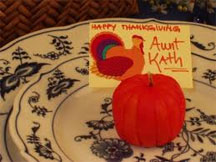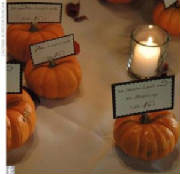 I also liked to use the tiniest pumpkins I could find as place card holders. With a slit cut at and angle in the squash itself, or in the stem, they held hand-lettered name cards nicely.
Next, food. The tough outer rind of the pumpkin makes it a perfect casserole dish. Yes. Wash it well, cut the top off and scoop out all the fiber and seeds. Then fill with your favorite casserole recipe. We always used a rice and ground beef recipe.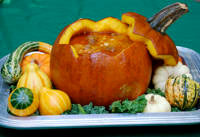 The reason a pumpkin makes such a fine casserole container is because the meat of this squash has little to no flavor on its own. It takes on the flavor of, and blends well with, whatever it is cooked with. Just follow your recipe directions in terms of baking - think of this pumpkin container as an edible Corning Ware dish. And you can see from the picture, like Corning Ware, you can serve from it.
That's the point - it looks so neat on the table! (Hint: Be sure, as the picture shows, to set the "casserole dish" on a serving platter so that if you happen to be a little too aggressive when dishing up the food and cut through the rind when serving, the casserole contents stays on the platter and doesn't leak onto your tablecloth.)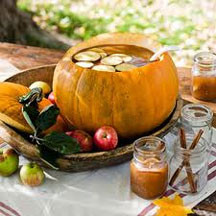 I use the same idea for a punch bowl. Just cut the top off, scoop out all the fiber and seeds and place dry ice chunks inside. Then add your punch and watch the fun begin as the spooky mist and fog emerges from the "punchbowl." Some folks will line their pumpkin with a glass bowl before adding the punch. We never did that and the punch was always just fine.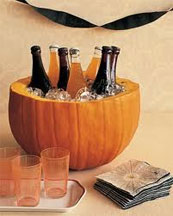 OR, it can work well as an ice bowl to keep your bottled drinks chilled!
But if you don't want to go the punchbowl route, try a pumpkin smoothie to round out the meal. This is one of the most nutritious pumpkin treats you can find. With only 50 calories per serving, a powerful dose of beta-carotene, and more than 100% of your daily vitamin A requirement, this thick and tasty smoothie squashes (food pun intended) all the competition (in comparison to the 400- to 600-calorie smoothies sold in stores nationwide).
---
Pumpkin Smoothie
Makes 3 Servings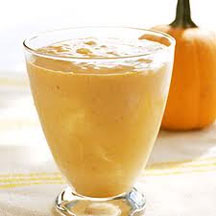 1/2 C canned (or home-cooked) pumpkin
2/3 C low-fat milk
1/2 banana (optional)
1/4 tsp cinnamon
1/8 tsp nutmeg
1 Tbsp sugar (I substitute 1 tsp stevia powder)
1 tsp vanilla
6 ice cubes
Mix all ingredients together in the blender and puree to your liking.