The Benefits of Green Tea
I went to the bank today. I don't know what was more depressing; my account balance, or the uber-large snow shovel waiting in the alcove. With snow already draped across our mountain range, it is only a matter of time before the white stuff creeps down into the valley where I live. What happened to summer? For that matter, what happened to fall? The only consolation is that winter is my beloved tea time.
I can drink my great herbal teas all year long, of course, but this hot delight is made for winter! My favorites are green teas. Research has proven their medicinal qualities. Green tea is a great source of catechins, a healthy antioxidant that can inhibit cancer cell activity and boost our immunity. With cold and flu season approaching, this should be a part of our medicine cabinet.
Other benefits include:
• Lower cholesterol levels and risk of heart disease
• Help protects against bacterial infections
• Promotes joint health and stronger bones
• Reduces inflammation
• Enhances the effects of antibiotics, even against drug-resistant bacteria and "superbugs"
• Detoxifies the body
• Supports the body's natural anti-aging processes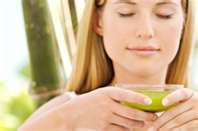 Another benefit is that sipping tea forces one to step back and relax. Stress wears the body down, which leaves it open to all of the viruses and germs that are looking for a home to dwell in. Just like it is impossible to hear banjo music and not tap your toes and feel happy, it is impossible to drink tea and not say "ah-h-h-h". Stress begone!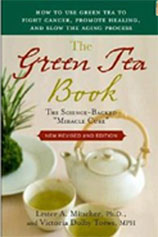 With so many varieties of Chinese and Japanese green teas to choose from, and in forms from loose leaf to bags, a good book to help sort out what would be best for you is The Green Tea Book. Written by chemist Lester A Mitscher and health write Victoria Dolby Toews, this book explores the research on green tea as it pertains to its many healing properties