Freezable Caramel Brownies
Sitting around with a handful of girlfriends at a dinner party, they'd asked me how I went to the beach with my family that afternoon, AND turned out the best dessert of the party! I brought my go-to caramel brownie recipe which is consistently a crowd pleaser. My answer for them was a little embarrassing at first, but since they are so delicious nobody cared- I freeze them!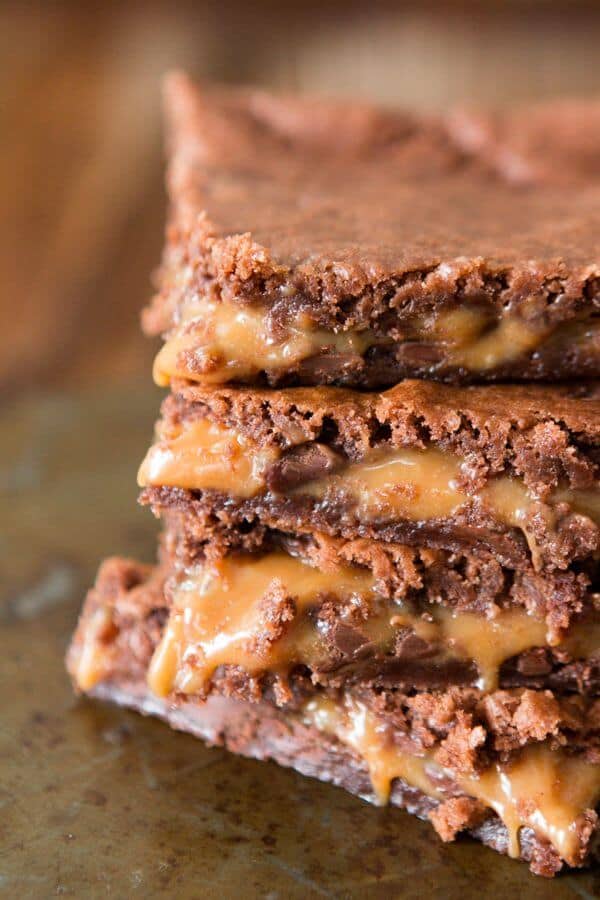 I always make a double batch of these brownies because if I'm dirtying all the dishes I'd like to get more mileage out of the food. These brownies go fast, so I'd even recommend tripling the recipe if you are cooking for a large group or want lots in your garage freezer for lazy nights after kid bedtime! I think the brownies are twice as good with pecans in them, but you can omit that ingredient easily if you don't like nuts!
Add Recipe to Cook'n
Here's what you need on hand for a single batch:
1 Box Betty Crocker (yes the kind matters) German Chocolate Cake

2/3 Cup Margarine, Melted and cooled

1/3 Cup Evaporated Milk

1 1/2 Cups Chocolate Chips (milk or semi sweet, I prefer milk!)
1 Bag Kraft Caramels

1/3 Cup Evaporated Milk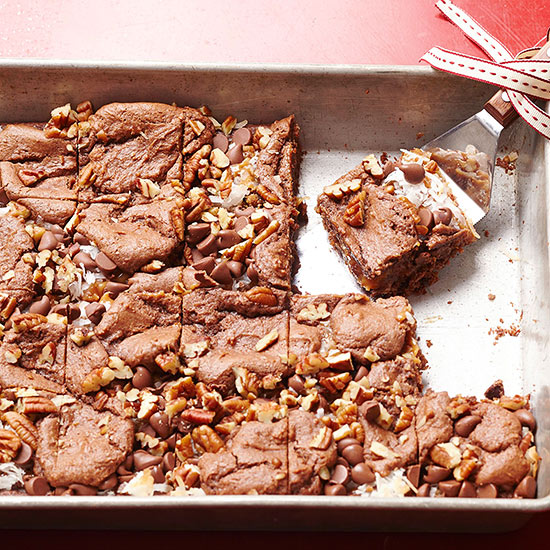 Here's what to do:
Heat the oven to 350 degrees.

Spray a 9×13″ pan with nonstick spray.

In a bowl, mix the dry cake mix with the milk and margarine.

Pour 1/2 the batter into the pan and gently spread it out. It will be very thin.

Place remaining batter in the fridge.

Place in the oven for 8 minutes.

Meanwhile, unwrap the caramels (or recruit a child to unwrap the caramels!) into a glass bowl and add 1/3 cup evaporated milk.

Microwave on high for 30 second intervals, stirring between until smooth.

Remove the brownies from the oven and sprinkle with chocolate chips.

Pour the caramel over the chocolate.

Remove the remaining batter from the fridge place palm size pieces over the caramel like a patchwork quilt until all of the caramel is covered.

Now bake it for an additional 16 minutes.

Remove from the oven all allow to cool before serving. You can also place in the fridge to help the caramel really set up which makes for easier serving!

If you want to freeze it then I cool it in the fridge and then double wrap about 4"x4" squares in cling wrap and freeze! Just take out a square about ten minutes before you want to eat it and serve over good quality vanilla ice cream!
This is one recipe I can wholeheartedly recommend without any reservations. Eat them at home, at a dinner party or bring to a friend- you'll be the talk of the table! Try it out and thank me later!
Sources:
https://ohsweetbasil.com/moms-famous-caramel-brownies-recipe/
https://www.bhg.com/recipe/german-chocolate-and-caramel-brownies/

Stefanie Hathaway
Monthly Newsletter Contributor since 2016
Email the author! stefanie@dvo.com