Chocolate Filled Creme Puffs
Add Recipe to Cook'n
Serving size:
10
Calories per serving:

246




Ingredients:
1
cup
water
1/2
cup
butter
1
cup
flour
1/2
teaspoon
salt
1
teaspoon
sugar
4
eggs
1
package
chocolate instant pudding & pie filling
mix
2
cups
milk
1
(8-ounce) package
cream cheese
1
small carton cool whip
chocolate instant pudding & pie filling
mix
, melted for drizzling
Directions:
In a medium sauce pan bring water, butter, salt and sugar to a rolling boil.
Stir flour in vigorously until dough is formed and there is a film on the bottom of the pan. This usually takes about 1 minute.
Remove from heat and cool for a couple of minutes.
Add dough to a mixer and beat in eggs 1 at a time until mixture is smooth.
Use a tablespoon and a rubber spatula and drop tablespoon size balls on a cookie sheet lined with parchment paper.
Wet fingers and gently press down high peaks.
Wash with 1 beaten egg.
Bake at 375 for 20-25 minutes.
Remove from oven and cool completely.

For the filling Make pudding as directed and then beat in cream cheese.
fold in Cool Whip when pudding is set and put in a bag with a large tip and refrigerate until cream puffs are cooled.

Slice the top off of your cream puff about 3/4 of the way up and pipe in filling.
Replace top and drizzle with melted chocolate.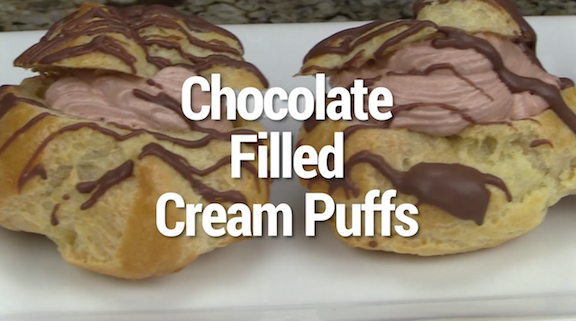 Add Recipe to Cook'n