My Favorite Egg Substitute for Baking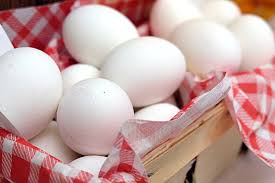 I should begin this article by saying I really have nothing against eggs. Eggs, especially egg whites, are a wonderful and healthy source of protein. I do, however, enjoy experimenting with new ideas in the kitchen, and it's always helpful to have an emergency egg substitution on hand. (Am I the only one that has a hard time remembering to buy eggs at the store?) Furthermore, as egg allergies are on the rise and vegan lifestyles are becoming more popular, it's a good idea to have some "egg-free" tricks up your sleeve.
My favorite egg substitute for baking is flaxseed; more specifically, flaxseed meal. For many baked goods, you can substitute 1 TBSP of flaxseed meal plus 3 TBSPs of water for one egg in a recipe. Before adding the flaxseed to your recipe, it is important to first mix the flaxseed with the water (in a separate dish) and let it sit for several minutes. You will notice that the longer the flaxseed sits in the water, the more the mixture will thicken and have an egg-like consistency. Once it has achieved that egg-like consistency, you can add it to your recipe.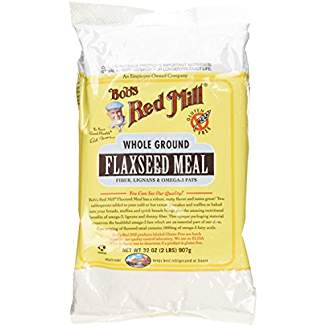 One of the reasons I love using flaxseed is for the health benefits. Flaxseed is an excellent source of Omega-3 fatty acids. It is helpful in managing cholesterol and is a great source of fiber. Flaxseed is filling, but low in calories. There are also studies that say flaxseed can help prevent cancer and lower blood sugar. Doesn't this sound like it might be worth adding flaxseed to your diet?!
Maybe it's just my imagination because I love flaxseed so much, but I also think baked goods that are made with flaxseed are more moist. The texture is better too; dense, but fluffy. If you are new to flaxseed, here is a great recipe to start with. I have experimented with different banana bread recipes for years and this is BY FAR my favorite. The recipe was originally from my good ole' Betty Crocker Cookbook, but I tweaked it a bit to achieve perfection. Enjoy!
Moist, Flaxseed Banana Bread
2 T flaxseed meal
6 T water
1 ¼ cups sugar
½ cup butter
1 ½ cups (about 3 medium) mashed, very ripe bananas
½ cup plain Greek yogurt
1 tsp vanilla
2 ½ cups all-purpose flour
1 t baking soda
1 t salt
Optional – 1 cup of chopped nuts or chocolate chips
Directions:
Preheat oven to 350 degrees. Use shortening to grease the bottoms of two loaf pans. (8 ½ x 4 ½ x 2 ½ inches)

Mix the flaxseed and water in a small cup and set aside.

Cream sugar and butter in a large bowl. (I use my Kitchen-Aid Mixer). Add mashed bananas, Greek yogurt, and vanilla. Beat until smooth. Add the flaxseed mixture and stir until well blended.

Stir in flour, baking soda, and salt until just moistened.

If you choose to add nuts or chocolate chips, stir them into the mixture last.

Divide the batter evenly between the 2 loaf pans.

Bake 50 minutes or until a toothpick inserted comes out clean.

Cool pans on a wire rack for 10 minutes. Use a knife to loosen the sides of the loaves from the pan and carefully turn the pan upside down to get the bread out.

Cool completely and cut into slices.
Add Recipe to Cook'n
Sources:
https://www.healthline.com/nutrition/benefits-of-flaxseeds
Betty Crocker Cookbook

Cristina Duke
Monthly Newsletter Contributor since 2014
Email the author! cristina@dvo.com