Skip the Chocolate; Give the Gift of Soup!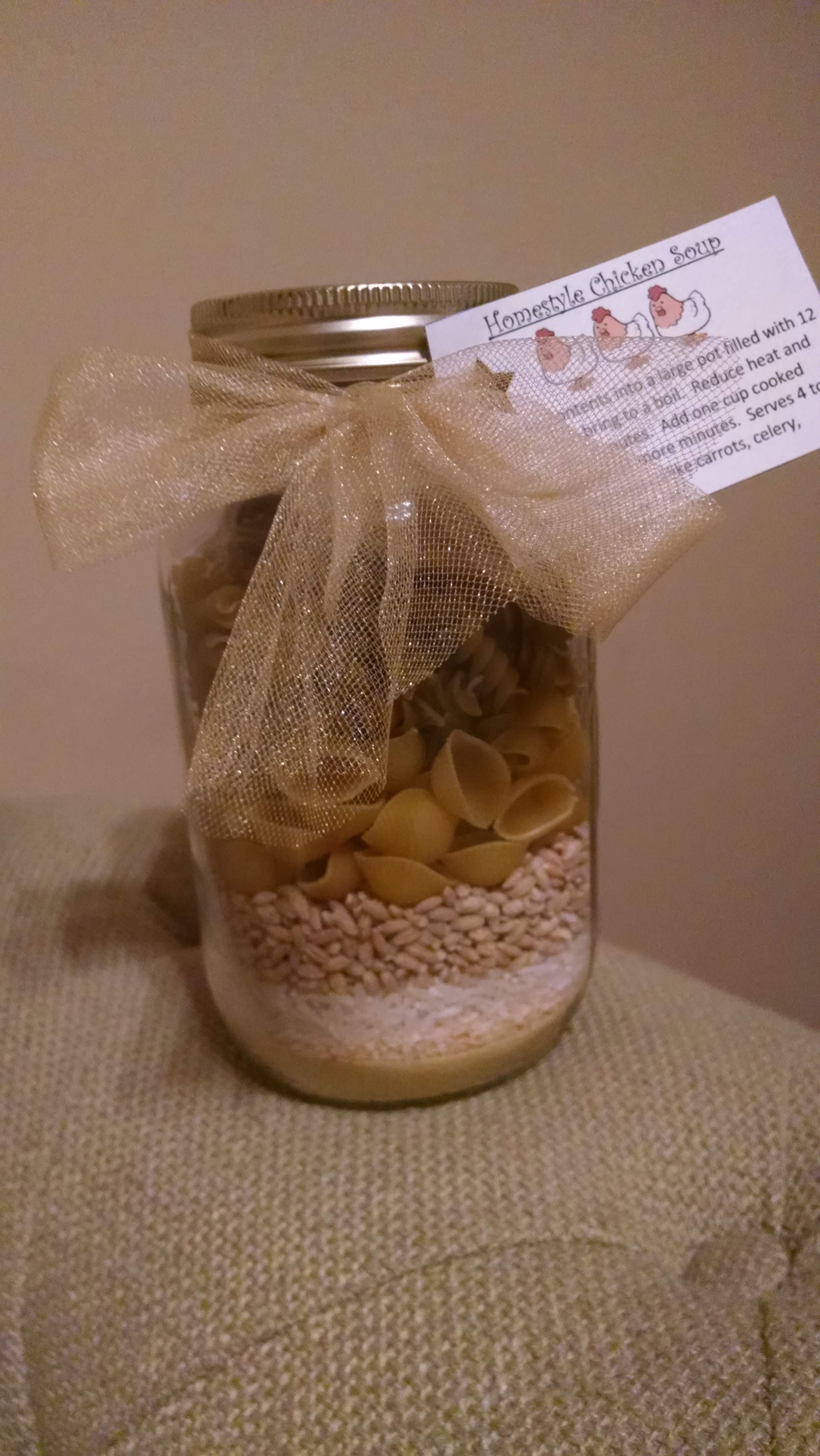 At my church, I am lucky enough to work with the 9-year-old girls. Twice a month, we get together for a week-day activity. Sometimes the activities are religious in nature, other times we learn life skills, but mostly we just have fun. Recently we did an activity where we learned about nutritious meal planning, (which is kind of up my alley). We talked about preparing balanced meals and looked through some cookbooks. At the conclusion of the activity, each girl made a "soup in a jar" to take home and use to prepare a nutritious meal for their family. I made a batch of the cooked soup for the girls to sample afterwards and they all loved it! (I was thrilled and amazed that they all loved it because this rarely happens at my house).
After the activity, we had some leftover ingredients so I decided to put together a few more jars of soup to give away as gifts. This particular soup in a jar was "Homestyle Chicken Soup". This soup is especially nice to give to people who are sick. And with the flu in full swing this season, I have had no problem finding people to give them to! I have also learned that people really appreciate getting a jar of soup ingredients. It may not be as tasty as chocolate, but soup in a jar is a much more practical and needed gift. Here is what we did to create the jar… Maybe you can give away the gift of soup this Valentine's Day too!
First, I bought quart-size mason jars. I would recommend buying the wide-mouth jars because they are easier to fill. I would also recommend purchasing a plastic kitchen funnel if you don't have one already. (I found some inexpensive ones at Walmart). The funnel really helped with filling the fine-grain ingredients. Gather all of your ingredients to layer.
Place ingredients in the jar in this order:
1/3 cup chicken bouillon powder
¼ cup dried, minced onion
1/3 cup long-grain rice, uncooked
2/3 cup pearled barley, uncooked
1 cup shell pasta, uncooked
1 cup spinach pasta, uncooked
After each layer, you may need to lightly bang the jar on the table to help the ingredient settle into a nice layer. When you are done adding the layered jar ingredients, you need to make a small plastic bag filled with the spices.
In a small ziplock bag, put the following ingredients:
1 Tablespoon garlic powder
1 teaspoon black pepper
1 teaspoon of dried oregano
Place the small ziplock bag on top of the ingredients in the jar and seal the lid. Your final step is to attach a small card with the instructions for how to make the soup. I created my soup instructions of the computer and tied them onto the jar with a piece of tulle.
Instructions:
Homestyle Chicken Soup

Pour all jar contents into a large pot filled with 12 cups of water; bring to a boil. Reduce heat and simmer for 45 minutes. Add one cup cooked chicken; simmer 15 more minutes. Serves 4 to 6.
Optional: Add veggies like carrots, celery, potatoes, peas, corn, etc.
Add Recipe to Cook'n
And there you have it! A wonderful gift for Valentine's Day or for the cold and flu season. And, of course, it wouldn't hurt to keep a jar or two for yourself. Enjoy!
Sources:
Gifts for Giving, Gooseberry Patch, Third Printing, November, 2002

Cristina Duke
Monthly Newsletter Contributor since 2014
Email the author! cristina@dvo.com