THE SECRET to Keeping Your Berries Fresher Longer!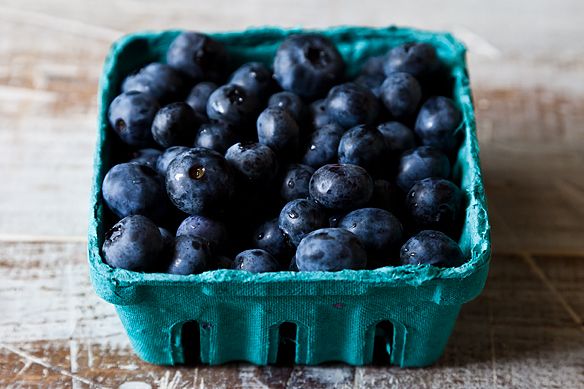 Fresh berries are one of the key ingredients to clean, healthier eating. But like many coveted objects, berries are both precious and frustrating, expensive and fragile.
What is more maddening than splurging on vivid, juicy berries at the market only to find that your fruity jewels have turned to mush—or worse, have been overtaken by dreaded mold—when you return to them for a mid-week treat?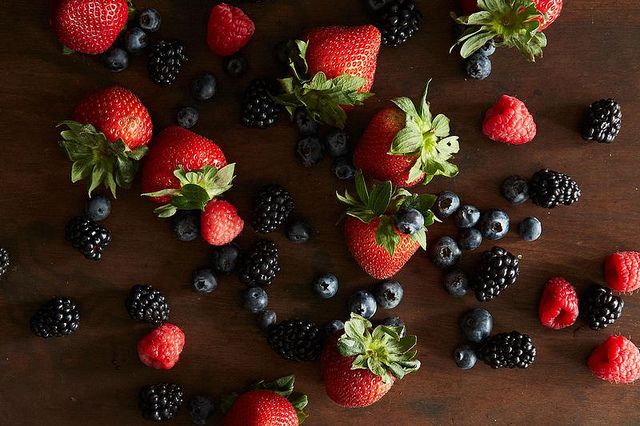 Well don't give up your berry regime. The pros at a favorite site, www.food52.com, know just how to deal with this dilemma.
Their advice is based on food science. The culprits behind berry mold are microscopic mold spores waiting to make a home of the friendly, moist skin of your gorgeous berries. Fortunately, there is a simple way to kill off the mold spores and bacteria that find your berries as delicious as you do.
It might seem counterintuitive to wash your berries before you're ready to eat them. After all, one of the so-called cardinal rules of keeping berries mold-free is to leave them unwashed until the moment before consumption.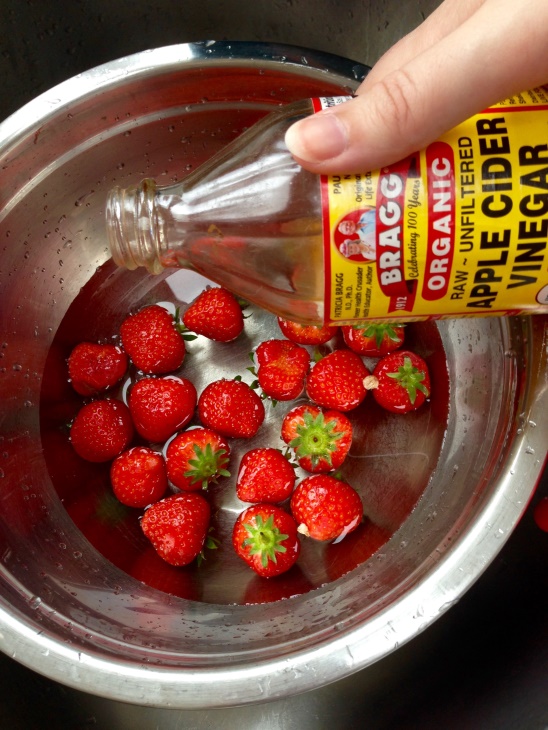 But here's the secret to keeping your berries fresher longer. By washing your berries in a solution of vinegar and water, you can extend their shelf-life by days (sometimes even weeks!). In a large bowl, make a diluted vinegar bath (1 cup vinegar, 3 cups water) and bravely give your berries a dunk. The vinegar will eliminate any pesky mold and bacteria.
Next, drain your berries in a colander and rinse them under cool running water. This guarantees that you won't be able to taste any lingering traces of vinegar later on.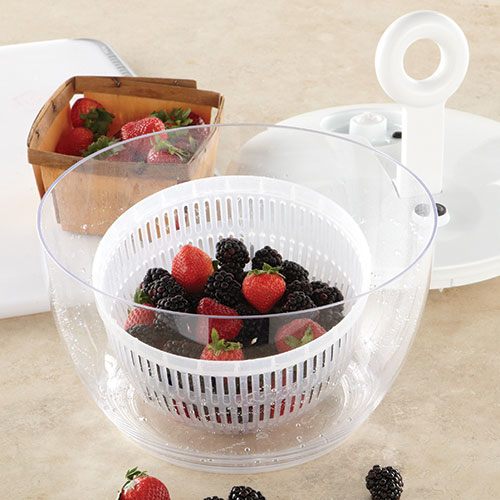 Now that you've washed your berries, it's time to dry them as thoroughly as possible. Do not be fooled: Moisture is still the enemy. For this turn to the same salad spinner you use to dry off greens; it'll efficiently wick the water from your berries. Line it with about 3 layers of paper towels, first however, in order to create a pillow for your berries. Then spin your berries for about 15 seconds, or until they are completely dry.
Next, instead of putting the berries back into the container they came in (where they will crowd each other) upgrade their digs. Place them in a sealable container lined with paper towels and leave the lid partially open as to avoid trapping moisture.
But what if you return from the store with pints of berries only to realize there's no vinegar in the pantry? A quick bath in hot water will also work to destroy bacteria and mold spores.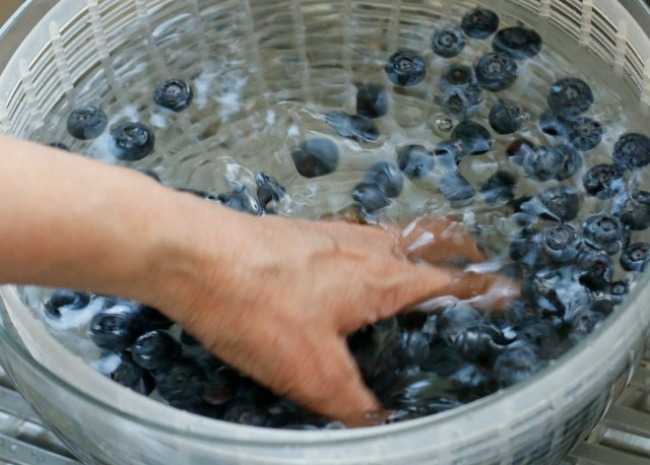 Just dunk your berries in water between 120 and 140°F for approximately 30 seconds. Dry and store them in the same way you would after a vinegar wash.
Once you've learned how to extend the lifespan of your berries, the real question becomes: What will you do with them? If you can resist eating all of your berries fresh, then consider folding them into your morning oatmeal, adding them to tapioca pudding, topping your vanilla ice cream, or making a blueberry tart for the dessert to a winter night's dinner.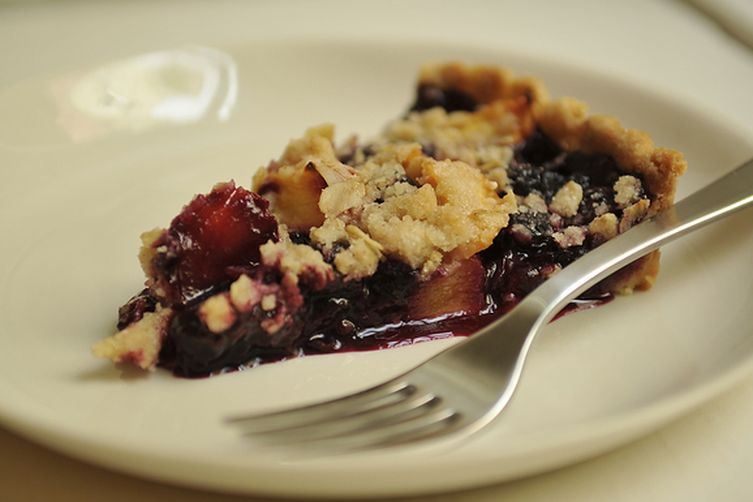 FRESH BLUEBERRY TART
The crust of this pie is more like a shortbread than a typical pie pastry, which means no rolling and no fuss.
CRUST and FILLING
1/2 cup butter, melted
¼ cup sugar
1/8 teaspoon salt
¾ teaspoon vanilla extract
1 cup flour
2 cups fresh blueberries, picked over and washed
2 fresh peaches, peeled and diced (canned peaches will work—about 1 1/4 cup diced)
1 lemon, juiced
1 tablespoon sugar
TOPPING
¼ cup flour
¼ cup rolled oats
¼ cup sugar
Pinch of cinnamon
Pinch of salt
2 tablespoons softened butter
Preheat the oven to 350°F.

Mix together all the ingredients for the crust and press the dough into a fluted pie pan with a removable bottom. Use your fingers to spread the dough evenly, and be sure to press it up the sides.

Bake the crust for 8-10 minutes, until it is just beginning to firm up.

Toss the fruit with the lemon and sugar and set aside.

To make the crisp topping, combine the flour, oats, sugar, cinnamon, and salt. Work in the butter, using your fingers, until you have a very dry dough that clumps together when you press it.

When the crust is done baking, spread the fruit evenly in it.

Sprinkle the crisp topping over everything, then return to the oven.

Bake for 20-25 minutes more, just until the crust is brown, the blueberries are slightly melted, and the topping is crisp.

Cool slightly before serving with vanilla ice cream (or sweetened whipped cream).
Add Recipe to Cook'n
Sources:
www.food52.com
www.mscooksalot.wordpress.com
www.pamperedchef.ca
www.allrecipes.com

Alice Osborne
DVO Newsletter Contributor since 2006
Email the author! alice@dvo.com