Clever Ideas for Valentine's Day Gifting
Like December, February is a month where thoughts turn to those we love and perhaps showing this love with a gift or two.
So let's talk about Valentine's gifting. The proverbial choices are flowers and candy. But this year why not think outside that candy box and consider some gifts the avid foodies and cooks in your life might appreciate? For instance, here are some great ideas I found on www.lakeside.com: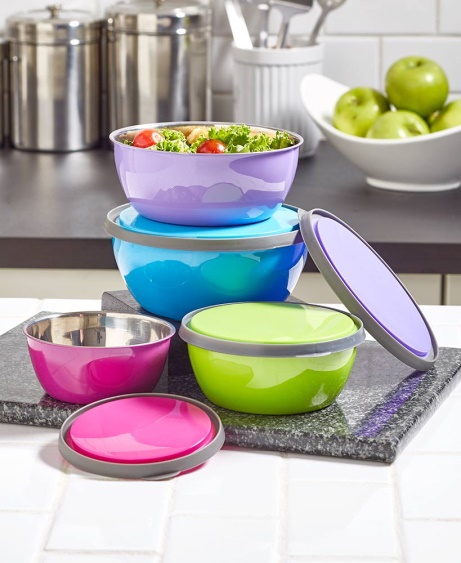 At first glance, these colorful bowls look like they're made of plastic. But they're actually stainless steel. And they have tight-fitting lids, too boot! Not only serviceable, but pretty, at $8.98, these are a nice gift for someone who entertains, goes to potlucks, and so on.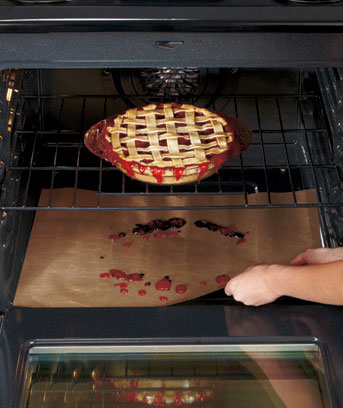 Who can't relate to this photo? Here's the solution to that nasty oven-floor clean-up: a set of 2 reusable non-stick oven liners for $7,98. Roll them up and tie with a pretty ribbon and you have the perfect gift for your baker and cook.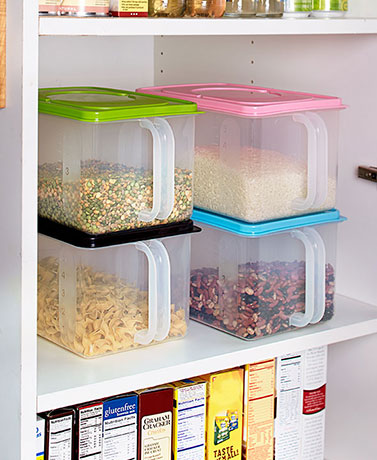 And here's another great idea. Bulk storage bins with handles. They're freezer-safe, hold up to 204 fluid ounces, are big (7-1/4"W x 12-3/8"D x 6-1/8"H), and are stackable. They're $7.98 each and the space they could save makes them worth the price!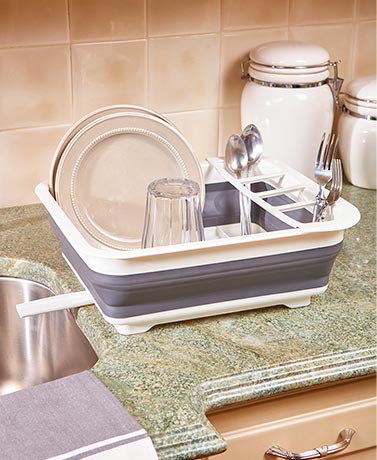 Speaking of saving space, here's another good idea. How about a collapsible dish drying rack? I hear from many of you that you either don't have space for a dishwasher or you just like washing dishes. And if you are like many of us, thing-rich, but space-poor, then a space-saving dish rack could just be what you need. It's $9.98 and measures 14-1/4"W x 12-1/4"D x 4-7/8"H, It collapses to 2-1/8"H.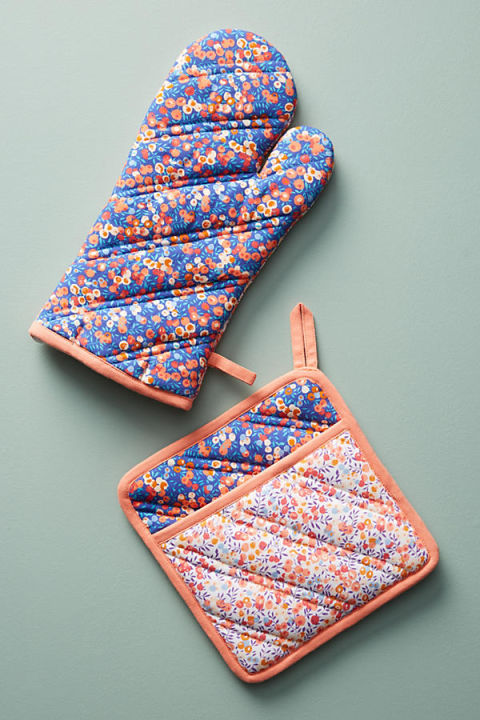 Aren't these pretty? Every baker deserves lovely mitts. These I found on www.delish.com for $14 for the set. I'm sure you could find less expensive ones even at your local Walmart. But it's the idea I'm really pushing. Every kitchen would benefit from a fresh set of mitts, and every cook would appreciate them.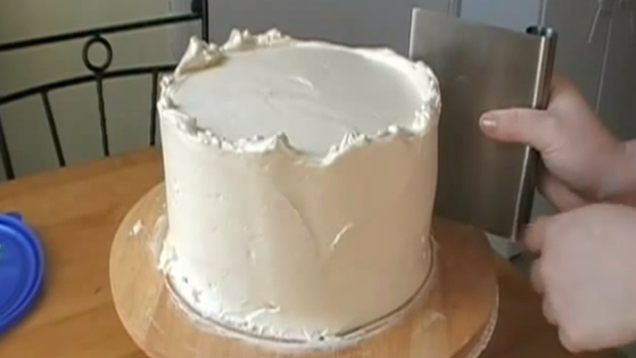 Professional chef and avid hone-cook, Jenna Ballinger says, "This is the most useful thing in my kitchen. I use it on everything from scooping things off the cutting board and into a pot to sectioning off pastry for baking." A good bench scraper starts around $10. And I agree, this is an indispensible tool for the home cook and baker (I use mine for all the above as well as for icing my layer cakes.)
All these wonderful ideas aside, I'll close with one last suggestion for those of you that don't find any of the above personal enough. If you're firmly on the candy/treats boat then how about giving a treat that's not just good, but healthy at the same time?
In my latest issue of Mary Jane's Farm, I found a terrific recipe for no-bake cookies. These aren't the typical stovetop cocoa and oats cookie. Much healthier, much more delicious, yet still easy to make. If you don't decide to gift them, make them anyway, they're dang good. And best wishes for a happy Valentine's day!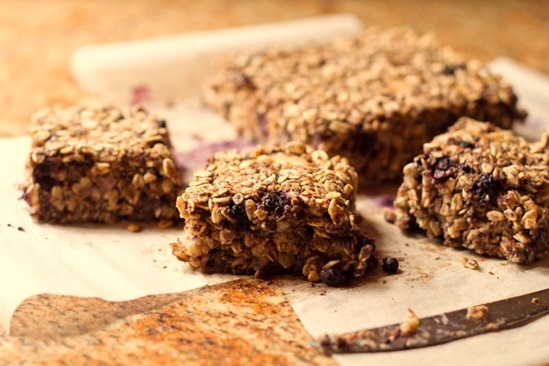 NO-BAKE OATMEAL SQUARES
1 ¾ cup old fashioned oats
½ cup finely shredded coconut
½ teaspoon flaxseeds
½ cup dried blueberries (dried cranberries or even raisins would work)
12 ounce package dates, pitted (about 24 dates)
1 ¼ cups apple juice
¾ teaspoon cinnamon
¼ teaspoon salt
1 ¼ teaspoon Knox gelatin (or you might try *Mary Jane's ChillOver Powder)
¾ cup roughly chopped pecans
Line a large baking sheet with a silicone baking mat or parchment paper.

In a large, dry skillet over medium heat, toast oats, stirring frequently. Once oats are mostly toasted (about 4 minutes), add coconut and flax seeds and toast until coconut is light golden brown (about 4 minutes). Remove from heat, cool slightly, and transfer to a medium bowl. Add blueberries, mix well, and set aside.

In a good processor or blender, pulse dates, apples juice, cinnamon, and salt into a smooth paste. Transfer to a medium saucepan and bring to a boil over medium heat. Once mixture is boiling (continuing to stir will help keep mixture from sputtering), sprinkle in gelatin and boil an additional 3 minutes.

Pour date mixture into oat mixture and mix well. Pour onto prepared baking sheet and form into a 10-inch x 12-inch rectangle. Press pecans into the top.

Cool for 30 minutes, or until set. Cut into 1 ½-inch squares. To store, arrange squares in single layers between sheets of wax paper in an airtight container. Keep refrigerated.
Add Recipe to Cook'n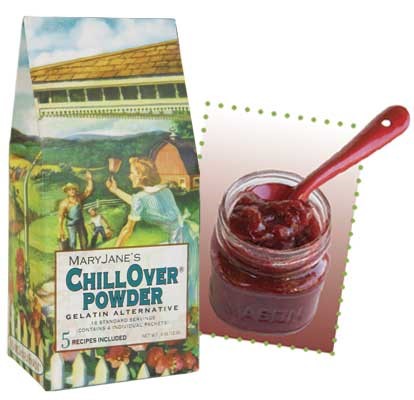 *Mary Jane's ChillOver Powder: Looks and taste like gelatin but is made from arrowroot. To order, call 888-750-6004 or go to www.maryjanesfarm.org.
Sources:
www.lakeside.com
www.delish.com
www.lifehacker.com.au
www.signupgenius.com
www.ohsheglows.com
www.maryjanesfarm.org

Alice Osborne
DVO Newsletter Contributor since 2006
Email the author! alice@dvo.com