New York City Food Recommendations: Part 2
Last month we talked about dessert shops and snack places in the City, and now we are back to discuss Pizza joints, Sit down restaurants, and cheap eats. At the end I include a list of places I still want to try! Like I said last month, every place listed here is somewhere I have eaten and can personally vouch for. Please let me know where you've eaten and loved that I should add to my list!
Pizza Joints!
Juliana's Pizza- Under the Brooklyn Bridge. Grimaldi's Pizza has the fame, but I think Juliana's is just a little better! And shorter lines too! The pepperoni isn't normal pepperoni, and the sausage and mushroom pizza is a fave too! Perfect just after a sunset walk across the Brooklyn Bridge.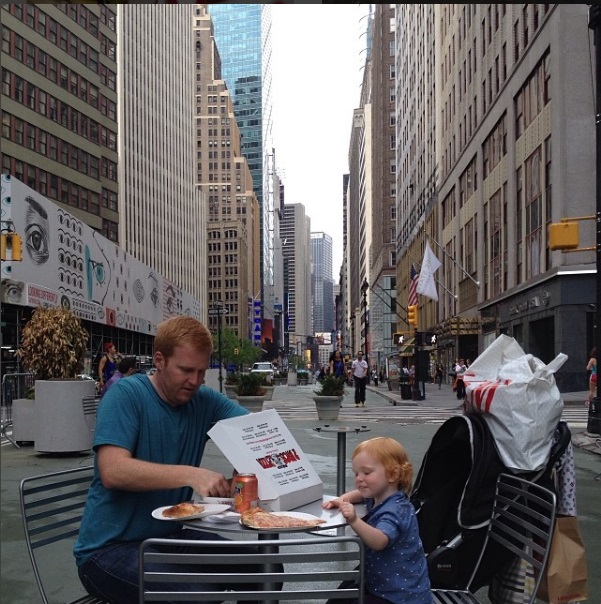 2 Bros Pizza- This isn't especially good, but it's a DOLLAR! Sometimes you just need a dollar slice, ya know? Enjoying it in the middle of bustling times square makes that $1 pizza worth about $100!
Bleeker Street Pizza- Really great pizza. My favorite slice in the city!
Artichoke Pizza- A creamy, deep dish pizza on Macdougal Street is fun to grab and wander NYU for the afternoon. Washington Square Park is a great place to people watch and usually has bubble makers and a great playground for kids!
Sit Down Dinner Restaurants:
The Lobster Pound- This is in Red Hook and I think about their Connecticut style lobster roll at least weekly. And it's been over 2 years since I ate my last one. It is buttery and fresh and warm and maybe my favorite food ever. It's really just incredible. Fair warning: It is expensive and small, but oh so worth it. While you're in Red Hook head over to Steve's authentic Key Lime Pies (see desserts section in Part 1.)
Amy Ruth's in Harlem- Where the chicken is always golden brown, and the waffles are yeasty and crisp! This restaurant was near where we went to church, so we thought about it at least once a week and often took our guests here!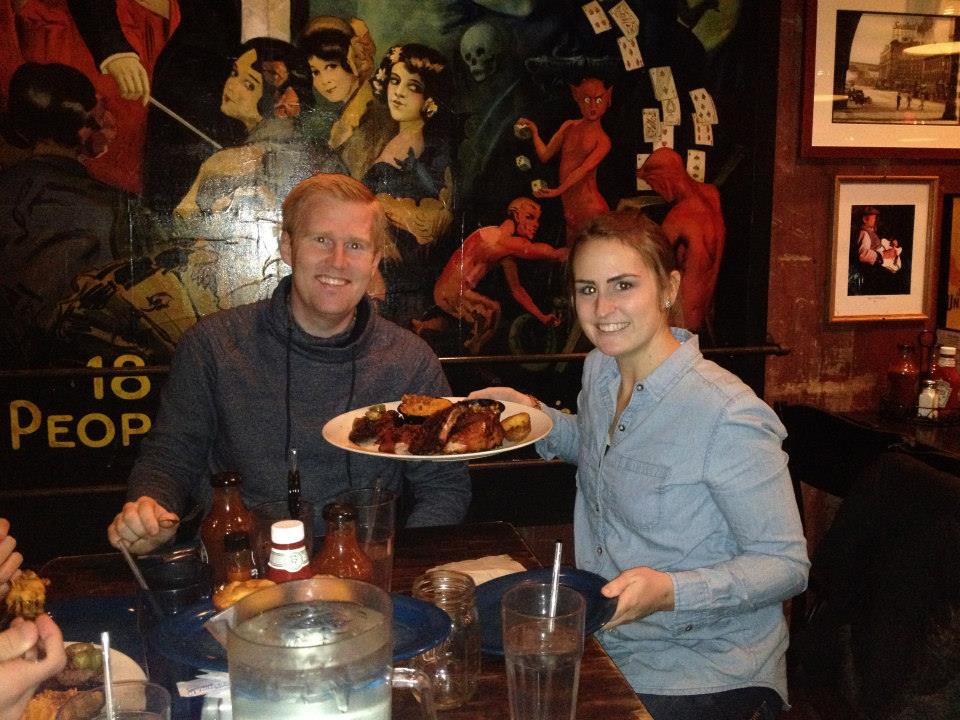 Dinosaur BBQ- Some good meat and potatoes along Riverside Drive. I enjoyed this food, but the restaurant did feel kind of western- large open seating and atmosphere. May be refreshing if you're looking for a good place for a large group, but doesn't feel totally "New York" to me.
Mayson Kayser- Our dear friends introduced us to this French bakery not long after my second daughter was born. I remember nursing her while I ate my meal at the UWS location on 76th street, relishing in my fancy New York life.
Westville- This is the very first restaurant where I ate in NYC! Aside from getting an entire pitcher of water poured on me (!!!) I remember it feeling like such a stereotypical NYC dining experience. It's a tight space, yet upscale with high quality food, just tucked in from a seemingly random street in the West Village. So good. I'd really recommend this place- all their veggie dishes were so original and flavorful!
The Loab Boathouse- We came here for Scott's birthday lunch with friends. It's a nice place, good views and good food. We love renting paddleboats on the lake, and bicycling the circumference of the park, and a meal (or even a snack!) here could join perfectly with that!
Katz Deli for a pastrami sandwich to end all pastrami sandwiches. In the lower east side, you go in, take a number and get your food. The pastrami sandwich, classic pickle and atmosphere are all really memorable and great!
Momofuku Noodle Bar in the East Village, Ramen to top the list. Eat here!
Order and Go Places / Cheap Eats: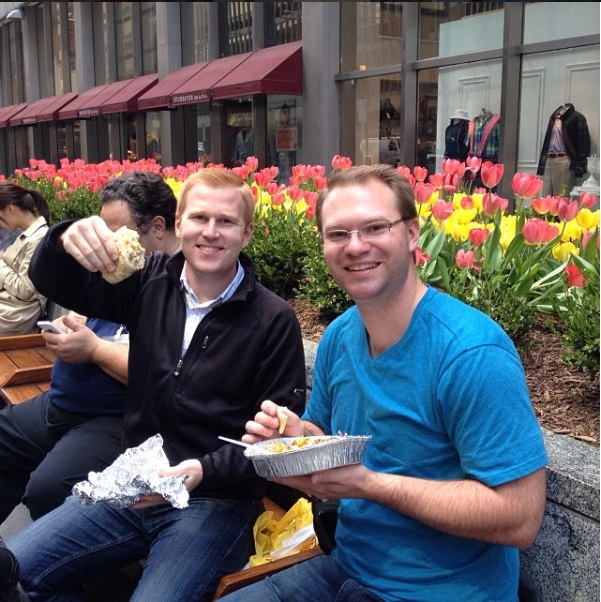 The Halal Guys food truck was my husband's go to. He ate here all the time! It's usually not very hard to find this food truck because the line is always very long. But don't fear, those Halal Guys move quickly and it never takes too long to get your food. Get the gyro, or combination gyro and chicken platter with rice to keep you going through the rest of your itinerary!
Shake Shack- I currently live 5 minutes away from In-n-Out in California, and in my opinion, the shack burger is really just impossible to beat! What makes it great is the high quality, never frozen meat, mild and real cheddar cheese, always fresh toppings (lettuce tomato onion and pickle), the specialty shack sauce and last but definitely not least, the warm and toasty potato roll. And the crinkle cut fries are fabulous. There is a location near the Museum of Natural History that's convenient after a day at the museum (or their splash pad with kids) but the Madison Square Park location is just so dreamy and cozy.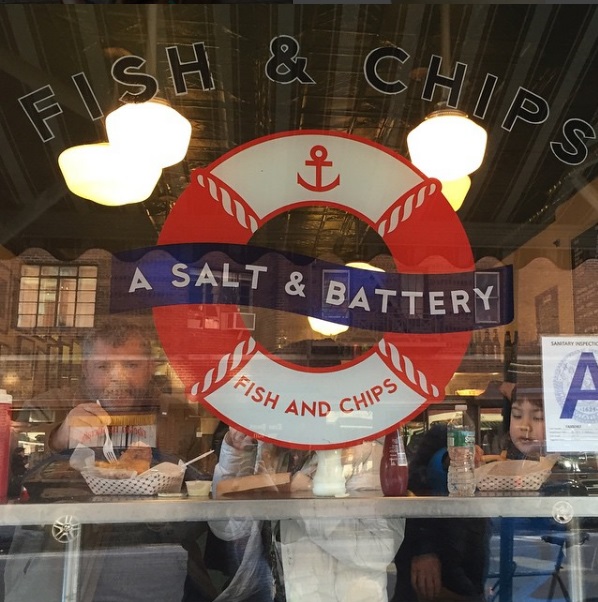 A Salt and Battery- Great fish n' chips downtown. Try it!
Los Tacos No. 1 in Chelsea market has THE BEST tacos on the east coast. Hands down. Tiajuana style tacos with fresh salsa, onion, cilantro, guac. Every meat is delicious but do yourself a favor and try at least 1 al pastor!
Num Pang- Vietnamese sandwiches don't disappoint! Bold flavors, pretty colors, filling, pickled carrots, cucumber and tender meat on a warm toasty bun. We had a car for a day, and Scott circled outside while I ordered quickly at the Chelsea Market location!
Saigon Shack- My husband and I are suckers for Vietnamese food, and this pho meets our high standard. Cool location, cool vibe, really cool food. And they serve more than just pho!
The Lobster Place- If I'm anywhere in the vicinity, its hard to keep me away from the Scallop and Bacon Soup. The Lobster Bisque is exceptional too! Pair it with a loaf of sourdough from Amy's bread, and bring them up to the highline. It's the perfect casual place to meet a friend or watch the cityscape. Top NYC experience if you ask me!
Raffetto's on Houston Street is a fun little shop to pop in and buy fresh pasta! Bring it home to your NYC apartment or fly it home to enjoy later, this pasta is legit!!
Mamoun's Falafel- Also in Greenwich Village, this is a great place to stop by for some Mediterranean food. It's good, and it's fast for falafel or a pita schwarma. The mint lemonade is good too!
King's Wok- Every New Yorker has their own little corner Chinese shop where they grab food on desperate nights when you're worn out and just need something fast and cheap to eat. King's Wok was just up the hill, on the block where we lived along 147th and Broadway. We would pop in, where they recognized us and knew our order, putting their hand out to collect the $5.75 for a large orange chicken to serve the three of us. Or, we would call them on speed dial from the 137th station on the 1 train, where we pop out from underground for about 30 seconds, just long enough to place our order. King's Wok got me through my second pregnancy and I still remember the taste perfectly.
Union Square Farmers Market- This is so quaint and fun to explore and grab a few bites to try along the way. Makes for a nice outing and eatery in one!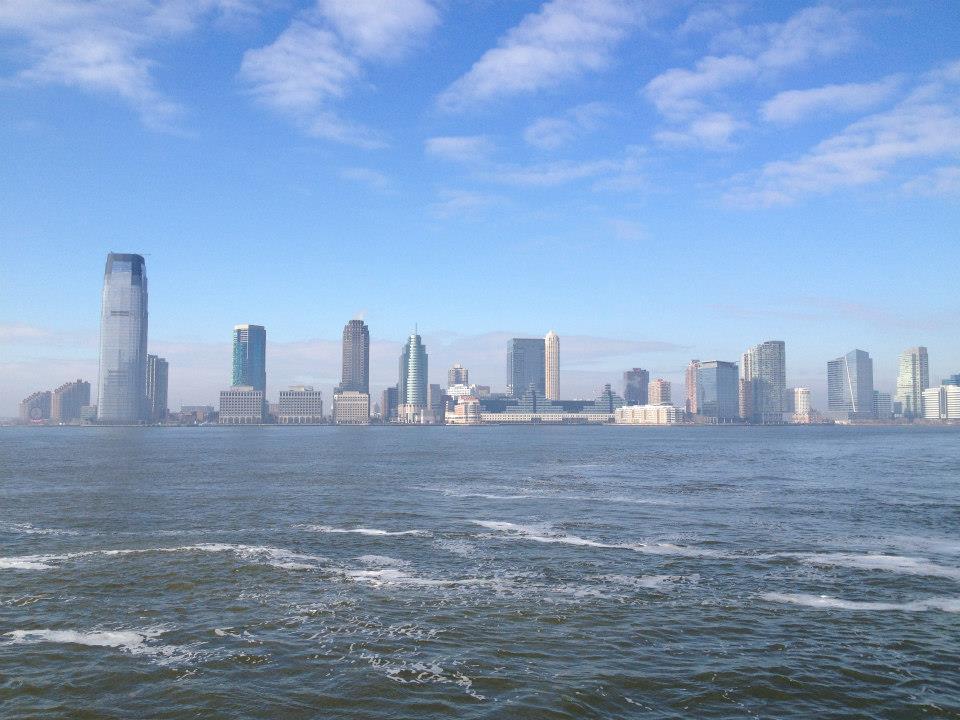 Places I Still Want to Try:
Tavern on the Green
The Plaza for brunch
Patsy's Pizza
Landmarc at Columbus Circle- I did a bunch of research to find this place as a great restaurant for during the Thanksgiving day parade! Just be sure to look up when the start taking reservations, because they fill up within a few minutes! The location is high for good views and a nice warm place to eat and watch the parade. We never made it here, but it's on my list!
Bubby's for breakfast near the highline. We rarely ate out for breakfast since we lived there, but when I go back as a tourist this will be one of my first stops!
Black Tap- their milkshake is trending on social media, it looks just really fun and over the top, covered in every type of candy you can dream up!
Please let me know in the comments if you love any of these places too, or what new eats you have to recommend! I keep a running list of new places to try in New York, and I'd love your help adding to it.

Stefanie Hathaway
Monthly Newsletter Contributor since 2016
Email the author! stefanie@dvo.com