The Kitchen Appliance Everyone is Talking About!
I follow quite a few food blogs so I can stay "in the know" when it comes to cooking. In the past several months there has been a lot of buzz about the Instant Pot, an all-in-one pressure cooker. I was lucky enough to score an Instant Pot for half price on Black Friday last year. …And I have to say it is pretty awesome. Here are some reasons why the Instant Pot is so awesome.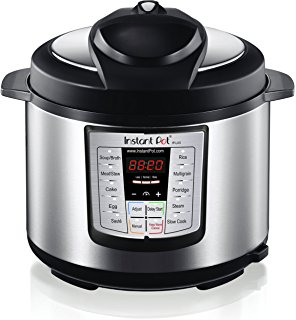 It cooks food really fast! The Instant Pot can reduce cooking times by up to 70%. Frozen or thick meat, hard vegetables, dry beans and lentils can all be cooked in record time.

It is a healthier form of cooking. The Instant Pot requires steam for cooking, but not large amounts of water or liquid. Because of this, natural vitamins stay inside your food and are not dissolved into the surrounding liquids. Shorter cooking times also help retain the natural vitamins and minerals in your food.

It makes easy one-pot meals. My favorite meals are the ones I can throw together in one pot and forget about. The Instant Pot is perfect for soups, stews, and even pasta dishes. It has a convenient delayed cooking feature (up to 24 hours) where you can throw something together in the morning and program it to cook your meal right in time for dinner.

It is energy efficient. The Instant Pot uses far less energy than ovens, stovetops, or even other kitchen appliances, and are designed with several features that make them eco-friendly.

It will save space on your kitchen counter. Because the Instant Pot is a multi-function appliance, you won't need to use as many other small appliances on a regular basis. The Instant Pot is also a rice cooker, sauté pan, slow cooker, and even yogurt maker. I've still kept my other small appliances because there are days when I want to cook rice in the rice cooker and meat in the Instant Pot (for example), but I don't need all the appliances as often so I can keep some in the cupboard.
Have I convinced you how fabulous the Instant Pot is yet?! Another reason I was excited to get an Instant Pot, for me personally, was because I needed to start using more dry beans from my food storage. I have loads (literally) of dry beans in my basement and I am terrible about remembering to soak them the night before or start them early enough in the day to have them cook in time for dinner. The Instant Pot has made the cooking of dry beans SO much easier. I have even discovered a refried bean recipe that I love and would like to share with you.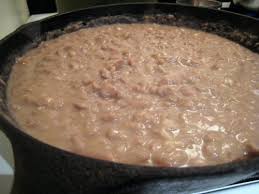 Instant Pot Refried Beans, Serves 6-8
1 T oil ( I like avocado oil)
1 small onion, chopped
1 bunch cilantro, chopped
¼ tsp chili or chipotle powder
½ tsp cumin
2 cups dry pinto beans, soaked*
2 cups water
1 tsp salt
Press sauté on the Instant Pot to preheat the cooker. When the word "Hot" appears on the display, add the oil and saute the onion, cilantro, chili powder, and cumin until the onion begins to soften. Add the beans and water.
Close the lid and lock it. Press the "Manual" button and then use the + or – button to choose 10 minutes pressure cooking time.
When the time is up, open the cooker using the Natural Press Release. Use a potato masher or immersion blender to blend beans to the desired consistency.
*If you forgot to soak your beans… No worries! Put rinsed dry beans in the Instant Pot. For each cup of beans ad four cups of water and one tsp of salt. Pressure cook in manual mode for 4 minutes and do not open until the "Keep Warm" timer has reached 10 minutes. Strain and rinse the beans. They are now "soaked" beans.
Add Recipe to Cook'n
Do any of our readers have an Instant Pot? I would love to hear from you! Feel free to share a recipe or a tip in the comments below. Happy pressure cooking!
Sources:
The Instant Pot Electric Pressure Cooker Cookbook, Laurel Randolph, Rockridge Press, 2016
Instant Pot: Electric Pressure Cooker Recipes, in collaboration with Laura Pazzaglia, Maomao Mom, Jill Nussinow, Barbara Schieving, and Chef AJ, Instant Pot Company, 2013
www.instantpot.com

Cristina Duke
Monthly Newsletter Contributor since 2014
Email the author! cristina@dvo.com