Gift Giving Ideas for the Holidays
Each year as the holidays come around, I am very blessed to have fantastic friends and neighbors around me that love to share with us! We receive so many wonderful gifts! None of them are huge gifts; they can be anything from a plate of cookies to a small tree ornament or even just a card. While the size may be small, each one means that they thought of us, and cared enough to send us something. They took time out of their incredibly busy holiday schedules to prepare something and bring it to us, and each time I receive such a gift, it means the world to me!
As the holidays draw closer, I think about what can I give to people to let them know I think about them. I love to bake and giving away food gifts is often a solution to this question. But each year, I also have to think about who I am giving food to, and if it's the right gift for that person! Here's a few simple things that you can think about to make giving gifts of food the right gift for each person!
First, think about the person's family size- is it a single person, a couple, or a huge family? In my house, it's just me and my husband, so a small plate of cookies is plenty. One the other hand, my brother has 6 kids, including a couple teenagers! A few cookies is not going to go very far with them! Make sure you thing about who is living there- how many kids, is there extended family living with them? While it would be easy to make each gift the same size, not every family is the same.
Another important thing to think about is food allergies and dietary needs. I have several allergies that make eating something someone else made slightly chancy. I have to eat gluten free, plus I have allergy to tree nuts. While many of my friends are aware of this, I still occasionally have to refuse food or let my husband eat it all if I can't eat it. Also, many people have issues with too much sugar at a time. Handing someone a plate of homemade cookies is great unless they can't eat them. Know who you are giving to- if they would rather have a loaf of regular bread, that might be more fitting than a plate of homemade candies.
Think about the timing in the holidays. I know there is usually a week that we get flooded with gifts, that it might be hard to eat everything given at once! Finding something that can be frozen or stored a little while might work better for that person. I have a friend that frequently gives out small jars of jam or jelly, which works perfectly. I usually enjoy it in January or February.
In some instances, a simple gift of a card is completely appropriate! Sometimes an invitation to a full meal is great! While it takes a little more effort, matching the right gift to people can bless their lives when they need it most!
One great recipe I love to make and share is this banana bread! It's a gluten free recipe, but you would never know by tasting it! It can be personalized by leaving it plain, adding chocolate chips or chopped walnuts, depending on taste! Enjoy!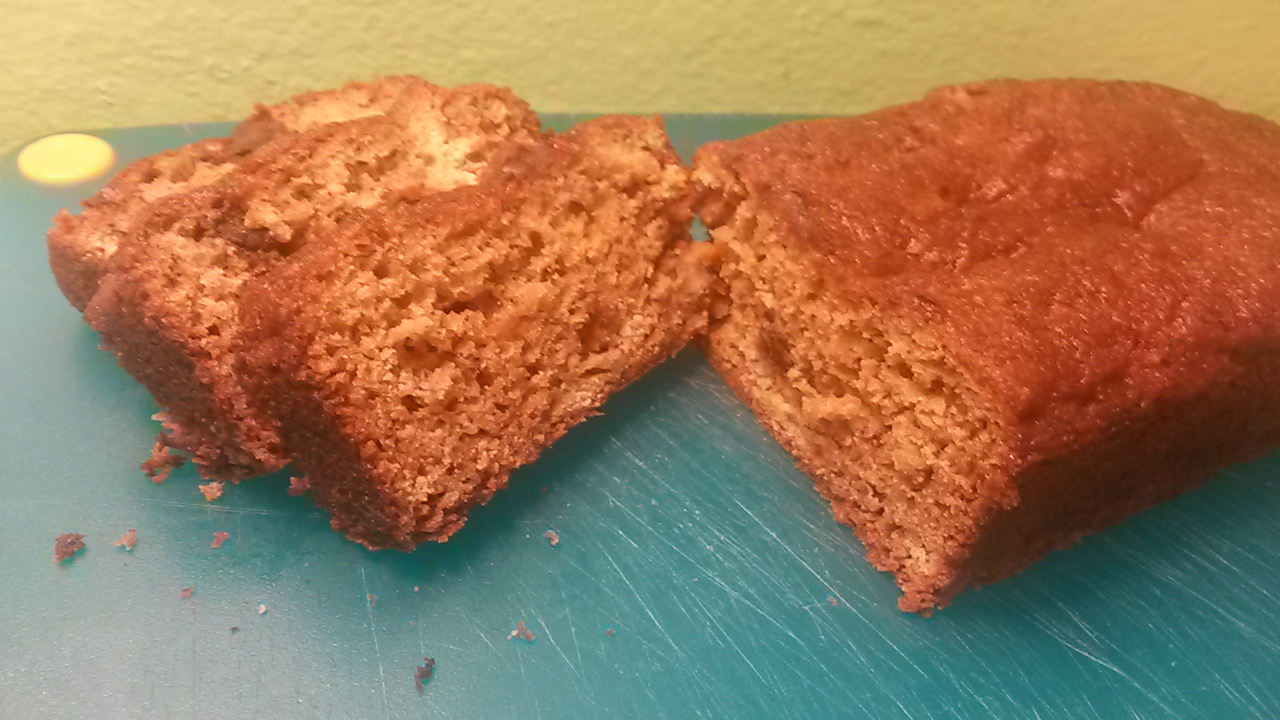 Gluten Free Banana Bread
Quick, easy and so good! Perfect for snacking, freezing, or giving as gifts!
Serves: 12
Prep Time: 15 minutes
Cook Time: 50 minutes
Yield: 1 large loaf
1 cup sugar
1/2 cup oil
2 eggs
1 cup mashed banana
1/2 cup applesauce
1 teaspoon vanilla extract
1 1/2 cups Gluten Free Flour Blend
1 teaspoon baking soda
1/2 teaspoon salt
1 teaspoon xanthan gum
1/2 cup nuts or chocolate chips optional
Heat the oven to 350 degrees. Prepare your loaf pan by greasing and flouring the bottom only of a loaf pan. This recipe makes 1 large loaf, three small loaves, or about 12-15 muffins.
In a large bowl, beat together sugar and oil.
Add eggs, bananas, applesauce, and vanilla, and blend well.
Add flour mixture, baking soda, salt, and xanthan gum. If mix already has the xanthan gum, you shouldn't need more. Mix until dry ingredients are barely combined.
Pour into prepared pan. Sprinkle nuts or chocolate chips on top of batter. Try to spread evenly, or else they will sink in clumps to bottom of pan.
Bake at 350 degrees for 50-60 minutes for large loaf, 35-45 minutes for small loaves, or about 20 minutes for muffins.
Remove from oven, and let cool in pan for about 5 minutes. Remove from pan and cool completely on rack.
To store, wrap tightly and refrigerate. Can freeze, just allow to thaw and come to room temperature before serving.
Yum!
Add Recipe to Cook'n

Brenda Lower
Monthly Newsletter Contributor since 2015
Email the author! brenda@dvo.com