Tried and True Weeknight Winter Meal: Chicken Noodle Soup
Last month, I got desperate to change up my meal rotation and make something new for once! I don't generally have much time to cook elaborate meals, so I wanted something easy, warm and filling. After scrolling through some ideas online, I decided on chicken noodle soup. Seems pretty basic, and it is, but this recipe is just a tried and true, weeknight winter meal. Everyone in my family loved it, from my baby in a high chair to my husband with an elevated palette.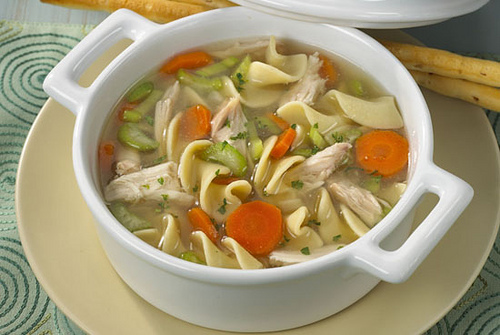 First, you chop your onion and celery. I've been known to try skipping steps and get the butter melting in the pot while I do the chopping, but most of the time it only complicates things and I end up burning something. As with every recipe, I always suggest doing mise en place- getting all your ingredients prepped and ready before you begin cooking.
Next, you'll go ahead and melt that butter, and cook until tender, about 5 minutes. I precook my carrots in the microwave for just about 2 minutes to soften them up before adding them to the pot. I've eaten too many soups with crunchy carrots for my liking! Now go ahead and add the chicken and vegetable broths, seasonings, noodles, carrots and chicken.
The best part about this recipe is using a pre-cooked rotisserie chicken. Not needing to cook the meat saves me a lot of time, and the chicken is already seasoned and moist when I put it in.
This recipe takes just about 10 minutes to prepare, then you let it let it come to a boil and reduce to a simmer for about 20 minutes before serving. It pairs well with some buttered French bread and a vegetable. I hope you'll try it at home and let me know how much you enjoy it too!
Feel free to use this ingredients list:
1 tablespoon butter

1/2 cup chopped onion

1/2 cup chopped celery

4 (14.5 ounce) cans chicken broth

1 (14.5 ounce) can vegetable broth

1/2 pound chopped cooked chicken breast

1 1/2 cups egg noodles

1 cup sliced carrots

1/2 teaspoon dried basil

1/2 teaspoon dried oregano

salt and pepper to taste
Add Recipe to Cook'n
Sources:
http://allrecipes.com/recipe/26460/quick-and-easy-chicken-noodle-soup/
https://www.davita.com/recipes/soups-and-stews/rotisserie-chicken-noodle-soup/r/5563

Stefanie Hathaway
Monthly Newsletter Contributor since 2016
Email the author! stefanie@dvo.com