Edible Boredom Busters
Wintertime is a challenging time of year at our house. As much as I love looking at the beautiful snowy landscape out my window, I don't really like going out in it. And I especially don't like dragging my two little ones out in the cold. This results in lots of time spent cooped up in the house. It wouldn't be so bad if it was just me in the house, but trying to entertain a busy preschooler and an energetic toddler all winter long is not easy!
Since I love to spend time in the kitchen, I like to experiment with edible activities to keep them busy. Before I begin my list of ideas, my only disclaimer is that some of these activities are messy. So throw down a drop cloth, cover the table with plastic, take off their nice clothes, and be ready to make some memories!
Edible Finger Paint – There are several recipes on Pinterest and other internet sites for edible finger paint. I personally think the easiest way to make edible finger paint is to just use pudding or yogurt! If you want different colors, you can divide a batch of vanilla pudding (or yogurt) into several different cups and put a different drop of food coloring in each one. Give them a large piece of paper and let them go at it!
Edible Collages – Set out several bowls of small snacks such as raisins, pretzel sticks, goldfish crackers, peas, fruit snacks, etc. Then set out a bowl of icing or cream cheese to be used as glue. Give them each a piece of paper. Have them dip each snack in the "glue" and stick in on their paper. See what creative pictures they can come up with.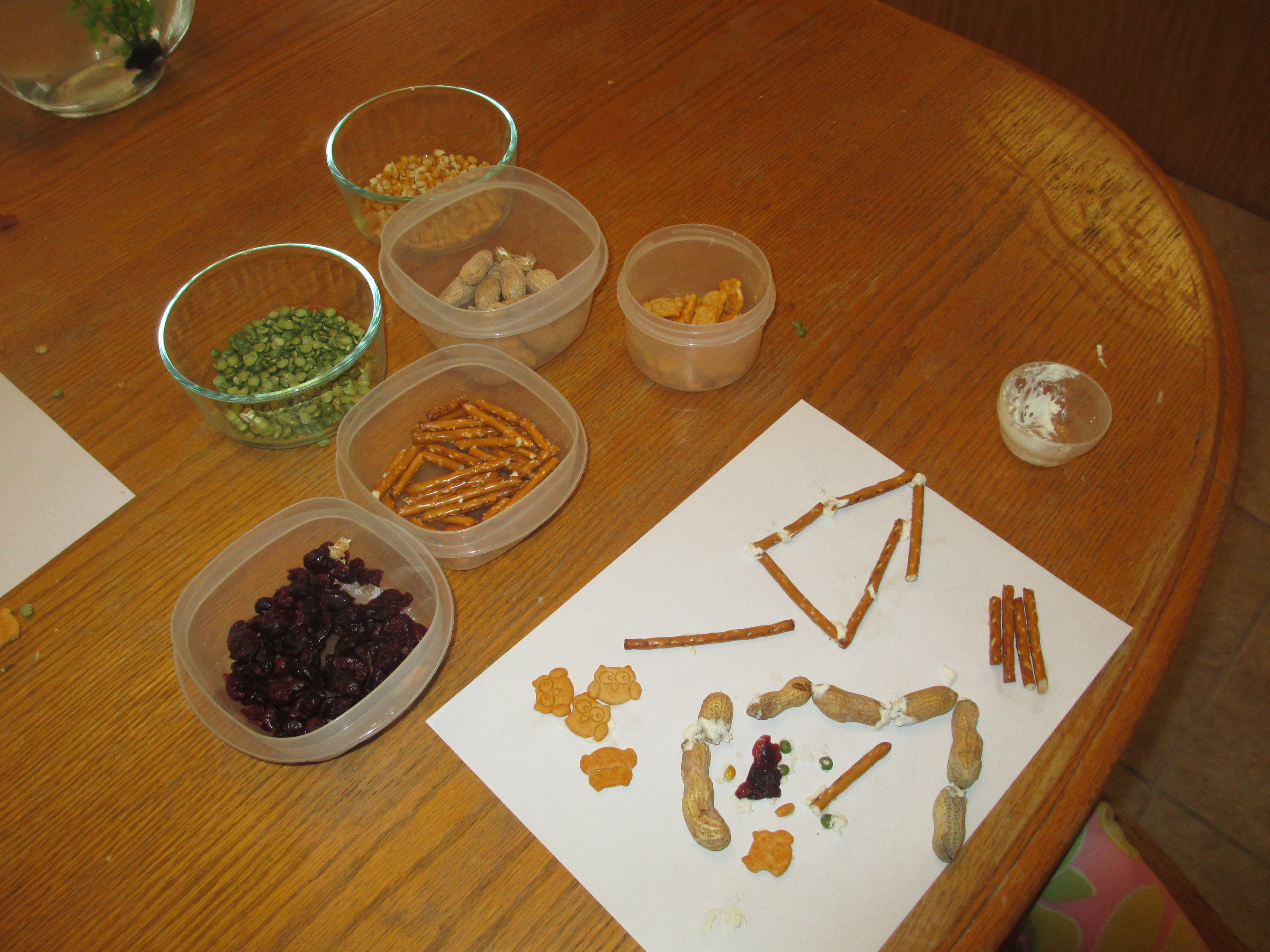 Edible ABCs – Practice forming the letters with food. Pretzel sticks and the traditional "knot" shaped pretzels work great for making letters. Have them bite off parts of the knot pretzels to make the round parts of the letters. "Pull and Peel Twizzlers" work perfectly. You can also make letters out of cookie or bread dough by rolling the dough into ropes and then forming the ropes into letters.
Edible Jewelry – The first edible piece of jewelry that comes to mind is a Fruit Loop necklace or bracelet. Young children love to string things. If you use a thin piece of string or dental floss, Cheerio necklaces are also fun and less sugary. After a quick search on the internet, I also found recipes for rock candy necklaces, candy rings, and jellybean jewelry. (See sources below)
Edible Sensory Bins – When my daughter was one, I was struggling to make dinner one night and needed something quick for her to do. So I got out a big bowl, dumped a bunch of oats inside it and then placed some measuring cups, spoons, and small plastic farm animals on top of the oats. It was hit! She was entertained for a quite a while. Cooked spaghetti, rice, cool whip, jello, flour, dry cereal—all make great fillers for a sensory bin.
Edible Sculptures – Make a batch of rice crispy treats, put down a piece of wax paper, and give your child some of the rice crispy treats on their wax paper. Have them form sculptures out of the gooey goodness. (Sometimes lightly coating their hands with some butter helps the mixture not stick to them as much). Cream cheese is also a fun sculpture material. Mix 8 ounces of cream cheese with a ½ cup of dry milk. They can eat their cream cheese creations on a cracker. My absolute favorite sculpture recipe is peanut butter playdough. Mix ½ cup of peanut butter, ½ cup of dry milk, and 1 Tablespoon of honey together by hand. Your kids will love shaping, cutting, molding and eating this yummy dough!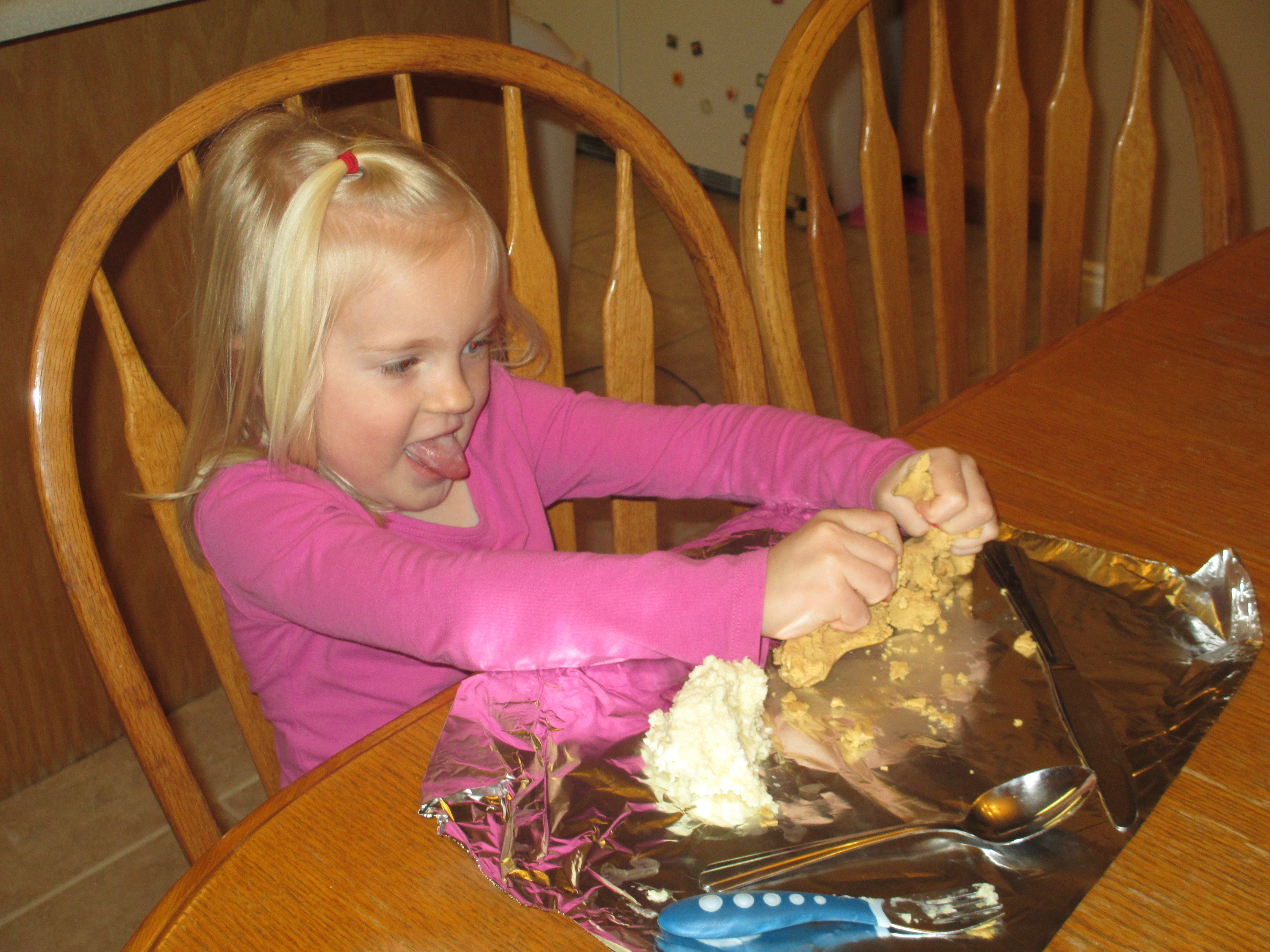 I hope this gives you some ideas. Let me know if you have any more ideas in the comments below…
Sources:
http://www.savvysource.com/activities/activity_b1025_edible-art
http://www.scholastic.com/parents/resources/article/cooking-activities-recipes/letter-fun-food
http://ediblecrafts.craftgossip.com/6-edible-jewelry-crafts-for-kids/2013/06/14/
http://www.cakespy.com/blog/2012/5/9/how-to-make-edible-rock-candy-jewelry.html
http://handsonaswegrow.com/edible-sensory-play-ideas/

Cristina Duke
Monthly Newsletter Contributor since 2014
Email the author! cristina@dvo.com