Refreshing Citrus
Our family lived in Arizona for a year while my husband was in pilot training. It must have been a bumper crop year for citrus. Never have I seen such large, succulent citrus. During this time I was able to learn some tips on how to use and store citrus fruits.
How to choose the fruit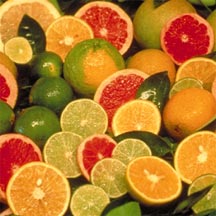 • It is important to pick fruit that is heavy. The heavier the fruit the more juice it will have.
• Just because the fruit has a little green spot on it does not mean that it is not ripe. It can be a natural occurrence.
• Look for skin that is firm and not wrinkled. The thin skin fruits are best for recipes that call for the whole fruit. The thinner the skin of the citrus fruit the less pith that it has. The pith is the white membrane that is located between the peel and the orange. It is bitter and not desirable for recipes or eating.
Storing Citrus
• Citrus should be stored in a cool place. The fruit can last several days or up to 2 weeks on the counter in a bowl but they will lose some of the vitamin C content.
• Citrus fruit are best kept in the refrigerator produce drawer.
Using the Juice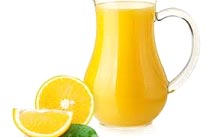 • Roll the fruit on the counter top before juicing it will make the juice come to the surface.
• One medium orange yields about 1/4 cup of juice.
• One medium lemon yields approximately 2 - 3 tablespoons of juice.
• One medium lime yields 2 tablespoons of juice.
• One medium grapefruit yields approximately 2/3 cup juice.
Using the Rind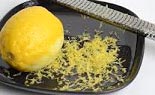 When a recipe calls for lemon, orange or lime zest, you need to grate or shave off the skin. This is best done before juicing. Be careful not to grate to deep. The white pith is quite bitter and will detract from the nice rich flavor of the grated peel. Citrus peel can be refrigerated for several months in a plastic bag. You can also add a little juice or water and freeze the zest in ice cube trays.
If you have a piece of citrus fruit that is molding or getting old, run it through your garbage disposal to freshen the garbage disposal up. Alice Osborne, one of the weekly writers for Cook'n, has a great, easy recipe for making your own citrus cleaner. If you are a member of Cook'n, you can see her great tip for making citrus cleaner using the citrus peels. I hope you can see that no part of the citrus goes to waste. The juice and rind freeze well, the old fruit can be used to freshen up the disposal, and the peels can be used to make citrus cleaner!
---
---
An unbeatable value with exclusive benefits for members only.
Get a newsletter like this each week when you join the Cook'n Club.