3 Tips for Perfect Grilling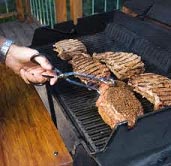 Many of you, like our family, can't wait to fire up the grill. As soon as the weather takes a turn towards spring it's time to have a barbecue. I particularly love this time of year because the men in our family are always happy to do the grilling. Just like us kitchen folk need certain tools in our kitchen, grillers also benefit from having a few grilling tools. Since perfection is the goal, here are three tips that will help make your grilled meats the best ever!
Tip 1. Don't ever use the marinade that the meat has been sitting in to baste the cooked meat. This might not make sense to you at first, but the marinade that the meat has been soaking in gets cooked along with the meat. Because you would be basting with the marinade after the meat was partial cooked, this could cause contamination. Just set a little marinade aside for basting!

Tip 2. If you want to make sure your grilling is consistent with the temperature suggested in the recipe use a BBQ thermometer to check the temperature of your grill. This unit is placed in your BBQ on the rack where you will be grilling. Although having a barbeque thermometer is not a necessity, it will keep you from having to hover over the meat while it's cooking. Not knowing the temperature of your barbeque may make the difference between well done, juicy meat or dry, charred meat.
Tip 3. An internal thermometer is another good idea. It is placed in the meat in the thickest part. The internal thermometer, although again not a necessity, lets you know when the meat is done and more importantly safe to eat. This is particularly important when grilling bigger cuts of meats. For this type of grilling it is best to use a thermometer that you can leave in the meat to monitor its progress.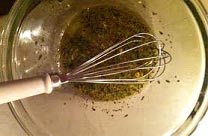 For the man who likes to barbeque or for the man who wants to learn, Fathers Day is the perfect time to present him with some tools he might not buy for himself. After all, if he can grill like a professional, he is going to want to grill every chance he gets. This frees up time for you to make the perfect side dishes. Sounds like a "Win - Win" to me!
This easy recipe has a light succulent flavor that keeps the chicken breast moist and tender. This is a recipe you will want to use throughout the grilling season. It would be an excellent recipe to keep in your Cook'n software.
---
Lemon Herb Marinade
1/2 cup canola oil
1/4 cup lemon juice
2 teaspoon onion (minced)
2 cloves garlic (minced)
1 tablespoon fresh basil
4 boneless chicken breast
1 teaspoon salt
Pound the thickest part of the chicken breast. This will let the chicken cook evenly. Marinade the chicken overnight. Don't forget to set aside some of the marinade for basting the chicken while you're grilling it.
---
Happy Grilling!