Chocolate Play Dough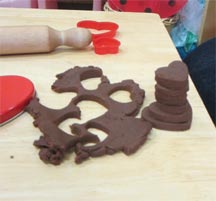 I have never met a little kid that doesn't like to play with play dough! And, when you combine play dough with chocolate-it's a double win! This is a great time of year for fun crafts in the kitchen, and you can always take your play dough outside to enjoy in the sunshine.
I have included two really fun recipes for chocolate play dough, they are sure to be a big hit. These are both really easy to make and very kid friendly, and the first recipe is even edible! Who says you can't play with your food?
---
Edible Chocolate Play Dough
3 cups powdered sugar
6 tablespoons unsweetened cocoa
3/4 cup dry milk powder
1/2 cup butter at room temperature
1/2 cup light corn syrup
1 teaspoon vanilla extract
Mix and knead by hand until desired consistency (something like a Tootsie Roll). Once you are done making shapes and playing, this dough is edible!
---
Chocolate Scented Play Dough
This dough is for children old enough to understand they shouldn't eat it, even though it smells like chocolate. It's not toxic, but really won't taste good! Also, you may need to visit a specialty confectionery story for the chocolate extract and brown food coloring.
1 cup flour
1/4 cup salt
1 teaspoon vegetable oil
2 teaspoons cream of tartar
1 cup water
2 teaspoons chocolate extract or atrificial chocolate flavoring
brown food coloring amount desired (recommend using Americolor Chocolate Brown #104)
In a medium or large saucepan, combine all ingredients except brown food coloring; cook, stirring constantly, over medium heat. Add the coloring, stirring between additions, until it reaches the shade you want. (Five good squirts seemed to be the best). Keep stirring until the mixture is smooth and the dough pulls away from the sides into a ball. At first it will look like a big, gloppy mess-keep going. It will smooth out. Remove from heat. Flatten the dough slightly on parchment or foil so it can cool enough to touch comfortably. Knead until the dough is soft and elastic. Store is a sealed, plastic container or a zip-style bag in the fridge. The dough will stay good for months if kept clean.