Hitting The Road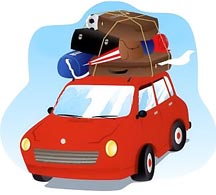 As I write this article I am sitting at a park in Phoenix watching my kids play on the playground after a very long, two-day road trip to get here. My husband couldn't get the time off work so my sister and I made the trip to visit my mom with a van filled with us and five kids. Insane? Perhaps! Just in case there are any of you that aren't questioning my sanity, let me clarify the children's ages - 8, 8, 6, 3, and 1. We met up with another of our sisters, her husband, and their four kids and started the journey - caravan style. We were on the road all of 15 minutes before the first, "I'm hungry" complaint was registered and a mere 45 minutes before the first emergency potty stop. By then I was questioning my own sanity!
Thanks to the fun and creative brain that my sister was blessed with we had some good solutions to the hungry kid issue. Even her genius brain can't come up with solutions for the other issue... there is really only one way to address that one. As the mother of a recently potty-trained little one, let me assure you that I could now probably write a comprehensive review of public bathrooms between Salt Lake and Phoenix.
Travel is expensive! Even if you are trying to do it on a budget, it just adds up so fast. Between gas prices and hotels our inexpensive trip to see Mom turned expensive pretty quick.
Add in food and entertainment and it can really get out of hand. Thanks to some advanced planning (and that genius brain of my sister's) we were able to save money and time while on the road. We also had more control in keeping things healthy since we were in charge of the decisions and the preparation.
As we head in to road trip season I wanted to share a few simple ideas for making you're your trip more tasty.
• Stack it up - Make your own little lunchables by pre-cutting meat and cheese. Pair those with crackers and you have healthy snack that is easily eaten on the move. Pack them in baggies with individual portions and you can toss them to the kids and keep on driving. To make it even more fun, cut the meat and cheese with a small cookie cutter so it looks like a flower or heart. The kids will love it.
• Little Dippers - Use old sour cream or cool whip containers as personal veggie trays for the kids. Use a smaller container to hold ranch dip, peanut butter, or anything else you would want to use for dipping and place it in the center. Then surround it with carrots, broccoli, celery, crackers, etc. Keep them in the cooler and when the kids want a snack hand them their own personal bowl.
• Map a Meal! - That smart sister of mine did a really fun thing for this trip. She looked at the map and figured out fun snacks or treats for cities we would pass through every so often. It was fun to get the kids involved in the trip by making them aware of where we were, why cities have the names they do, or funny stories about our family's past travels through that town or city. We had rock candy in Boulder City, chocolate coins in Las Vegas, and beef jerky in Mesquite. All along the way she had thought of fun little things, bagged them each up with the name of the city written on the bag, and then placed them in a travel box for each car. The kids loved them and they kept them from begging for stops at that golden arches place!
• Make it funny - The simplest things can get kids excited and if you can think of a way to make it funny they will embrace it! Some plastic google eyes stuck to an apple or banana always get a good laugh out of my kids and they have never turned down the chance to gobble it down. Making faces out of anything somehow makes kids more excited to eat it! Maybe creepy, but it works.
• Freezer Fare - Anything you can prepare ahead and then freeze can be a great addition to the cooler. Bake muffins ahead of time and freeze them. Toss them in the cooler and they will make a great snack along the way. Mini muffins are even less messy in the car! Another great thing to freeze is water bottles or Capri Sun pouches. They act as cool packs at first and then once they melt they will be nice and refreshing.
Those five ideas are just a few to get you rolling down the road on your next fun vacation. Here are a few tips to make sure it is a successful trip.
• Stay hydrated - Make sure that you stay hydrated on the trip. A quick stop for a drive through soda can end up costing a lot of time and money. Have it ready and available in the car and make sure everybody is getting enough to keep them healthy and happy.
• Keep your food safe - Food safety must be a priority so make sure that coolers are kept cold and things aren't left out. Food poisoning makes for a very miserable road trip!
Last but not least, make sure you have a variety of options available. Eating all sweet foods can give you a stomach ache, but eating all salty snacks can leave you feeling parched. Make sure you have options that include both and have choices with protein and nutrients as well as just fun treats.
May your road trips have as few bumps in the road as possible!