Natural Sugar Substitutes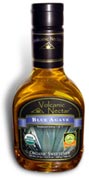 I am trying to find out how to substitute agave for artificial sweeteners in recipes.
I am type 2 diabetic and highly sensitive to all artificial sweeteners (they give me migraines even stevia) any help will be greatly appreciated!
Debbie
---
Hi Debbie,
As individual artificial sweeteners vary and many recipes don't call for artificial sweeteners, I've only posted information for honey and sugar. If you need information on a specific artificial sweetener, just let me know.
Just substitute Agave in equal parts for honey in most recipes. As a substitute for sugar, use 3/4 cup agave nectar for 1 cup of sugar, and reduce the recipe liquid content by 1/4 cup.
Hope this helps,
Desiri Wightman, R.D.
Registered Dietitian