---

Recipe from the May 2012 Newsletter
---
This is one of my absolute favorite chocolatey desserts. The hot water added at the end creates a wonderful hot fudge layer in the cake, and it's devine served warm with ice cream. It's also delicious to eat cold straight out of the dish for breakfast the next day...
Ingredients: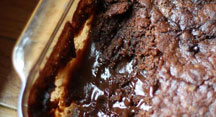 1 1/4 cups sugar
1 cup flour
7 tablespoons unsweetened cocoa
2 teaspoons baking powder
1/4 teaspoon salt
1/2 cup milk
5 1/2 tablespoons butter melted
1 1/2 teaspoons vanilla extract
1/2 cup brown sugar
1 1/4 cups hot water
---
Directions:
Preheat oven to 350. Mix 3/4 cup sugar, flour, 3 tablespoons unsweetened cocoa, baking powder, and salt. in an 8x8 baking dish. Blend in milk, butter, and vanilla. In a small bowl mix remaining sugar, unsweetened cocoa and brown sugar and sprinkle over mixture in dish. Pour hot water over the top and DO NOT stir. Bake uncovered for 40 minutes. Serve hot with ice cream.
Be sure to check the Cook'n Recipe Archive for more recipes.