Not Your Grandma's Oatmeal
Oatmeal is a wonderful, warm, delicious way to start your day, but the same old flavors can get a little boring and lead to the "mush" type nickname my grandpa gave it. My grandparents were married for 65 years and, at least in those years I can remember, Grandma made oatmeal nearly every day. I would have called it mush too! These recipes are sure to end any oatmeal blues you may have been feeling. Let's just say, this isn't your Grandma's oatmeal!
---
Baked Oatmeal
You may think you're biting into a warm-from-the-oven oatmeal cookie with how good this breakfast treat tastes. It's wonderful served with milk. -Arlene Riehl, Dundee, New York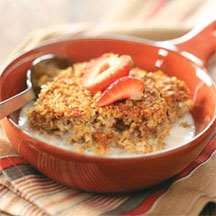 3 cups quick-cooking oats
1 cup packed brown sugar
2 teaspoons baking powder
1 teaspoon salt
1 teaspoon ground cinnamon
2 eggs
1 cup milk
1/2 cup butter, melted
Additional milk
In a large bowl, combine the oats, brown sugar, baking powder, salt and cinnamon. In another bowl, whisk the eggs, milk and butter. Stir into oat mixture until blended.
Spoon into a greased 9-in. square baking pan. Bake at 350 degrees for 40-45 minutes or until set. Serve warm with milk. Yield: 9 servings. (Recipe and photo from www.tasteofhome.com)
---
PB&J Oatmeal
1/2 cup old-fashioned oats
1 cup milk (for extra calcium and creaminess)
1 tablespoon peanut butter
1 tablespoon jelly or jam
Pinch of salt (optional)
Drizzle of honey (optional)
Combine oats and liquid in microwaveable bowl. Microwave for 2-3 minutes, stir and add more liquid if necessary. Then, while oats are still hot, stir in peanut butter and jelly. Add a drizzle of honey on top for extra sweetness. Serves 1. (Recipe courtesy of readersdigest.com)
---
Healthy Coconut Oatmeal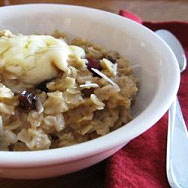 3 1/2 cups plain or vanilla soy milk
1/4 teaspoon salt
2 cups rolled oats
1/4 cup pure maple syrup
1/3 cup raisins
1/3 cup dried cranberries
1/3 cup sweetened flaked coconut
1/3 cup chopped walnuts
1 (8 ounce) container plain yogurt (optional)
3 tablespoons honey (optional)
Pour the milk and salt into a saucepan, and bring to a boil. Stir in the oats, maple syrup, raisins, and cranberries. Return to a boil, then reduce heat to medium. Cook for 5 minutes.
Stir in walnuts and coconut, and let stand until it reaches your desired thickness. Spoon into serving bowls, and top with yogurt and honey, if desired. Serves 6.