---

Recipe from the August 2012 Newsletter
---
German Pancakes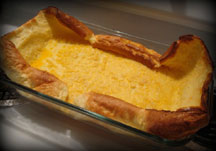 Ingredients:
6
eggs
1 cup
milk
1 cup
flour
1/2 teaspoon
salt
5 tablespoons
butter
maple syrup

or your favorite fruit jam
Directions:
1. Cut butter into 1/2 inch pieces and place in a 9x13 baking dish.
2. Preheat oven to 425 degrees for a glass baking dish, or 450 degrees for metal.
3. Once oven is about halfway preheated, place dish with butter inside, and leave in until butter is melted (but not browned) and oven is preheated.
4. Meanwhile, whip eggs until thick and lemon colored.
5. Add milk, flour, and salt and mix until blended.
6. Pour batter into pan of melted butter and place back in oven.
7. Bake 15 to 20 minutes or until the edges are raised and browned and the middle is cooked.
8. Serve hot with maple syrup or jam.
August 2012 Newsletter
Be sure to check the Cook'n Recipe Archive for more recipes.