Extraordinary Eggs To Jump Start Your Day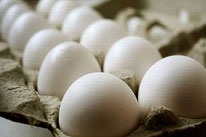 There are some foods that just define breakfast. They are those staples that find their way to the plate over and over and over in one form or another. Whether it be sunny side up, scrambled, hard boiled, fried, or whipped together in an omelet, eggs have proven their place among these defining dishes. There are so many ways that eggs can be cooked and served and so many options other foods that compliment. What's not to love?
If you still need a little convincing about the greatness of these little wonders, try some of these little facts on for size. Eggs are a great source of protein. They contain all the amino acids we must get from our diets and that protein sticks with you, making you feel full, much longer than all the carbs in a bowl of cereal or a piece of toast. Consider also that eggs contain choline which stimulates brain development and function as well as increasing memory retention and recall and improving alertness. Add in another bonus, that they contain two antioxidants, leutin and zeaxanthin, which are linked to protecting eyes from the damage that can be done by UV exposure.
All that from one little egg? And I can buy twelve of these little guys for around $1.00? What's not to love? No wonder eggs have secured their place in the breakfast hall of fame!
Here are three recipes we love that give eggs the nod they deserve!
---
Cowboy Eggs
This recipe made the list because of my dad! These were always a favorite at our home.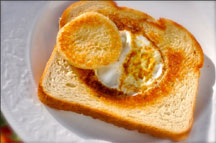 2 Slices of bread
Butter
2 eggs
Salt and pepper to taste
Take a slice of bread, and cut through bread in a circular shape with a biscuit cutter or glass. You will have the bread circle to cook alongside piece with the egg in it. Butter both sides of all bread. On medium heat, place slice of bread with cut out in pan and crack egg and drop in center of bread. Cook on both sides. Cook circle piece on both sides along with the bread and egg. Cook until egg in center is cooked to your liking, making sure not to burn the bread. Serves 2.
You may find that it takes a couple practice rounds before you find the perfect heat and time to cook your egg just how you like it, but it is worth the effort once you get it!
(Photo courtesy copycat.com)
---
Freezer Breakfast Burritos
This is for those of us that want the benefits of eggs, but don't have a lot of time in the morning.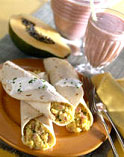 12 eggs
2 Tbsp. butter
1 lb. pork sausage, cooked and drained
1/2 cup chunky salsa
2 cups Cheddar or Pepper Jack cheese
24 flour tortillas
In large skillet, melt butter. Beat eggs in large bowl and add to skillet. Cook eggs in butter, stirring frequently, until scrambled and set. Add cooked sausage and salsa to egg mixture and mix gently.
Warm tortillas as directed on package. Place about 1/2 cup egg and sausage mixture onto each tortilla and sprinkle with some cheese. Roll up each tortilla to make burritos, folding in the ends and rolling up. Place on parchment paper lined cookie sheets and freeze until solid. Then wrap individually and package in zip-lock freezer bags.
When you're ready to eat, unwrap the burritos, wrap loosely in microwave safe paper towel and heat in the microwave on high power for 1-3 minutes until hot and cheese is melted.
You can also thaw burritos in the refrigerator overnight, then wrap each in foil and bake at 350 degrees for 10-15 minutes until hot. The thawed burritos can also be deep fried for 3-5 minutes until golden brown and crisp.
(Recipe and Photo courtesy of about.com Busy Cooks and Linda Larsen)
---
Cally's Omelet
For those of you that prefer an egg substitute this is a great recipe. We won't tell the namesake that she spells her name wrong. ;)

2 tablespoons butter
1/2 green bell pepper, chopped
1/2 red bell pepper, chopped
1/2 Bermuda onion, sliced
7 baby portobello mushrooms, sliced
1/2 pound beef tip
1/2 cup egg substitute
Melt butter in a medium saucepan over medium heat. Stir in green bell pepper, red bell pepper, onion and portobello mushrooms. Cook until tender, about 5 minutes.
Stir beef into the vegetable mixture, and cook until evenly brown, 5 to 10 minutes.
Stir egg beaters into the mixture, and cook 10 minutes, or until firm.
(Recipe and photo courtesy allrecipes.com)