Brunching: The Keys to a Simple but Fun Breakfast Gathering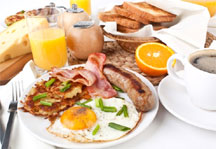 Know what I love? Brunch! Oh yeah! It's like a celebration of my favorite meal without having to get up early. Turns out it's also perfect for entertaining, fitting in around early morning activities, and fabulous for eating out on the patio as the day is warming up.
For such an easy, kick-back style of meal, the preparation of it can seem a little daunting. With a little prep work, you can have a relaxing brunch as the cook too. Here are some tips for keeping that brunch relaxing, whether preparing or eating, without having to get up super early to do it.
• Organize ingredients ahead of time. Cutting fruit, preparing beverages, assembling a breakfast casserole can usually be done the night before and kept in the refrigerator.
• Set the table in advance and have dining accessories gathered. Have your pans, dishes and silverware ready the night before. If you are getting all fancy, have your table cloth pressed and ready to go too. Otherwise you might be running around while guests are arriving, rather than greeting, mingling and enjoying yourself.
• Don't be ashamed of picking up some pre-made yummies. A pre-cut fruit platter, or cheese and deli meat platter, or those delicious boxes of huge muffins (you know the ones I am talking about) can really save your bacon!
• Speaking of bacon, which I think needs a food group all for itself... Try a new breakfast casserole recipe in a baking dish. It's a great way to get the savory sweet balance for brunch and gives you some hands free time, after you pop it in the oven. Similarly, there are also recipes for crock pots that provide another hands free alternative to cooking.
• Use crock pots to keep things warm, or turn your oven on to a low temperature.
• Decide ahead of time if there will be a theme, or if the brunch will be casual or formal, so you can inform guests. As a brunch is more of sit down affair, invite a number of guests that you can seat comfortably.
Here are some tips to keep in mind when developing a brunch menu.
• Larger groups of people can be served more easily using a buffet style menu and set up.
• A great brunch menu balances savory and sweet.
• A small menu typically includes one meat dish, such as bacon or sausage, and one egg dish which can be prepared with the meat, as well as a few side items, such as fruits and jellies, and something with grain, such as a muffin or sweet bread. You can tailor this if you have a smaller number of guests as well.
• A larger menu would include several of each option.
• Keep in mind special diets of guests attending, such as vegetarian guests.
• Have several drink options available for guests. These don't have to be complicated, and don't feel bad about using ready to drink juices. If you feel like store-bought orange juice doesn't live up to the fine occasion of brunch, dump it into a glass pitcher, and add some lemon lime soda to achieve just a small touch of sophistication.
• Remember to have fun.
Your guests didn't just come because there is free food! They came to spend time with you as well, so do what you can to be available. Join in conversations, and enjoy yourself.
There are tons of great recipes to try in Cook'n cookbooks. Here is one from The Cook'n breakfast cookbook. Changing quantities for the recipe is super easy with Cook'n software.
I have included a brunch recipe for you to try, as well as a few ideas for some fancy drinks for your brunch gathering.
---
Breakfast Brunch Casserole
Servings 5
1 pound potato, cooked, peel and diced after cooled
1 pound ham, dived
8 boiled eggs , diced
2 tablespoons parsley
2 tablespoons onions
1/2 pound Cheddar cheese, diced
1/4 cup butter, melted
1/4 cup flour
1 teaspoon salt
1 1/2 cups sour cream
Bake at 375 degrees for 30-40 minutes. Delicious!
---
Virgin Mimosas for a Large Brunch Gathering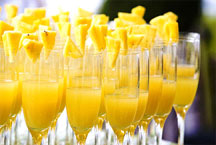 1 lemon, thinly sliced
1 orange, thinly sliced
2 litre(s) ginger ale
2 containers frozen lemonade concentrate, large
64 ounce(s) orange juice
Best when all ingredients are cold before mixing. Place an ice ring or ice cubes in punch bowl to keep mimosa cold. Combine all the ingredients in punch bowl. Add sliced citrus for decoration.
---
I am always looking for new ideas, what are your favorite brunch recipes?