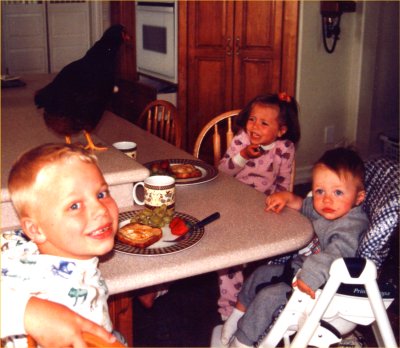 Danny, Brennah, Jackson,...and their pet chicken enjoy Wagon Wheels for breakfast. Brennah is not too happy about Dad's crazy chicken idea.

Breaking for Breakfast
"Rise 'n Shine!" my Mom's heralding voice beckoned us to get to the kitchen for overflowing bowls of Mush. Sometimes, I didn't think I could possibly choke down one more mouthful.

"Why can't we just eat cold cereal like other kids do?" I'd grumble to myself as images of a silly rabbit, a pigmy captain, and a green elf named 'Lucky' danced through my brain.

Tradition follows upon tradition, even for breakfast. As far back as anyone knows, my grandmothers have dished up Mush for their children, listened to moans and groans, and said, "It's good for you!" And I now do the same for my preschooler.

Perhaps the real tradition I strive to carry on is that of Breakfast itself. As our lives increase in complexity and our time shortens, the familial structures that used to be so common in our lives get pushed aside. For adults, who have learned how to squelch the body's hunger signals, skipping breakfast seems inconsequential. For children, however, a lack of breakfast leads to distracting stomach pains, sluggishness, and an inability to concentrate.

Consider that during the day, people often eat at least every four hours, not including snacks. Then reflect that at night the body goes without food for an eight to twelve hour span. Is it any wonder if we feel a bit groggy and listless when we roll out of bed? You've heard breakfast referred to as "the most important meal of the day." With the purpose of perking up our minds and energy levels, enabling us to meet the day's challenges, breakfast certainly lives up to that image.

What then, makes up a good breakfast? To restore energy and to provide strength up to lunchtime, a balanced morning meal consists of carbohydrates, protein, and fat.

The carbohydrates (found in grains, dairy, fruit and veggies) break down easily supplying the body with a rapid boost of energy and mental alertness. About the time that this energy is waning, the body unleashes the energy of protein. This source (found in dairy, eggs, meat, vegetables, and grains) continues to keep our minds active. Then as protein power begins to drop off, the energy of fat digestion is released and keeps our bodies lively.

This can be understood better by thinking of a time when all you ate for breakfast was a glass of orange juice. It gave you a short-lived energy boost, and then a brief time later, your stomach started growling at you. Contrast that to a morning when you ate an omelet, toast with jam, juice, and a banana. How long did it take before you felt the trigger to eat again?

In the last issue of the HomeCook'n Newsletter, we asked our subscribers to share some of their favorite breakfast recipes. Here are some creative new ideas to add to your traditional favorites:

Sue Johnson's Breakfast Pizza
Donna Davis' Stuffed French Toast
Anne Holland's German Pancakes
Farr Hinton's Frosty Morning Oatmeal
Mimi Pohm's Outlaw Smoothie
Dodie Woolem's Fried Potatoes Plus
Nonfat Granola
Buttermilk-Raisin Breakfast Buns

If you are interested in speedy breakfast hints, click to Table Talk, where you'll find innovative tips to get you out the door, as well as some fun topping recipes. After this issue, it will be hard to make excuses not to fit in the morning energizer.




Happy a.m. Cook'n,


Desiri Wightman, RD, CD


Looking for more rise 'n shiners? Check out "Grab 'n Go Breakfasts" or "Budget Breakfasts" in Cook'n Lite & Healthy, or type the search word 'breakfast' in your DVO software to expand your morning menu.

To download these recipes into Cook'n or see a photo of the food, visit the Recipe Archive.

Do you have any fabulous recipes to share with other Cook'n readers? Email your recipes to us. Include any preparation or serving hints, tell us about you and your family, and send us a picture. We'd love to hear from you.