Buttermilk-Raisin Breakfast Buns
DVO Recipe Center
Serves: 8
3-3 1/2 cups flour
1 tablespoon baking powder
1/2 teaspoon salt
2 teaspoons margarine
1 cup nonfat buttermilk
3 egg whites
1 1/2 cups golden raisins
3/4 cup unsweetened applesauce
2 teaspoons ground cinnamon
2 tablespoons berry spreadable fruit, melted

Heat oven to 400°. Spray 13x9x2 inch pan with nonstick cooking spray. Mix flour, baking powder and salt in large bowl. Cut in margarine until mixture resembles fine crumbs. Mix in buttermilk and egg whites. Turn dough onto lightly floured surface; gently knead in enough flour to make dough easy to handle. (Dough will be soft.) Roll dough into 8-inch square. Mix raisins, applesauce and cinnamon; spread over dough. Roll up dough; pinch edge of dough into roll to seal. Cut roll into 8 slices. Place 1-inch apart in pan. Bake 20 to 25 minutes or until light brown. Brush with melted spreadable fruit. Remove from pan. Cool on wire rack. Makes 8 buns.
Help on downloading recipes
Be sure to check the Cook'n Recipe Archive for more recipes.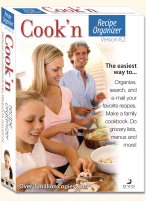 for Windows 9x/2000/ME/NT/XP/Vista

Not sure what to order?

Piles of recipe cards in your drawer?
Download Cook'n today and get organized!
Cook'n Cookbook Software Download - MSRP $99.95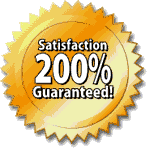 (Save 20%)
Download: $79.95

CD: $79.95



Buy the CD or download the full version of Cook'n right now! Includes over 300 of our best recipes.