Man in a Boat
DVO Recipe Center
Serves: 1

AKA Wagon Wheels...my kids love these!

1 slice bread
Butter or margarine
1 egg
Salt and pepper

Coat griddle or pan with cooking spray and heat. Spread margarine thinly on both sides of the bread. Cut a circle out of the middle of the bread using a biscuit cutter and remove. Place bread slice in pan. Crack egg into center of bread. Cook over medium heat until set. Flip and continue cooking until egg is done and bread is toasted. Toast the middle circle, too, and place atop the egg for a "hat." If desired, float your boat by placing in a bowl and pouring warm milk over it.

Since our kids have big appetites, we found a short-cut that speeds up the cooking process and gets the Wagon Wheels rolling.

1) Start heating a griddle or pan.
2) Use a small cup to cut hole in middle of bread
3) Drop a tablespoon or so of butter in heated griddle or pan and spread around to coat bottom.
4) Place several pieces of bread in pan at once.
5) Crack egg in center of each hole.
6) Season with salt and pepper.
7) Flip and continue cooking until egg is done and bread is toasted.

We place all of the middle circles in the pan at the end to toast them. Then, we cover with jam and top off a delicious and creative breakfast.
Help on downloading recipes
Be sure to check the Cook'n Recipe Archive for more recipes.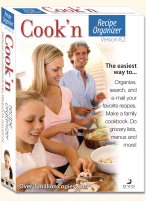 for Windows 9x/2000/ME/NT/XP/Vista

Not sure what to order?

Piles of recipe cards in your drawer?
Download Cook'n today and get organized!
Cook'n Cookbook Software Download - MSRP $99.95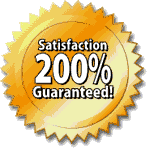 (Save 20%)
Download: $79.95

CD: $79.95



Buy the CD or download the full version of Cook'n right now! Includes over 300 of our best recipes.