Cook'n is the best selling recipe organizer
Scale your recipes with
Cook'n
Instantly scale your recipes to feed any size crowd
Cook'n makes scaling recipes easy. You can easily adjust any of your family's favorite recipes. Adjust to feed any size of group with just the click of a button. For example, if you have a recipe that serves 10 people, if you simply change the servings to 20 Cook'n will double the recipe automatically for you.
---
Change recipe serving sizes
to automatically convert ingredient amounts
Cook'n's Recipe Manager makes entertaining a snap. Simply select the number of guests you will be serving and enter it into your favorite recipe. Cook'n calculates the new ingredient amounts for you. No more of that measuring madness!
Cook'n also allows you to:
---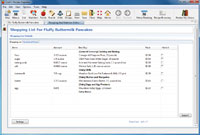 Search for recipes
by what foods you have on hand
Simply tell Cook'n what ingredients you have on hand and in seconds, Cook'n will suggest several delicious recipes. Or, use Cook'n's exclusive "Recipe Browser" feature and page through pictures of finished dishes to look for ideas.
---
Easily add your own recipes
Organizing your family recipe collection in the computer is easy with Cook'n. You already know how to put in your recipes, that's because Cook'n's recipe window looks just like a recipe card. And, "Quick-Fill" editing does much of the typing for you. You can even add your recipe photos and videos!
---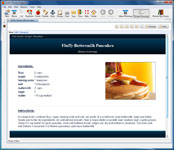 Capture Internet Recipes with One-Click!
Finding recipes on the Internet is fun... but printing them just adds to the clutter. Instead, simply use Cook'n to find and capture Internet recipes so you keep them in one central database for easy access!
---
Create and organize cookbooks
with different chapters
Cook'n has simple cookbook-like chapters and categories that make it easy to find your recipes fast. Choose how to display your recipes with several colorful themes to choose from. If you'd rather have a hard copy, Cook'n allows you publish cookbooks with title pages, table of contents, nutritional info, and indexes.
Now you can stay organized in the kitchen and enjoy cooking again!
---
Learn More About How Cook'n Can Help You:

Find & Capture Internet Recipes
Menu Plan
Make Shopping Lists
Analyze Nutrition
Share Recipes
Print Family Cookbooks
Save Money
More...
---
"Just a quick note to let you know how much I love your program. Not only has it enabled me to get rid of a good deal of paper but recipes are just a couple of clicks away, no more hunting." -Judy
---
"I think the Cook'n software is the best purchase I have ever made. You have no idea how many times I looked for a recipe I knew I had but could not find anywhere and had to give up after hours of going through many of my cookbooks and loose recipes that I keep in a greatly disorganized manner. Thank you very, very much for having come up with such a great tool for those of us who love to cook. I absolutely love your software. " -Margaret
---
"Thank you for coming up with such a wonderful way to keep track of all recipes. I use Cook'n everyday and it is the best program on the market to organize recipes." -Eloise
Cook'n Is Several Products in One!