Table Talk: The Best of the Rest, From Pinterest Raspberry Swirl Marshmallows
---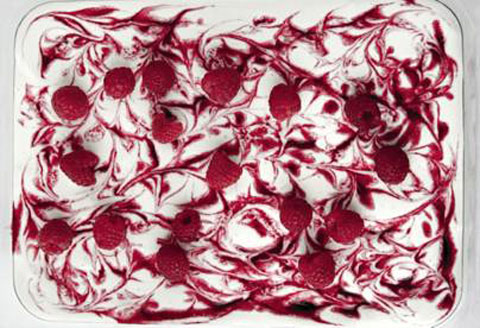 Serves: 5
Total Calories: 603

1 1/2
cups
raspberries
(6.5 ounces)
1/2
cup
powdered sugar
1
ounce
gelatin
(I found that this was one box of Knox, plain, unflavored gelatin)
1/2
cup
hot
water
1 1/2
cups
sugar
1 1/2
cups
+ a bit more
light corn syrup
(I just gave the bottle a little squeeze after I measured the 1 1/2 cups)
3 1/3
tablespoons
water
1/2
teaspoon
clear
vanilla extract
, optional (found in baking or specialty stores)
Raspberry Swirl Marshmallows:

In a medium sized saucepan, heat raspberries and powdered sugar over medium heat, stirring often. Heat, until the berries and sugar have cooked down into a syrup. Remove from heat and strain out the seeds. For me, I had a surplus of this raspberry syrup and I think I could have easily gotten away with only using half of these ingredients, however the listed ingredients yield approximately 1/2 cup of syrup. Set aside.

In a large bowl, whisk together the hot water and the gelatin. Set aside (this will end up getting gummy, that's ok, because when you add the last ingredients they will be hot and melt it back down).

In a large pot, mix together the sugar, corn syrup and water. Heat over medium heat until it reaches a rolling boil (a boil that cannot be stirred down). Stir often, as you do not want this to scorch. After it reaches the rolling boil, remove from heat and whisk into the gelatin mixture. At this point I busted out my electric hand mixer and beat until light and fluffy, My mixture never really got light and fluffy, I beat for 15 minutes, and it turned white and the consistency of marshmallow fluff. (I added about a 1/2 T. vanilla flavoring at the end of beating and stirred it in). If you have a stand mixer with a wire whisk attachment, I highly recommend using that during this step.

Next, dump marshmallow mixture into a rectangle cake tin that can been prepared with parchment paper. I recommend dusting the parchment with powdered sugar, to ease in getting the mallows out. Pour raspberry syrup over top of marshmallows and use a skewer, butter knife or chopstick to swirl. Allow to set overnight and cut with a wet knife. I ended up sticking them in the freezer after a day, because they were still a little too sticky to handle and it worked like a charm.

-------------------------------------------------------------------------------------------
I cannot wait to make marshmallows again! I found the raspberry swirl delicious with a bit of tartness to them and sweet, but not too sweet. I will be adding them to my hot chocolate for many nights to come. I think the next time I do this I am going to use some caramel ice-cream topping and mix that in, in place of the raspberry, and see how it works. Over all, I was completely surprised at how easy marshmallow making is! I think I could use a little practice in the swirling method, because my mallows were nowhere near the beautiful creations that Mowie made, but what can I say, the guy is a professional!

If you are preparing Cocoa Mix gifts like those in December's issue of the Home Cook'n Newsletter a heart shaped raspberry mallow might add some zing to your gift (cut it heart shaped with a cookie cutter dipped in water). If sticky, dust with a light dusting of powdered sugar. Here are my beauties, but if you want to see some beautiful food photography, Mowie Kay has some great stuff!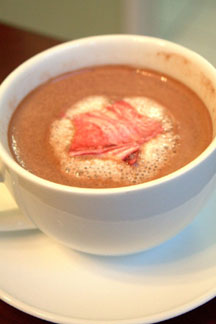 Star Shaped Mallow in Hot Cocoa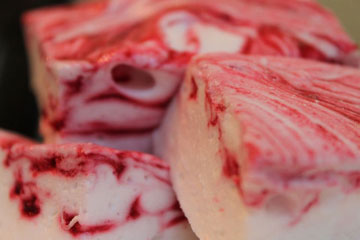 A Close up of Deliciousness