Table Talk: Honey Lime Chicken Enchiladas
---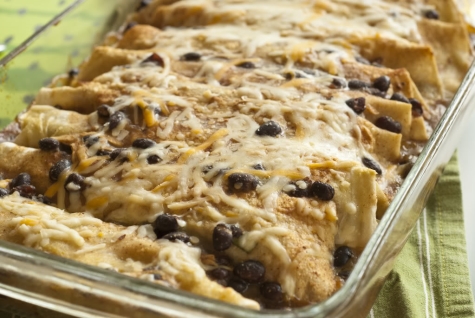 Serves: 5
Total Calories: 355
Yield: 12
Prep time:
Cook time:
Total time:

A new twist on an old favorite!

Mix together the honey, lime juice, chili powder, and garlic powder in a large size bowl, until it combines and makes a sauce. Add shredded chicken to this bowl and mix well to coat. Allow the sauce and meat mixture to set for 1 hour. (You can also do this step the day before, tightly cover with plastic wrap, or store in zipper bag).

In a lightly sprayed 9 x 13 casserole dish, pour in half of the enchilada sauce. Warm corn tortillas (to prevent cracking), and stuff with meat mixture, add cheese. Place in dish with the rolled edge down. Pour the remainder of the enchilada sauce over the top, and top with remaining cheese. Bake, uncovered for 30 minutes at 350 degrees. Serve with chopped green onion and sour cream if desired.