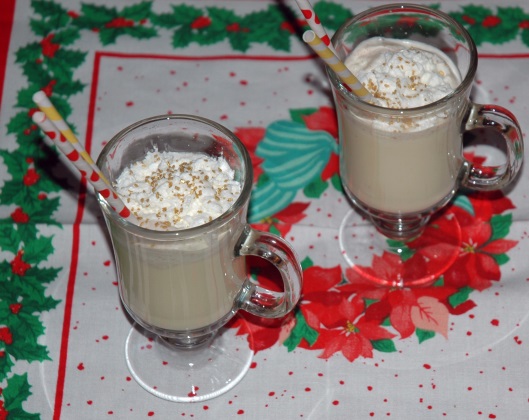 Eggnog is the drink of merriment and good tidings and is definitely associated with the Christmas Season. Eggnog starts emerging in the stores as early as the middle of October, then, in January, it is nowhere to be found. Although I enjoy eggnog during the holidays, I find the store brands a little too rich for my liking. But when I add milk to thin it out a bit, it loses too much flavor. Our homemade eggnog uses whole milk, eggs, a bit of cream, vanilla and nutmeg. The eggs are tempered so you don't have to worry about problems associated with raw eggs. My family thinks the texture and taste of this recipe is so much better than store bought. Try this recipe and you be the judge. We, of course, couldn't stop with just eggnog. We had to try a few other recipes as well. Just for clarification, I used store bought eggnog in all recipes other than the Cooked Eggnog.


Cooked Eggnog: Making your own eggnog is the perfect solution but it has a potential drawback. In this day and age, no one wants to use raw eggs. I say that, but it never stops my family from eating raw cookie dough! We played around with cooked eggnog recipes and found one we loved, but I wasn't thrilled with standing over the mixture and making sure it didn't burn while waiting for the mixture to hit 160 degrees. I finally got smart and cooked it in the crockpot.
Eggnog Marshmallow Dip: This is a fun holiday dip! Enjoy with sugar cookies, ginger cookies or fruit.
Eggnog Pudding Tarts: So Cute! These would make nice dessert appetizers. Mini Phillo dough cups can be bought in the freezer section of the grocery store.
Eggnog Bread with Orange Drizzle: After we made the eggnog bread, we decided it might be interesting to drizzle the top of the bread with eggnog orange icing.
Okay, I got a little carried away with eggnog, but I ended up with some great recipes to share.