Featured Recipe: Eggnog French Toast
---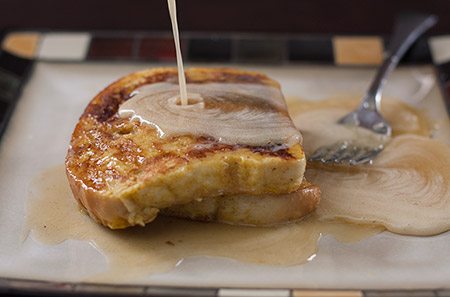 Serves: 5
Total Calories: 520
Yield: 10 slices
Prep time:
Cook time:
Total time:

French Toast:
Whisk together first 4 ingredients in a flat bottomed dish. Dip bread slices in mixture and coat both sides of bread. Cook on hot greased griddle until golden brown on both sides.

Eggnog Syrup:
Use a pan larger than you think you will need to allow for expansion of this syrup!

Melt butter in the medium sauce pan, add sugar and eggnog. Whisk together and bring to boil. Boil for one minute. Remove from heat and whisk in baking soda and vanilla. (The soda will make a large foaming reaction!) Pour over hot French toast!. Enjoy!