Whenever I think of October, I of course think of Halloween! I remember that this month always seemed to drag on forever when I was little, I couldn't wait to get all that mouth-watering candy!

As much fun as trick or treating is, I also always looked forward to pumpkin carving. Instead of just carving up the pumpkins to have glowing faces this year, like every other year, I thought I would share some other pumpkin craft ideas to deck out your pumpkins. These are easy, fun, and very family friendly!

1. 3D Pumpkin Carving: This is something that my family did all the time growing up, and it was a really fun thing to do every year because allows for even more creativity! Once you have selected your pumpkin, "gutted" it, and carved out your face, you can use the parts of the pumpkin that you would normally throw away to decorate! Use the guts for hair (keep this stuff refrigerated until Halloween night, the "hair" doesn't keep very well once on the pumpkin!), and you can use the pieces that were cut out of the pumpkin to make ears, noses, moles, and other facial adornments. Simply cut these pieces into the shapes you want and then attach them to your pumpkin with toothpicks. You can make some pretty funny faces this way!

2. Screaming Pumpkins: This is a great option for someone who doesn't have the time to carve, or someone who wants to avoid the mess. You can use any size pumpkin for this craft, I recommend smaller ones that you can line up by your front door. Get brads or pins, quilting pins work especially well, to stick to the face of the pumpkin. You can also use stickers if the pumpkin is particularly hard. Create words like, "Eeek!", "Boo!", and "Beware!" by making the letters, one letter per pumpkin, out of the pins. I recommend making sure the ends of the pins are black so they show up better, you can spray paint them if needed. You now have pumpkins that are screaming a message to your trick or treaters!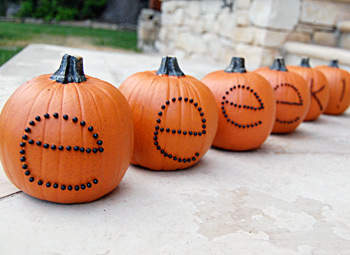 3. Paper Jack-O-Lanterns: This is a great craft for little ones who may not be able to carve a pumpkin very well. Turn a paper plate over, and with your assistance, let the little one paint it orange. Once dry, trim the top and bottom off to make more of a pumpkin shape. Using yellow craft foam, cut out triangles for eyes and a nose, and a mouth missing some teeth, or any other shapes you want to create your face. Glue these to the orange plate. You can also get green craft foam for leaves and brown craft foam for a stem, which can all be glued to the back of the plate at the top. The great thing about these Jack-O-Lanterns is that they won't spoil!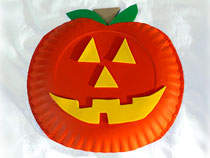 For some more great Halloween ideas, check out our Halloween Party Book for 13 recipes that will automatically add into your Cook'n Program.