An Adult Superhero Party Fit For…. A Hero!
My birthday is at the beginning of May, and this year my husband thought it would be fun to have a getaway with my family- adults only. Let me start by saying- it was SO FUN. I love my kids, and my nieces and nephews, but sometimes it's nice to just be me and spend time with my siblings as adults, not just moms and dads. I haven't laughed that hard in so long!
We kicked off our weekend getaway with a fun murder mystery party! If you've never done one of these before, let me just tell you- they are totally worth it! We've done a few different ones as a family, and it's such a great excuse to dress up and be silly, but it's also a chance to practice your deduction skills! We tried a new version that was a little more complex- and it was way fun!
Of course, what's a decent party without food? Especially food that ties with the theme. Because we would be traveling, my sister and I tried to plan things that could easily be transported in a cooler, and things that would require minimal work once we reached our Airbnb. We also tried to do things that were more finger food/buffet style, because the particular style of game that we bought requires you to move around and talk to the other players, rather than just sitting in one spot for dinner.
Our other challenge was incorporating many different kinds of superheros. It's pretty easy to find Avenger's themed decorations and food ideas, but we wanted our food spread to include a variety of superheroes because our party was superhero, not Avengers specifically. So we included some superheroes from our childhood TV days, and I think it made it that much more fun (and funny- we were definitely chuckling while putting all this together!).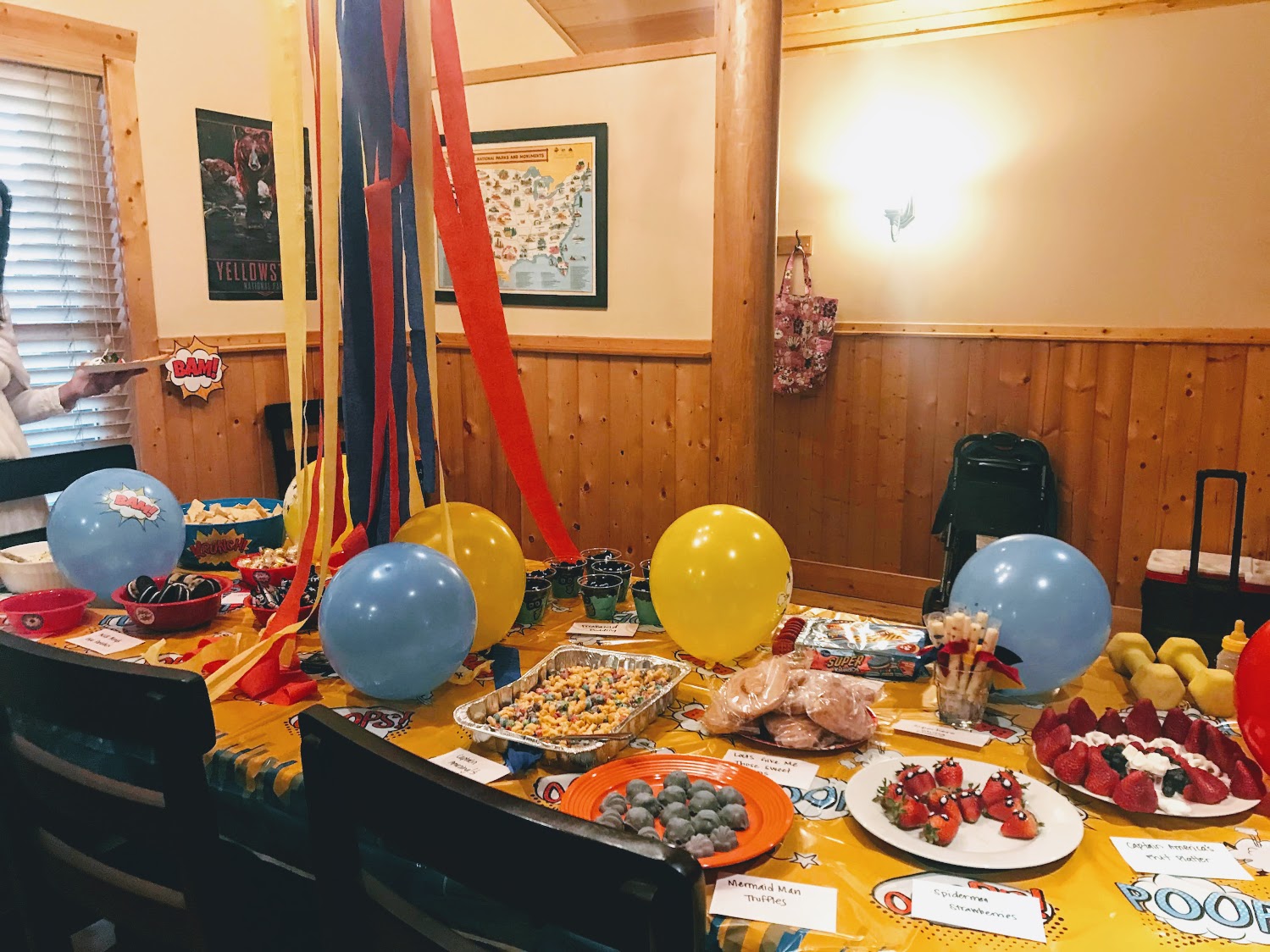 I also found some festive superhero party supplies for a great price on Amazon, and it helped to complete the look for our superhero murder myster dinner party!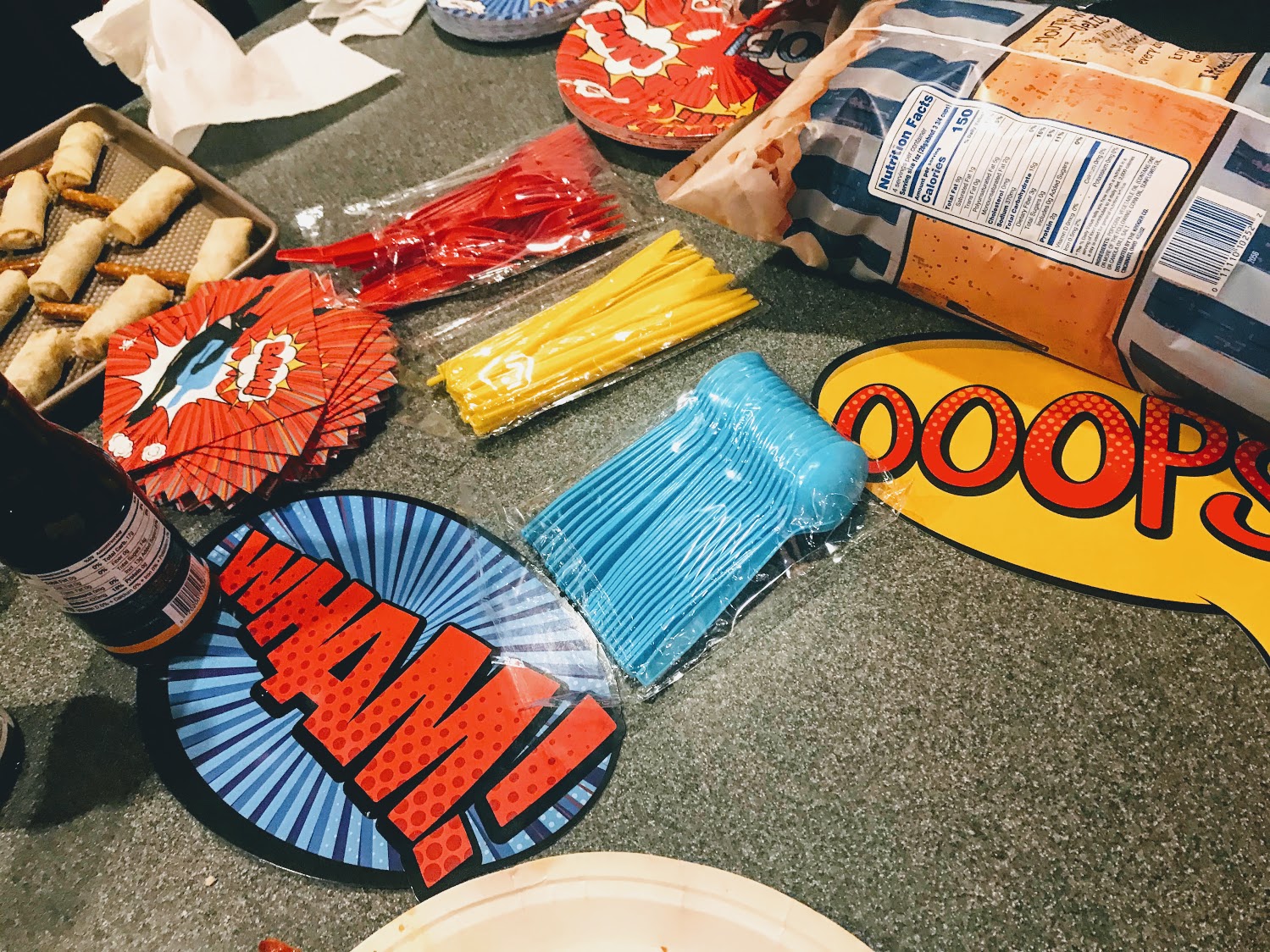 Let me share with you what we did. This would be fun for any occasion you need some superheroes! A birthday party, a Marvel marathon, or if you just really like superheroes! (Or tasty food!).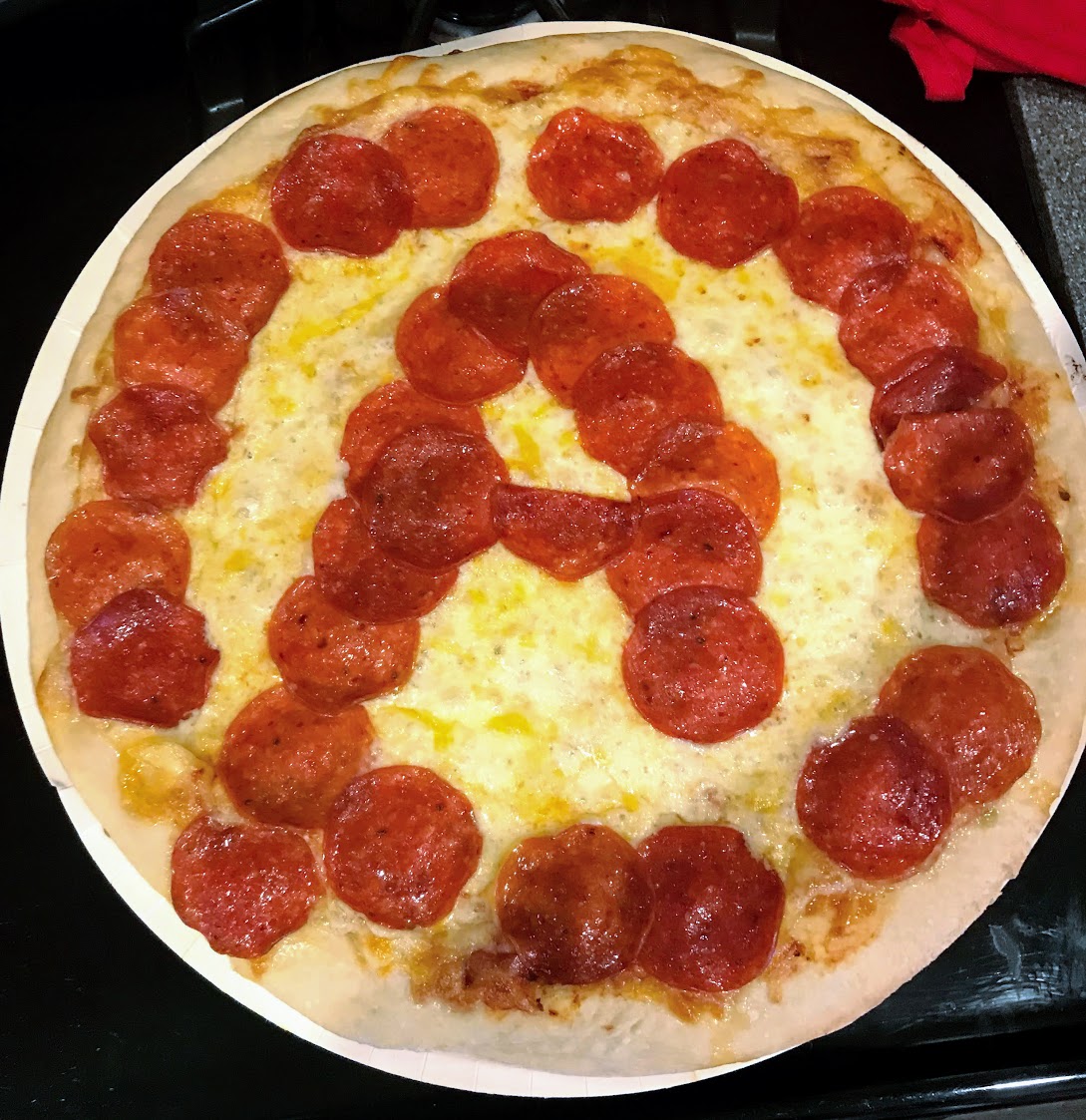 Pizza is just always my go-to when preparing food for many people. Easy, and most people love it. I bought a few cheese Papa Murphy's pizzas so that they just needed to be baked once we were at the cabin. I added some pepperoni to create the Avenger's symbol, so now it's festive pizza! The pepperoni didn't necessarily stay, but you get the idea!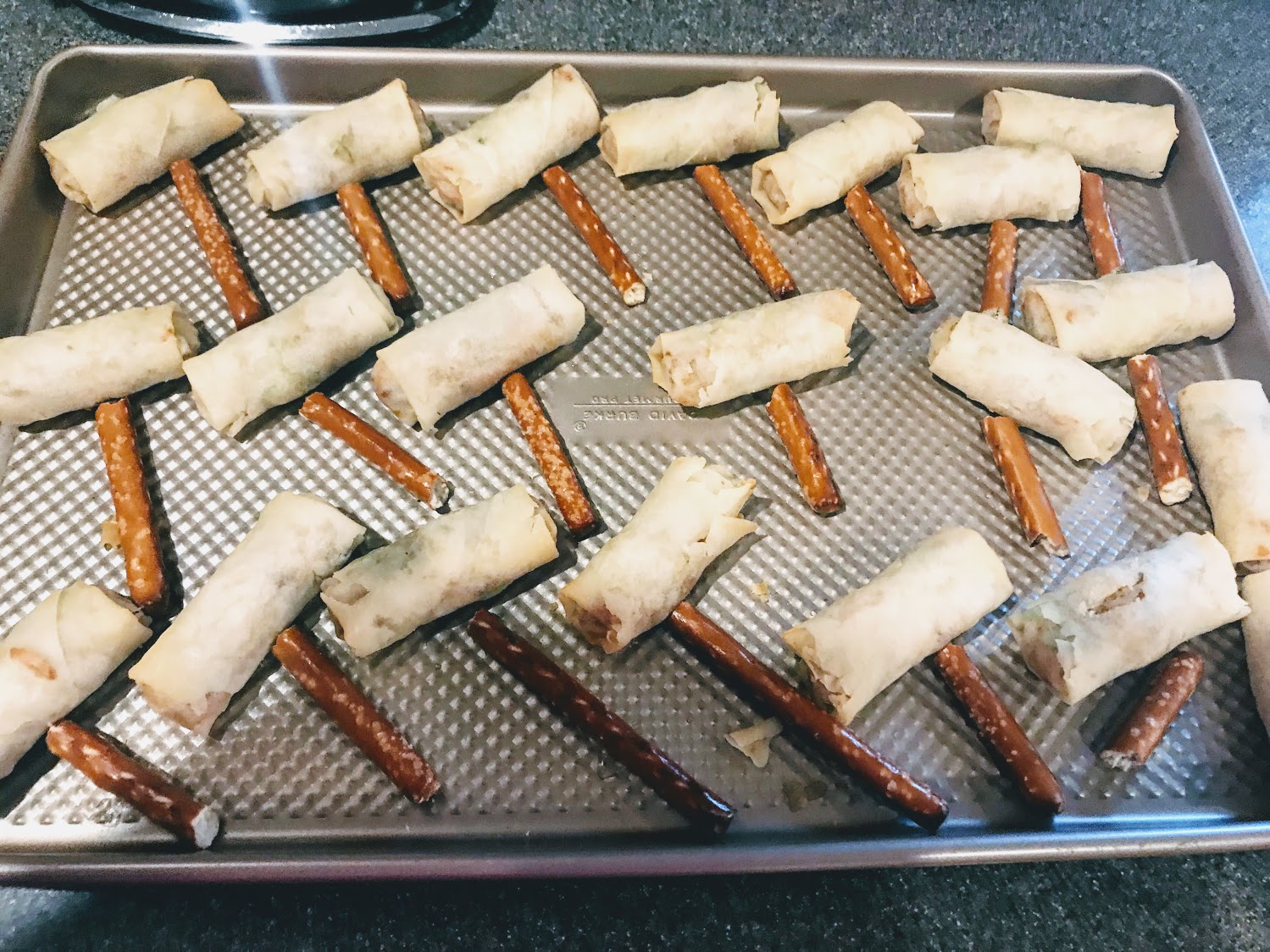 I made little Thor Hammers using eggrolls and pretzel rods. I used the vegetarian eggrolls from Costco and they were a huge hit! They paired really well with some Sweet n' Sour sauce!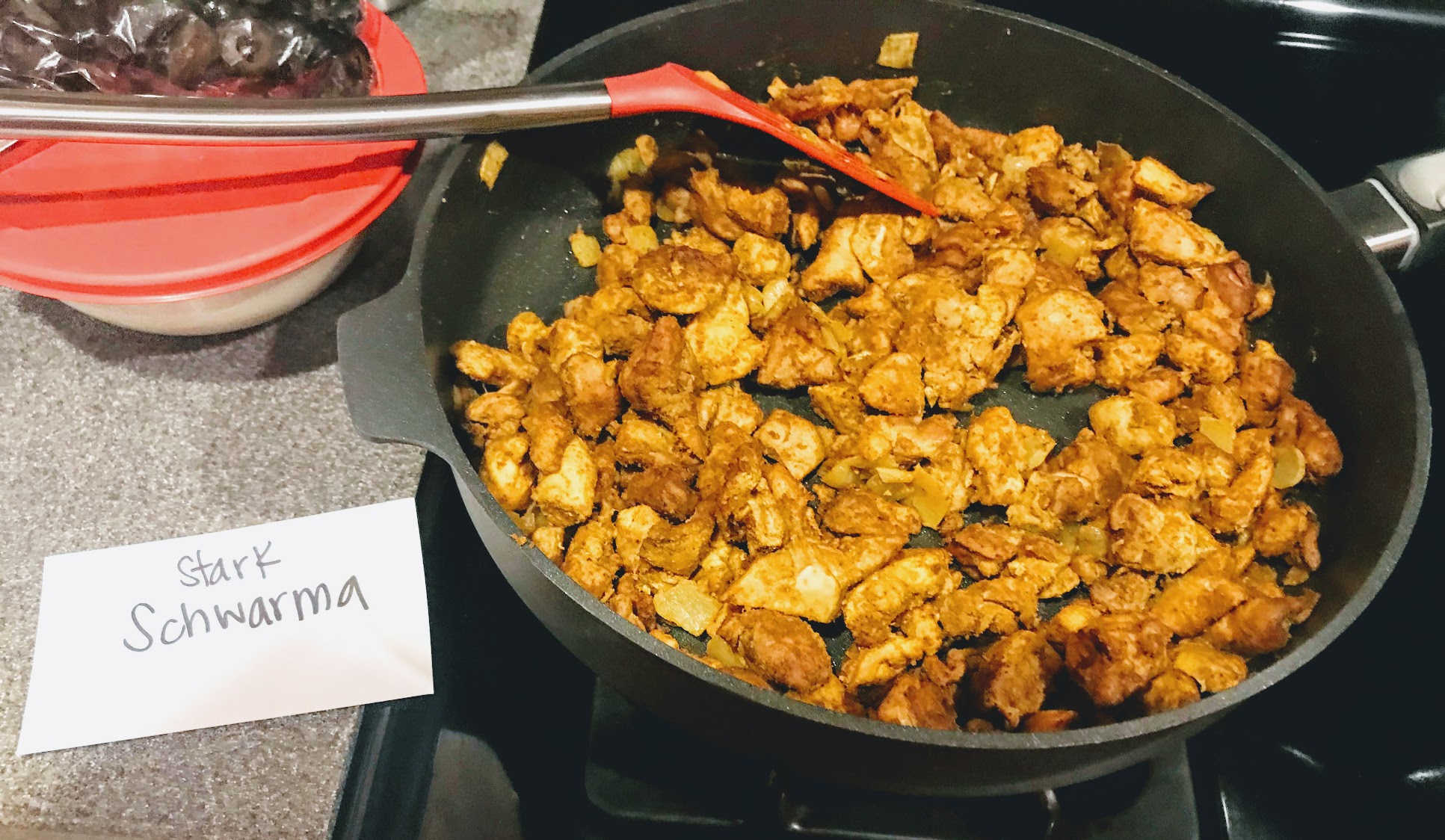 My sister made shawarma, because at the very end of the first Avenger's movie, we see them eating shwarma that Tony Stark wants to try- they're all sitting in the restaurant not saying a word, super exhausted while eating because they've just saved the world- it makes me chuckle every time :).
If you're familiar with the movie Mystery Men, we threw in a couple references to that. This is the Spleen's queso dip (it's just a copycat Chili's queso dip). If you get it, you get it ;).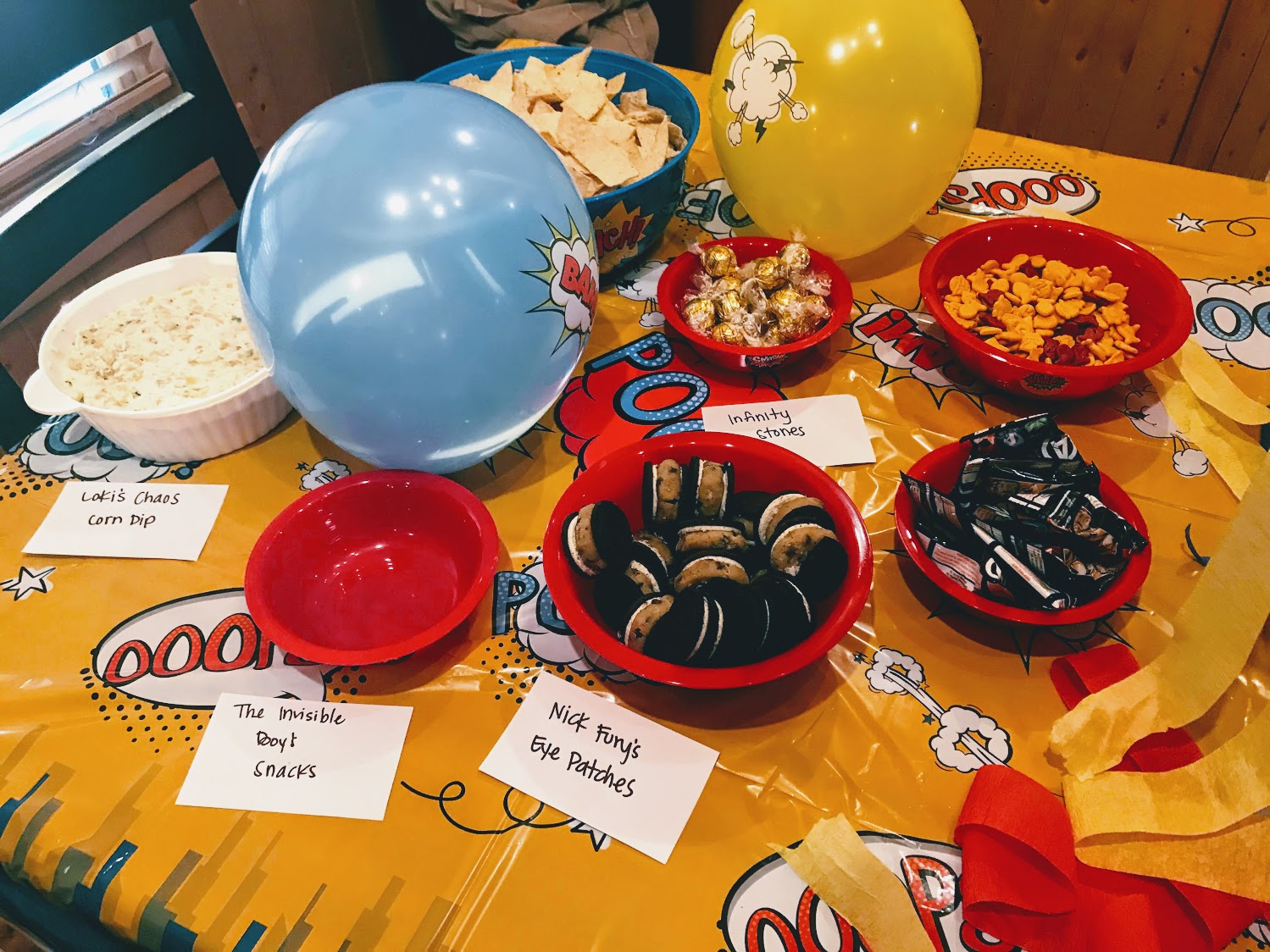 I made a corn dip and just called it Loki's Chaotic Corn Dip. I made "Nick Fury eye patches", with some cookie dough thrown in- because it's so stinkin' good! We also had Avenger's fruit snacks and goldfish to add to our spread. And some of the Invisible Boy's snacks (again, from Mystery Men). And of course, some Infinity Stones! (Lindt chocolate balls).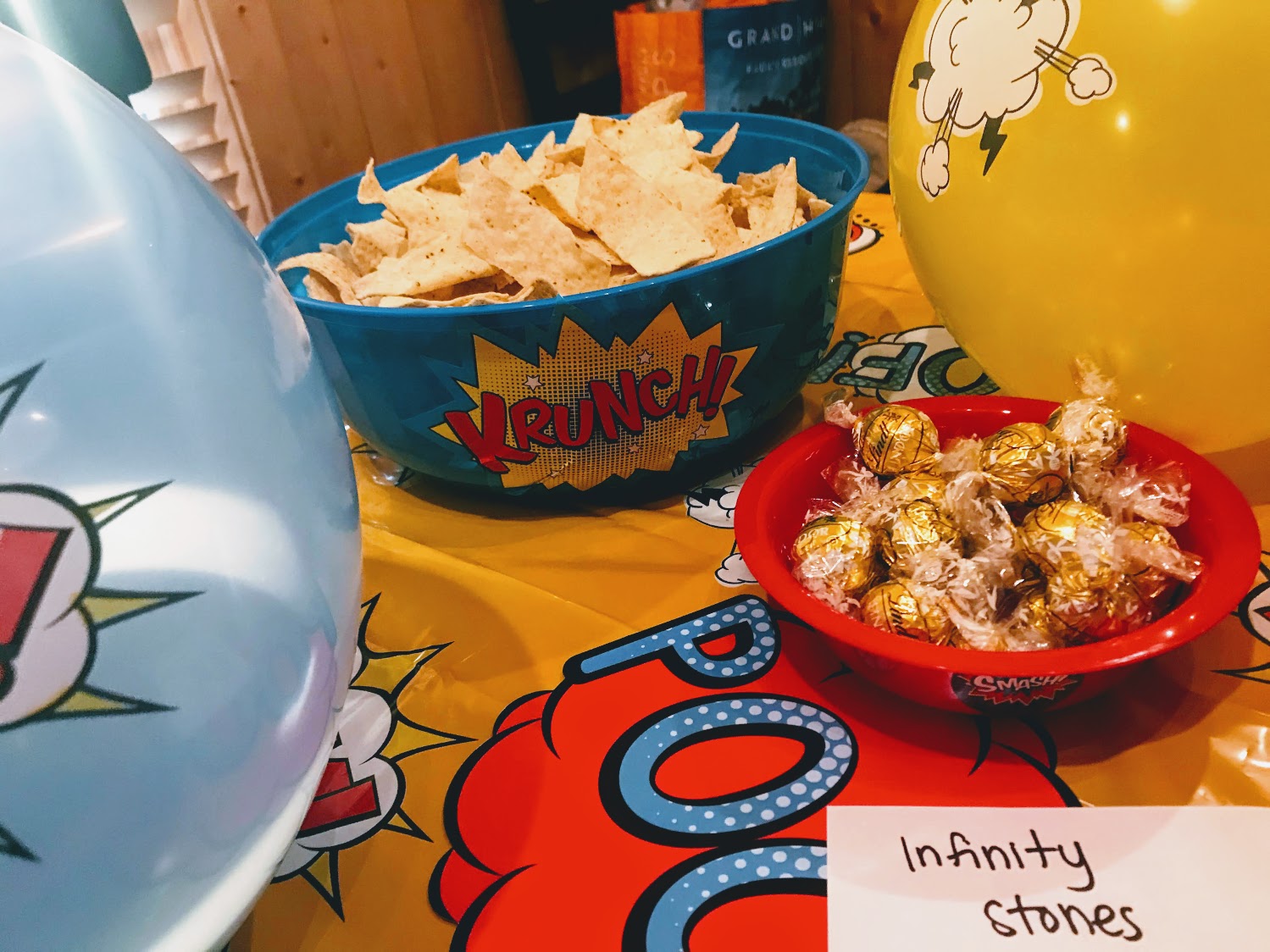 I added stickers to some cheap bowls I got from the dollar store to help things be more festive. I was pretty tickled that there was a giant Krunch sticker that fit the chip bowl perfectly!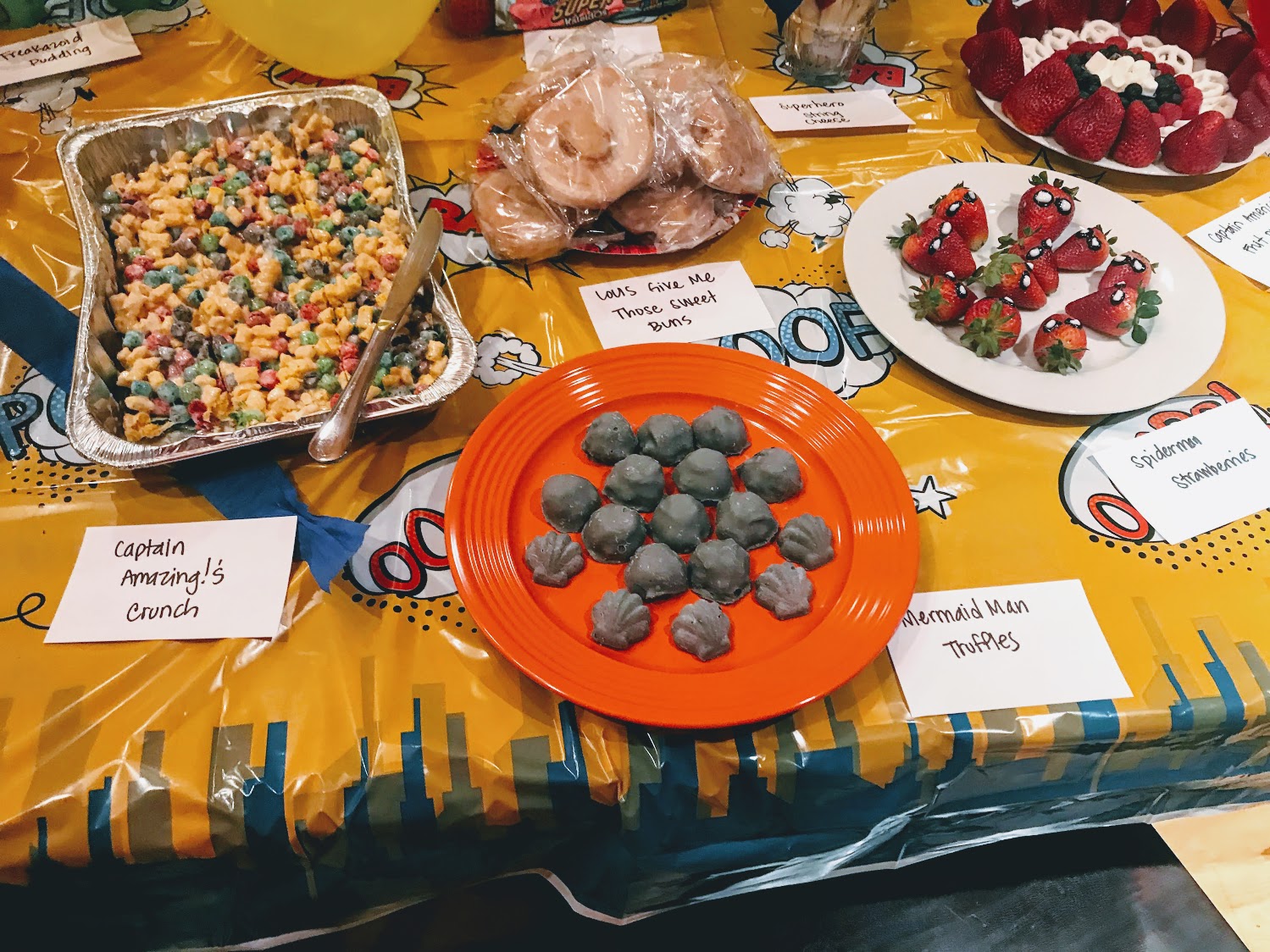 My sister made some purple seashell truffles as a reference to Mermaid Man, from Spongebob Squarepants. She also made some Captain Crunch Bars, but we called it Captain Amazing!'s Bars; Captain Amazing! was a key character in our murder mystery game, so we had to reference him somehow! I also set out some honey buns; another TV show we watched growing up was Freakazoid, and in one of the episodes, there is a superhero named "Fatman", and he asks his sidekick, Louis, to "give me that sweet bun". We thought we were pretty funny with that idea ;).
Also in reference to Freakazoid, my sister put together these darling pudding cups! She used blue vanilla pudding and crushed Oreos on top, with just a drizzle of white decorating gel. She did such a great job on the cute faces!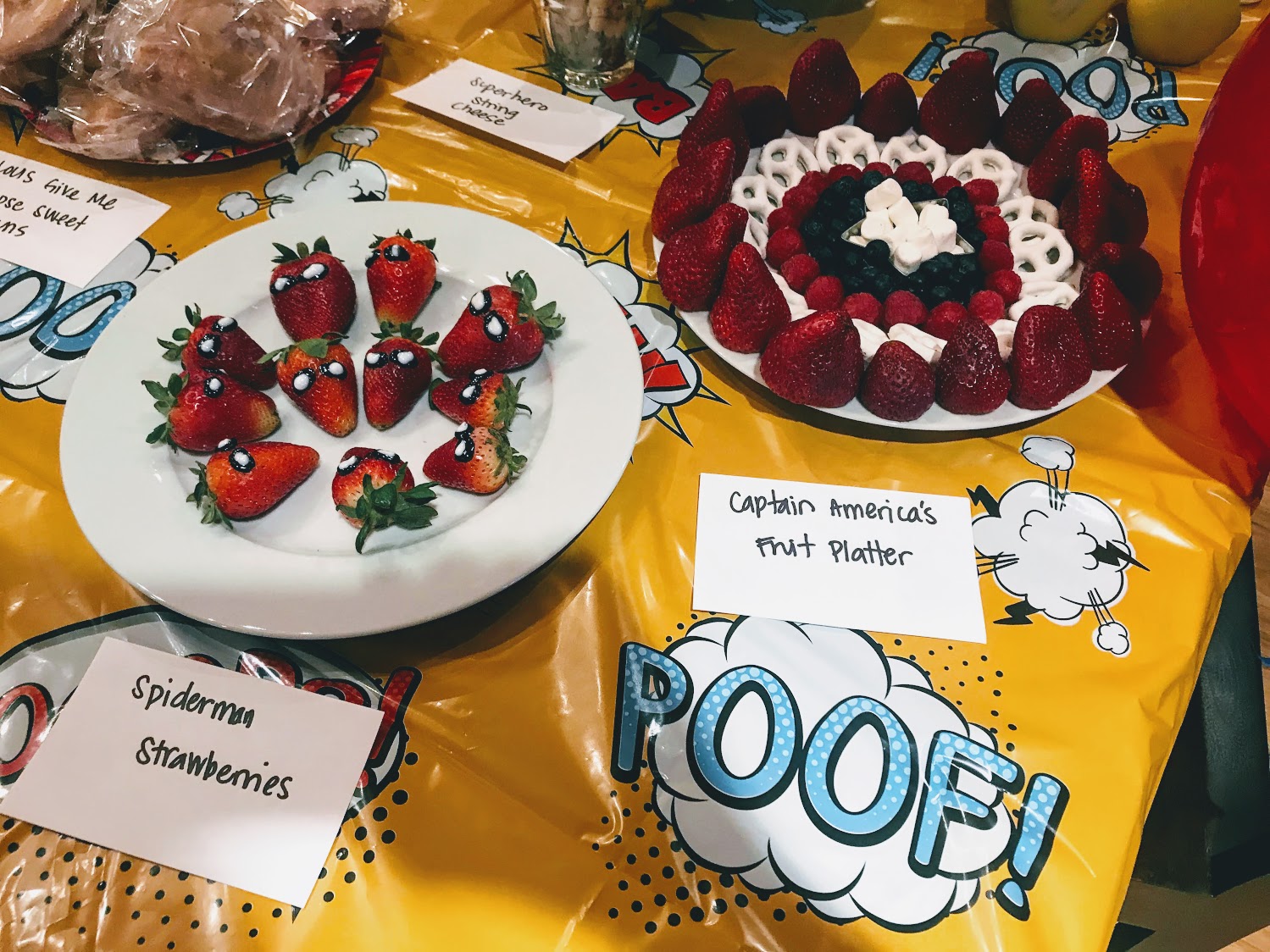 She also made the cutest little Spiderman strawberries! Just a little decorating gel for the eyes, and you've got it done! I also made this Captain America fruit platter. My pregnant brain completely forgot my big wooden platter, so we had to make do with a dish from the cabin. It still turned out pretty cute! (Just use a star cookie cutter in the middle to hold the marshmallows, and surround it with your choice of blue, white, and red snacks!)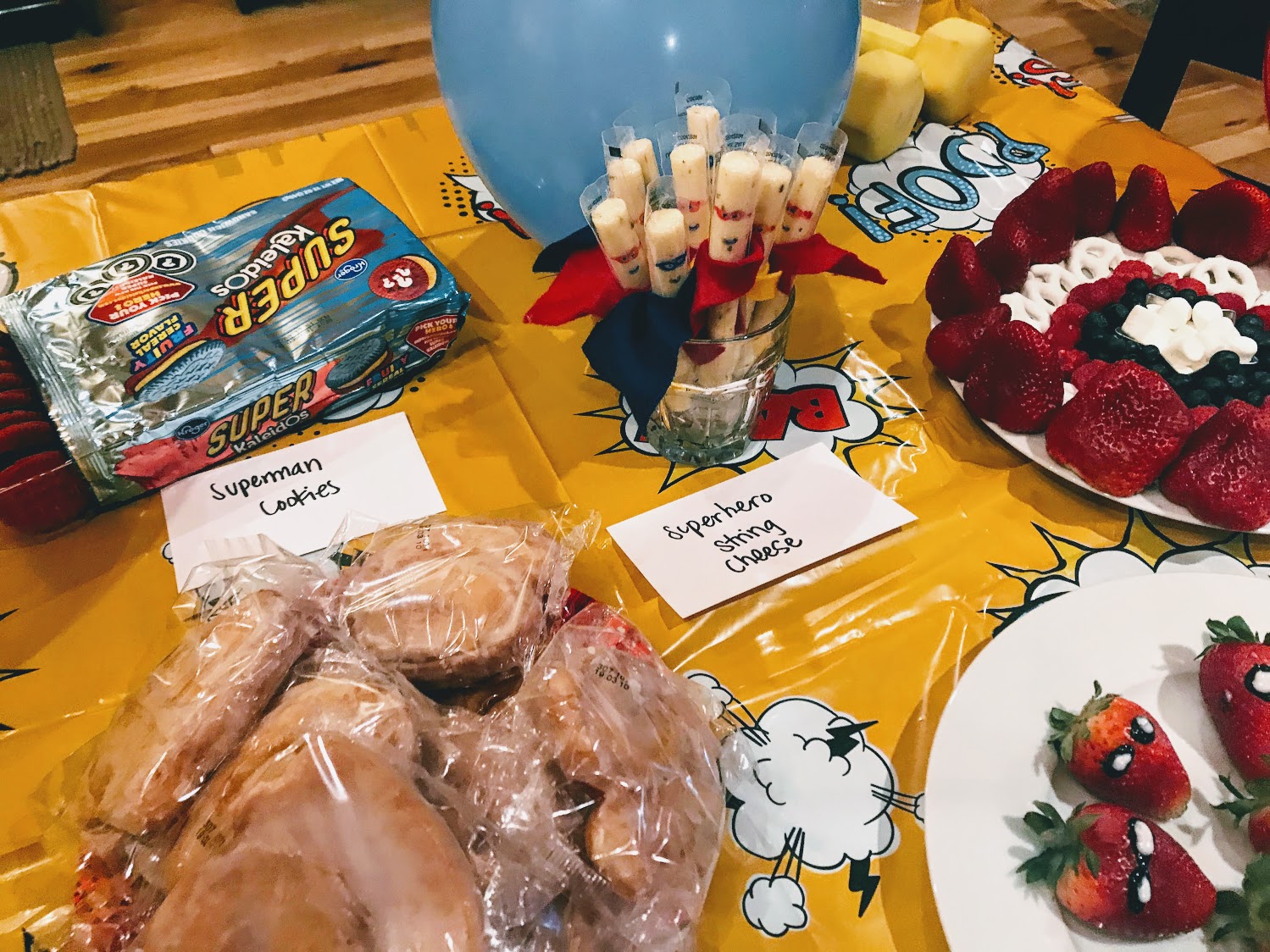 We also had superhero cookies, and my sister made these darling little string cheese Supermans. She used pepper jack cheese to make it a little more grown up ;). But how cute are these??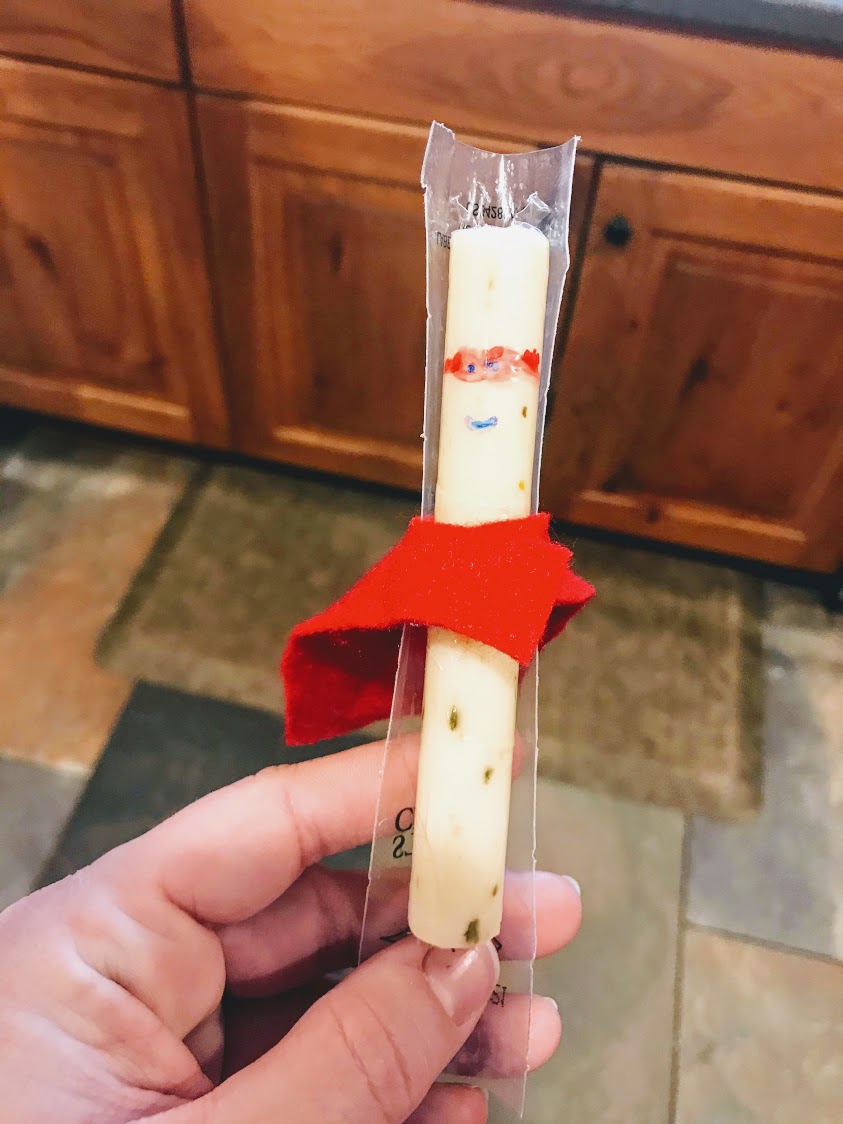 As you can see, we had way too much food, and just as much fun. As I told my husband- I know we had more food than we needed, but that's partially what makes a party so much fun! A plethora of options, especially when they're all tied into the theme, and when so many of them look so cute!!
Have you ever thrown a themed party before? Do you like to make themed party food, or do you like to keep it simple? There is no wrong way- just personal preference ;). I would love to hear your thoughts and opinions in the comments below!
Sources:
https://i.pinimg.com/736x/5b/b1/8a/5bb18aff46233e37fee4c378762fd822.jpg
https://pick-ease.com/superhero-birthday-party-ideas-avengers-power-rangers/
https://www.catchmyparty.com/photos/2070323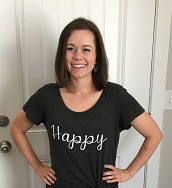 Camille Hoffmann
Weekly Newsletter Contributor since 2014
Email the author! camille@dvo.com