Spend More Time Experimenting with This Remarkable Vegetable!
One Martha Stewart's latest newsletters had an article on the marvels of spaghetti squash: "Gluten-free and low carb, spaghetti squash makes a fabulous substitute for pasta, but that's not all it can do.
"Oblong and variously hued, from canary to butter yellow, but also amber or blonde, this hard-shelled pumpkin-cousin seems unremarkable at first. The interior of the raw squash looks as one might expect from any winter squash: firm flesh and many large seeds. But then you cook it, and the magic becomes apparent."
And it does seem like magic. I remember the first time I opened up a cooked spaghetti squash—not really sure what to expect. There before my eyes, its cooked meat fell away from its shell into threads, strands, and ribbons. It dawned on me then that this was essentially a vegetable pasta. Remarkable!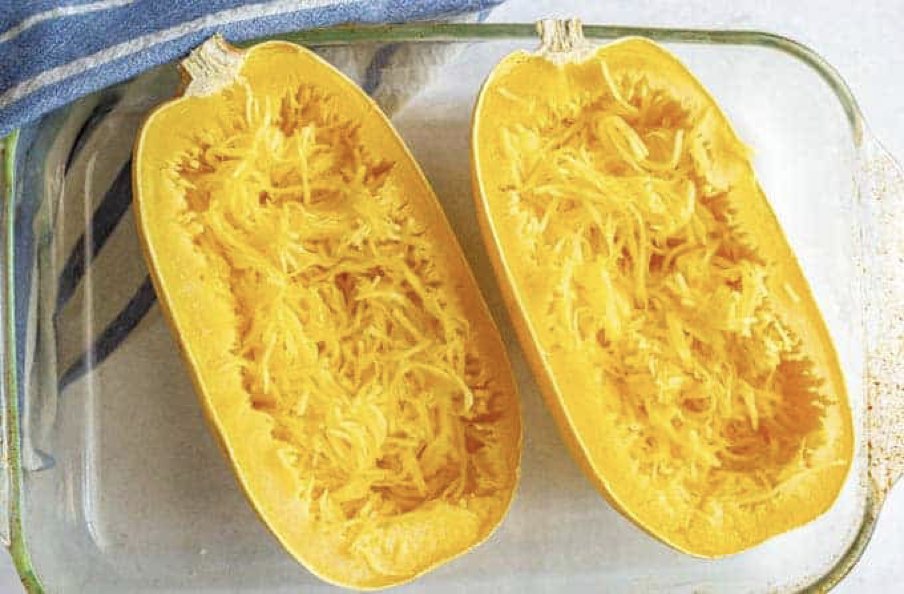 Then there's its flavor. While it remains squash-like, it's firm and slightly sweet. Perfect for pairing with a hearty spaghetti or marinara sauce. I've also discovered, however, that it's also delicious when mixed into black or pinto beans with a dollop of ranch dressing. It's a versatile vegetable that's limited simply by the imagination!
And add to its versatility its health benefits, and you have a true winner. Low in calories, high in fiber and nutrients (such as an abundance of folic acid), this wonder-ingredient deserves lots more attention and experimentation.
Marie Viljoen, the article's author, observed: "The only special technique you need to acquire for absolute spaghetti squash virtuosity is the art of the scrape. You will need a fork. We know, so high tech!" She's right. This is one veggie that's easy to work with.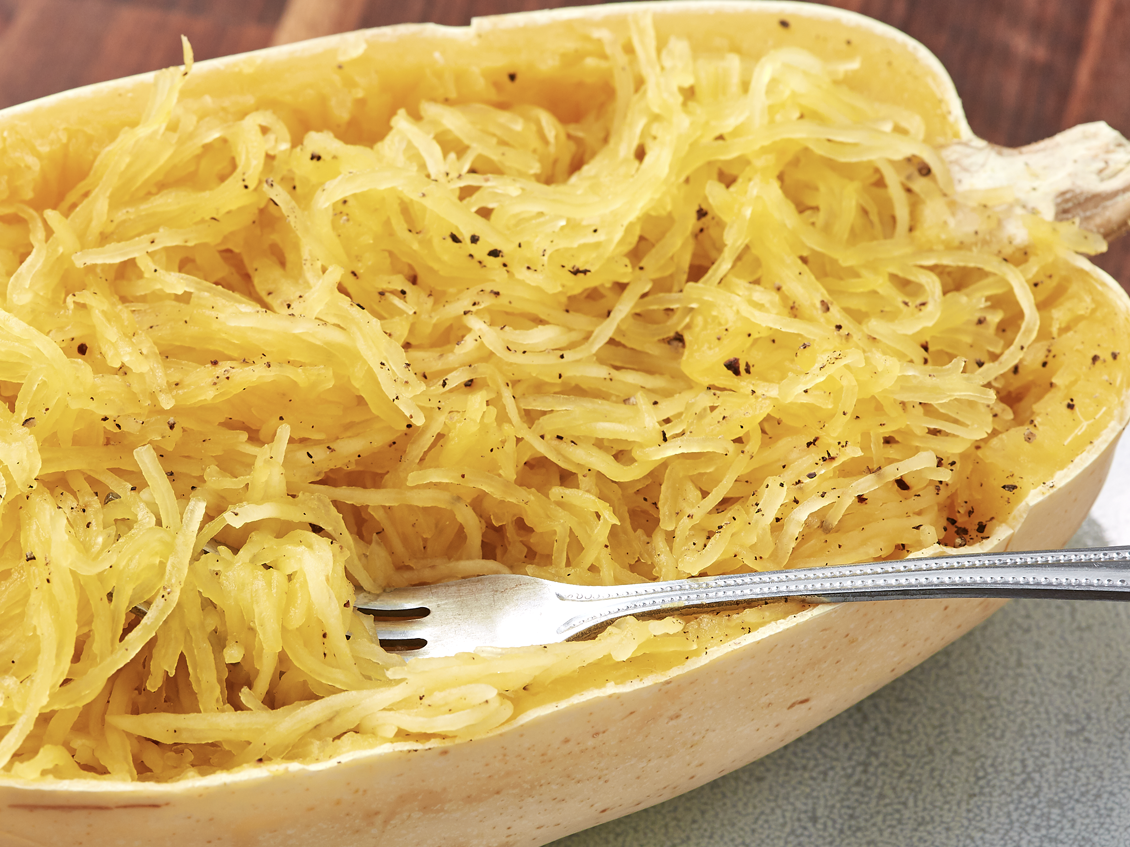 For extra easy-prep and low-mess, for instance, consider roasting it. Roasting sliced spaghetti squash enhances its nutty quality, yielding a deliciously simple side or the versatile foundation for a flock of other dishes.
While spaghetti squash is not carb-free, its relative carbohydrate value is low compared with say, potatoes, rice, and pasta. If you have gone keto and are missing linguine, a bed of grains for some delicious pan juices, or worry that your meatballs feel lonely, the spaghetti squash is your new best friend. Try it with Bolognese, with shrimp, or turn it into pancakes.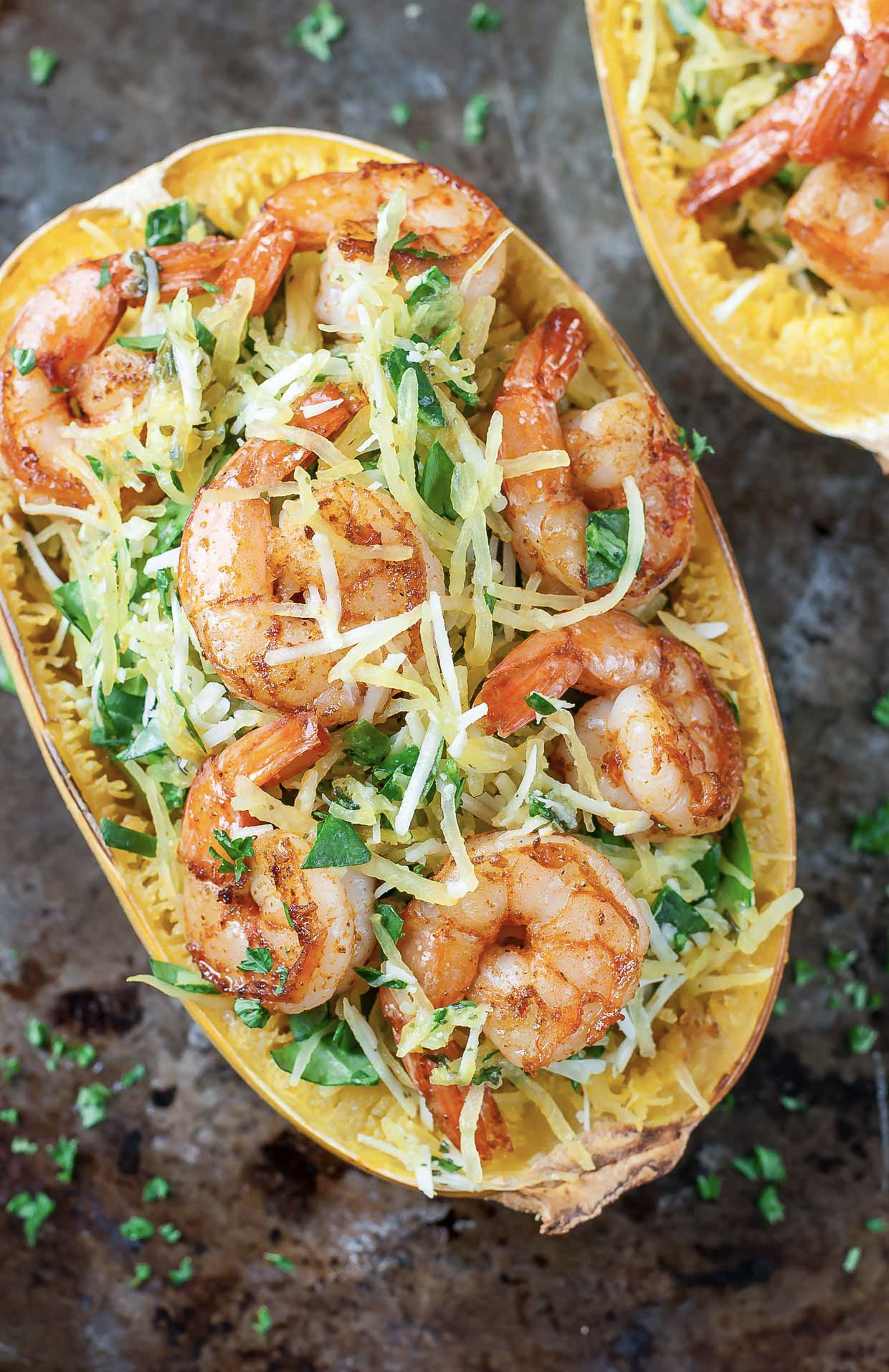 Wait a minute—spaghetti squash pancakes? Oh yes. The spicy warmth of coriander and cumin, the fresh heat of jalapeño, and the sweetness of caramelized shallot blend quietly into pancakes so good you will want to triple the quantity and freeze them in batches. Add a dollop of yogurt to the warm cakes and you're set for one of the best breakfasts, brunches, or dinner sides you've ever tasted.
I'll close with Martha Stewart's recipe for these delectables and my encouragement to spend more time experimenting with this remarkable vegetable.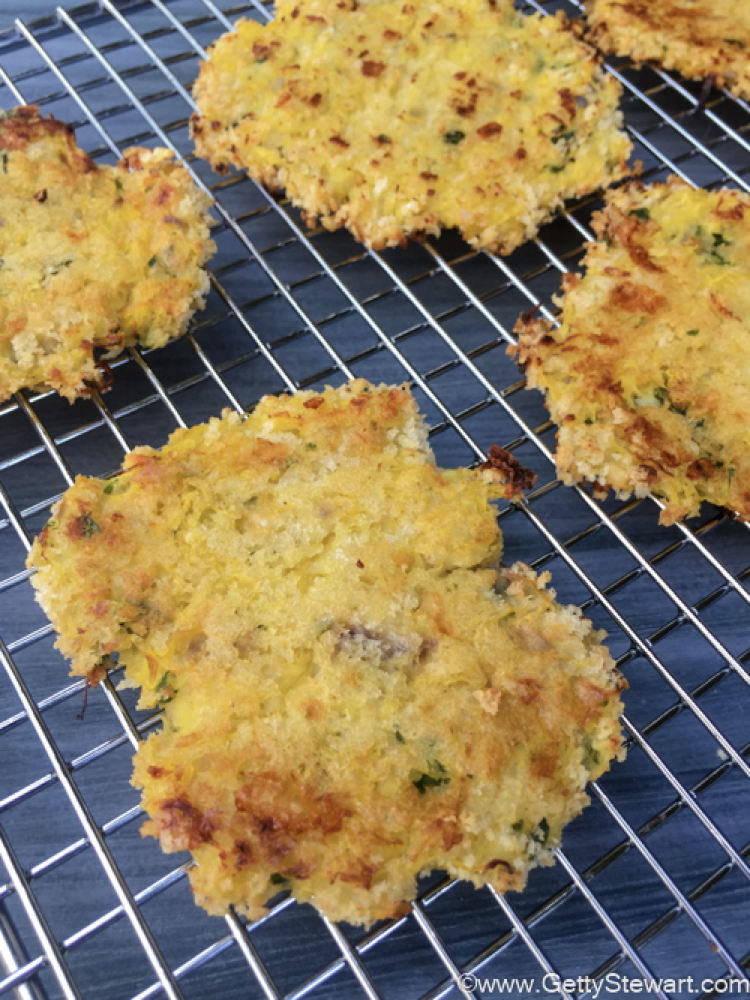 Spiced Squash Pancakes
Ingredients:
1
tablespoon
extra virgin
olive oil
3
shallots
minced
2
small
jalapeño peppers
seeded and minced
2
tablespoons
peeled and minced, fresh
ginger root
3/4
teaspoon
ground
cumin
3/4
teaspoon
ground
coriander
coarse
salt
to taste
ground
pepper
to taste
3
cups
roasted or baked spaghetti
squash
patted dry
2
large
eggs
lightly beaten
1/4
cup
all-purpose
flour
(spooned and leveled)
non-stick
cooking spray
Directions:
Step 1: Preheat oven to 275 degrees. In a large nonstick skillet, heat oil over medium-high. Add shallots, jalapenos, and ginger and cook, stirring, until softened, 7 minutes. Stir in cumin and coriander and cook until fragrant, 1 minute. Season with salt and pepper. Let cool slightly, 5 minutes.
Step 2: Transfer to a large bowl and stir in squash, eggs, and flour. Wipe out skillet, then lightly coat skillet with cooking spray; heat over medium. In batches, add batter in 1/4 cupfuls to skillet and cook until pancakes are golden brown, 6 to 8 minutes, flipping halfway through. Transfer pancakes to oven to keep warm; repeat with remaining batter.

Recipe formatted with the Cook'n Recipe Software from DVO Enterprises.
Add Recipe to Cook'n
Sources:
www.snappygourmet.com
www.hellohelloplants.com
www.dailyharvestexpress.com
www.peasandcrayons.com
www.gettystewart.com

Alice Osborne
Weekly Newsletter Contributor since 2006
Email the author! alice@dvo.com