Chicken with a Lemon Herb Sauce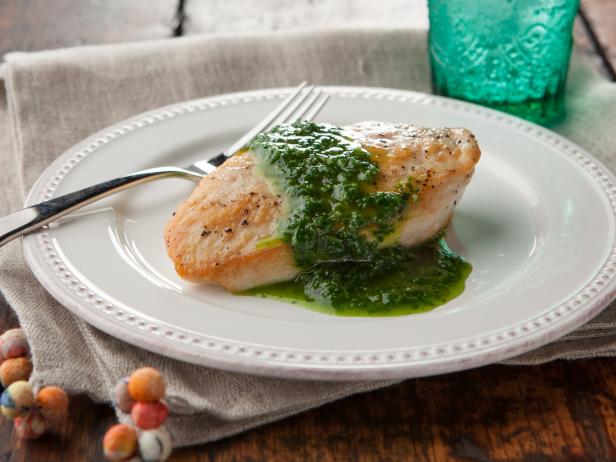 Serves:
4
This herby sauce takes skinless chicken breasts from boring to bright in only 25 minutes.

Dovetailing Tip: Cook an additional 1-2 chicken breasts but don't add the Lemon herb sauce. Save these to add to the Curried Chicken and Rice Soup on day 5.
Prep Time:
Cook Time:
Total Time:
Ingredients:
2

tablespoons

extra-virgin

olive oil

4

boneless skinless

chicken breast halves

kosher salt and freshly ground

black pepper

1

clove

garlic

, peeled

1/4

teaspoon

salt

1/2

cup

chopped fresh

parsley

leaves

1/3

cup

chopped fresh

mint leaves

1 1/2

teaspoon

freshly ground

black pepper

1

lemon , zested and juiced

1/3

cup

extra-virgin

olive oil
Directions:
For the Chicken: Preheat an oven to 450 degrees F.

Heat a large ovenproof skillet over medium-high heat. Add the olive oil and swirl to coat the skillet. Season the chicken breast with salt and pepper on the smooth side of each breast. Place in the skillet seasoned side down and cook without disturbing until brown and crisp, about 3 to 4 minutes. Season the top side of the chicken and flip. Cook 1 minute over the burner; then transfer the skillet to the oven until chicken registers 165 degrees F on an instant-read thermometer, about 6 to 8 minutes more. Place on a cutting board and let rest for 5 minutes before slicing.

For the sauce: smash the garlic clove, sprinkle with the salt, and with the side of a large knife, mash and smear the mixture to a coarse paste. Transfer to a blender with the parsley, mint, pepper, lemon zest, and juice. Pulse until coarsely chopped and then slowly drizzle in the olive oil. Pour into a small bowl and adjust seasoning. Deglaze pan with the sauce, if desired, and serve with the chicken.

Source: foodnetwork.com