Stuff I Didn't Know, That Now I Do!
Did you get Dan's recent email announcing a new addition to the DVO cookbook collection, The Farmer's Market Cookbook?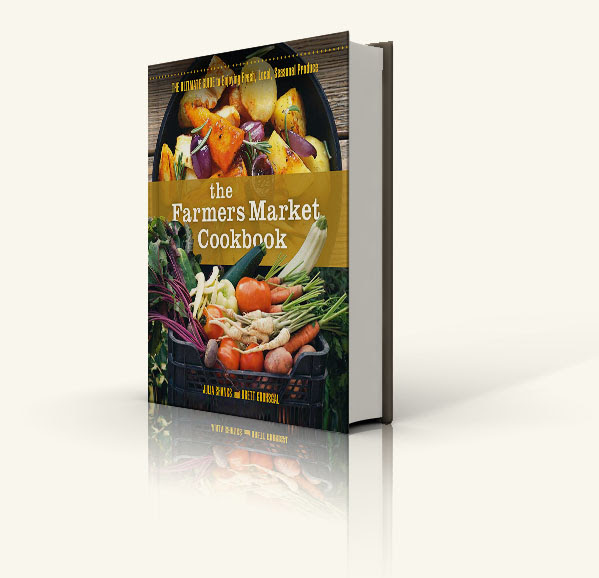 "Hurrah!" I thought to myself. This is a very needed member of our cookbook collection. I'm always pushing farmers' markets. As was said in the email, "Farmers' Markets are among the best places to find high-quality, diverse, and exciting vegetables and fruits."
I like how this book does exactly what the promo ad says it does: "From detailed produce descriptions to storage tips, preparation techniques, and over two hundred flavorful recipes, The Farmers' Market Cookbook has the answer to every prospective locavore's perennial question, 'What do I do with this?'"
But I'm not really writing about this new book. I want to talk about a quick reference the promo ad made regarding the recipes contained in the book. The reference was to garlic scape vichyssoise.
Now I can safely assume that many, if not most, of our Cook'n readers are savvier than I am. But I must be honest, when I read that reference, I wondered what is a garlic scape, and what exactly IS vichyssoise?
So in the off chance there might be a few of you out there that would wonder the same things, let me elaborate.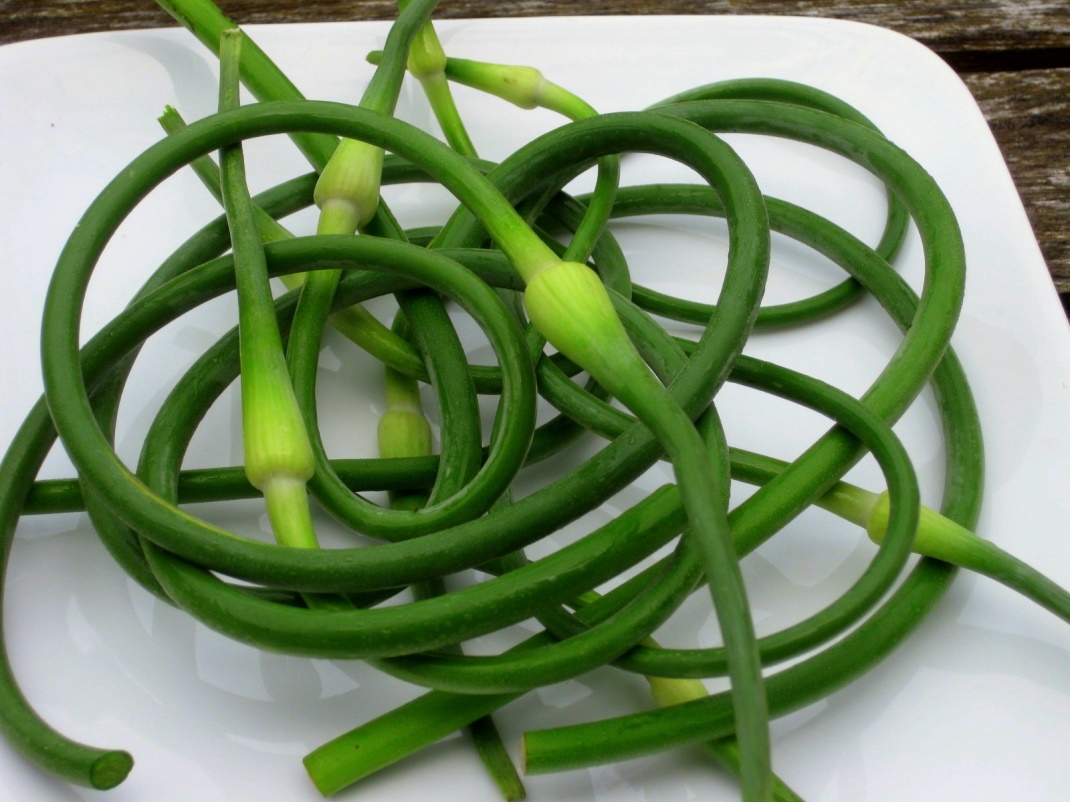 First, after some research, I found that a garlic scape is the flower bud of the garlic plant. The bud is removed in late June to encourage the bulbs to thicken up. A florist discovered that scapes make a fabulous addition to a flower bouquet, and some dare-devil cook discovered that they're delicious to eat! Scapes taste just like garlic and can be used in exactly the same way as garlic in any recipe.
Knowledgeable cooks like to sauté, roast, or pickle them. And they're delicious when added to soups. The most tender tops of the stem and the buds are delicious chopped up raw.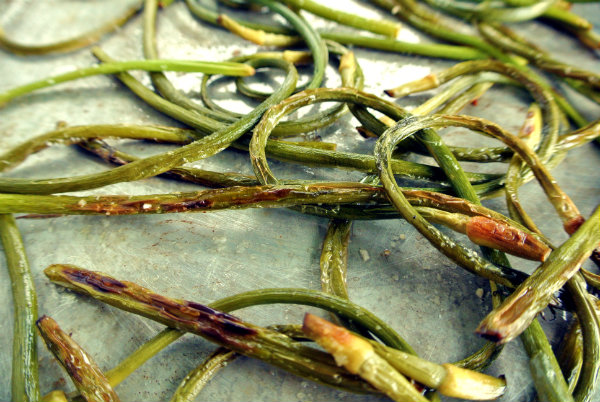 And if you're a garlic-lover, you might want to roast or grill entire scapes to serve as a side dish. To do so, lay the scapes (you may have to cut them up just to get them to lay flat) on an oiled cookie sheet and roast at 350 degrees for about twenty minutes, or toss the scapes in olive oil, season with salt and pepper and place on a med-hot grill, turn occasionally until they are slightly browned in areas.
I can't recall seeing garlic scapes for sale in our local grocery stores, so here's another solid reason to frequent the farmers' markets!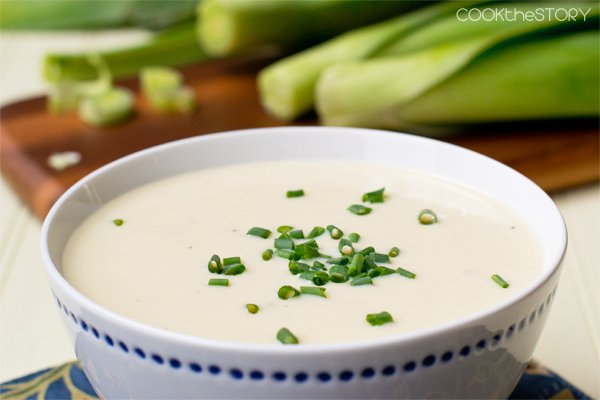 Now on to what exactly is vichyssoise: According to Wikipedia, this is a thick soup made of boiled and puréed leeks, onions, potatoes, cream, and chicken stock. It is traditionally served cold but it can be eaten hot. There's ongoing dispute over its place of origin, depending on whom you talk to. Some say Vichy, France, and others contend it's New York City.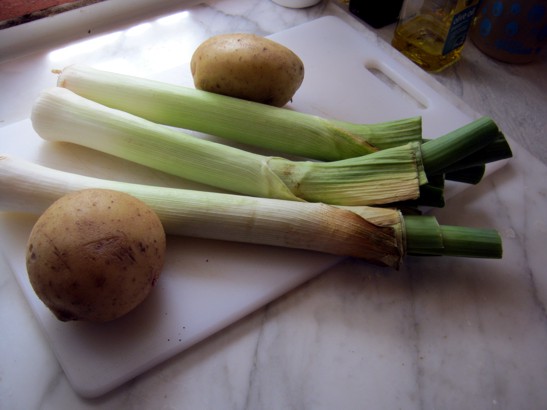 Origin aside, those that know their soups all say this is one delicious dish. Since leeks, onions, potatoes, cream, and chicken stock are available year-round in our area, I don't need to depend on our seasonal farmers' market for the ingredients, as I would to make anything using garlic scapes.
Well, now that we all know what a garlic scape and vichyssoise is, I'll close with a recipe I found on the Food Network. Alton Brown's vichyssoise received 5 stars (309 reviews), so let's start here: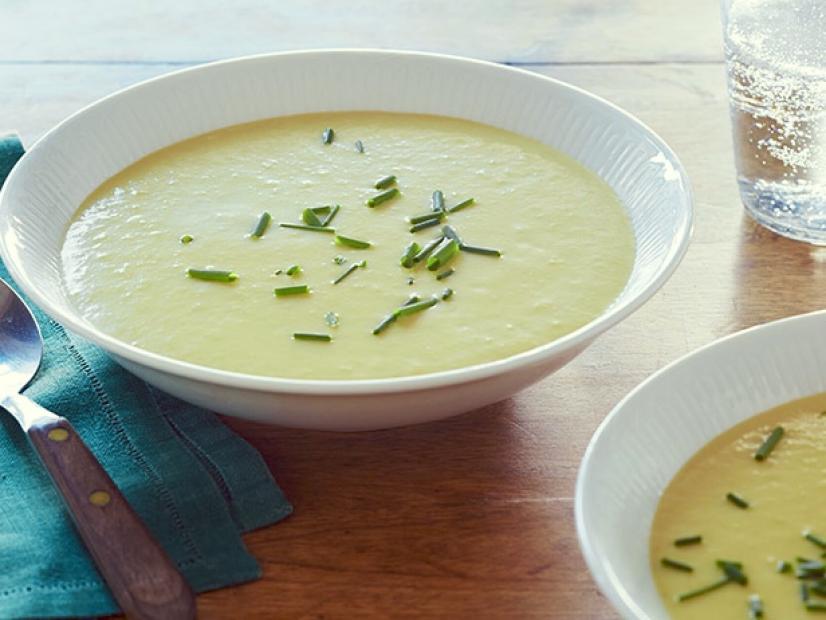 ALTON BROWN'S VICHYSSOISE
1 pound leeks, cleaned and dark green sections removed, approximately 4 to 5 medium
3 tablespoons unsalted butter
Heavy pinch kosher salt, plus additional for seasoning
3 small Yukon gold potatoes, peeled and diced small
1 quart vegetable broth
1 cup heavy cream
1 cup buttermilk
1/2 teaspoon white pepper
1 tablespoon snipped chives
Chop the leeks into small pieces.

In a 6-quart saucepan over medium heat, melt the butter. Add the leeks and a heavy pinch of salt and sweat for 5 minutes. Decrease the heat to medium-low and cook until the leeks are tender, approximately 25 minutes, stirring occasionally.

Add the potatoes and the vegetable broth, increase the heat to medium-high, and bring to a boil. Reduce the heat to low, cover, and gently simmer until the potatoes are soft, approximately 45 minutes.

Turn off the heat and puree the mixture with an immersion blender until smooth. Stir in the heavy cream, buttermilk, and white pepper. Taste and adjust seasoning if desired. Sprinkle with chives and serve immediately, or chill and serve cold.
Add Recipe to Cook'n
Sources:
www.dvo.com
www.smithsonianmagazine.com
www.eatlikenoone.com
www.cookthestory.com
www.fyrmfouroux.wordpress.com
www.foodnetwork.com

Alice Osborne
Weekly Newsletter Contributor since 2006
Email the author! alice@dvo.com