Taking Corn-on-the-Cob Eating to a Whole New Level!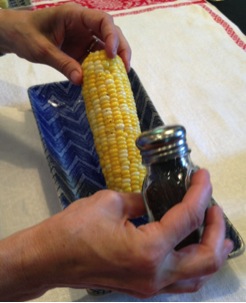 While summer is coming to a close, corn-on-the-cob eating is just getting started where we live. Oh man, is there anything better than tender and sweet corn-on-the-cob swimming in melted butter? So this said, how about looking at a few things that make corn-on-the-cobbing as easy as it is good?
First, dealing with the butter: A clever and handy product you ought to know about is the SaveBrands Butter Saver. I had no idea this gadget even existed until my latest Cook's Ilustrated magazine showed up. True to their pattern, the pros at America's Test Kitchen (the folks behind Cook's Illustrated) gave this item a thorough battery of tests. The result? It comes HIGHLY recommended.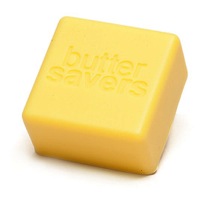 It's a square silicone cap that fits the end of a butter stick. And one thing I love about this cap is that its thickness exactly matches 1 tablespoon of butter in a standard-size stick, aiding both storage and measuring. And I like the way it keeps the butter from picking up refrigerator flavors (researchers said it'll do this for more than a week). Plus, it is tidier than folding the paper or foil liner over the exposed end of the stick. ($4.99 on amazon.com.)
I intend to get myself a couple of these-one for our camper trailer and one for the home. Anytime a reviewer says something is tidier than how I'm currently doing things, I'm all for making a change.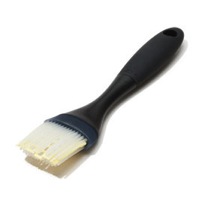 Another little tool that's perfect for all sorts of things, but especially for slathering butter over your ear of corn, is this light, maneuverable pastry brush. The pros at America's Test Kitchen also HIGHLY recommended this gadget. Here's why: It features perforated flaps in the bristles that hold liquid like a bubble wand. It easily traps watery egg wash, is delicate enough to paint pastry without damage, and brushes barbecue sauce evenly and thickly. Its handle feels comfortable and secure; the angled head helps reach tight spots and does a great job of keeping sauce off the counter when you set it down.
I've been using this brush for a couple years now and have to agree with the Test Kitchen testers. And another feature they didn't mention: It's sanitary and easy to clean. My natural bristled pastry brush was always losing its bristles during use, and I was never completely sure that I got it thoroughly cleaned. That's not the case with this brush, so I'd add my recommendation as well. (It's $6.99 on amazon.com.)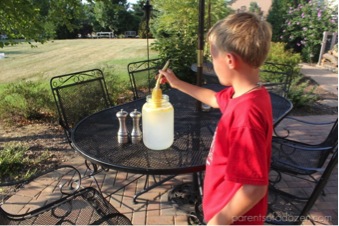 I know some folks melt butter in a large-ish can or quart jar and just dip their ears, but we've found that creates a drippy mess. The pastry brush seems a neater and more efficient choice.
Finally, let's talk about holding those hot juicy ears. At our house we've done everything from jab forks into the cob ends to using those little plastic-handled skewers that you poke into the ends of each ear. What we've found is that after a few uses, the less expensive holders lose the pokey parts-these tiny pointed rods just break off for some reason. And they needed their own covered storage container for safety's sake.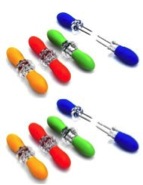 So we went looking for an upgraded version of these necesssary gadgets. We found just the answer to all of the aforementioned dilemmas--Jumbo Corn Holders. Each pack includes four pairs of easy holders in assorted colors. They keep fingers safely away from hot corn with soft grip ergonomic handles. And because the prongs are stainless steel, they don't rust and fall out like our other cheapies did. And I really love how these skewers interlock-two corn holders fit nicely together concealing the prongs-which makes for much safer kitchen storage. I found them for $10.99 on amazon.com.
Now you might be thinking, "Gadgets for eating corn-on-the-cob…seriously? Do we really need this stuff?" OK, you're right, we don't. But hey-in case you want to take this favorite summer treat to a whole new level, these items will get you started.
Sources:
www.americas-table.com
www.amazon.com
www.parentsofadozen.com

Alice Osborne
Weekly Newsletter Contributor since 2006
Email the author! alice@dvo.com