Orchard Buttermilk Doughnuts
Servings: 12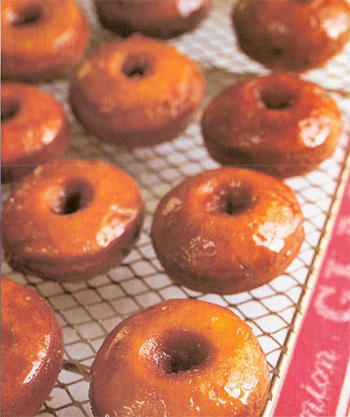 ---
This is from Fried & True When I was testing the recipes for this book, I put these doughnuts out on a plate in my building's foyer so my neighbors could grab them on their way to work (and keep me from eating the whole batch!). Later in the morning, I got phone calls from people saying that these warm, spicy doughnuts had made their day. It's true: They are everything that a doughnut should be. Makes 12 3-inch doughnuts
Calories per serving:
262
Ingredients:
3 1/4 cups

all-purpose

flour
1 cup
sugar
2 teaspoons
baking powder
1 teaspoon
baking soda
1/2 teaspoon

ground

cinnamon
1/2 teaspoon

freshly grated

nutmeg
1/2 teaspoon
salt
2 tablespoons

chilled vegetable

shortening

, plus more for deep frying
3/4 cup
buttermilk
2

large

eggs

, beaten
1 teaspoon
vanilla extract
APPLE CIDER GLAZE:
1 1/2 cups
confectioners' sugar
1/4 cup

apple juice

, heated to boiling
Directions:
1. In a medium bowl, combine 1 1/2 cups of the flour, the sugar, baking powder, baking soda, cinnamon, nutmeg, and salt. Add the 2 tablespoons shortening. Using a hand-held electric mixer at medium speed, mix until the shortening is cut into very fine crumbs, about 2 minutes.
2. In a medium bowl, combine the buttermilk, eggs, and vanilla. Beat until smooth and stir into the flour mixture. Gradually stir in the remaining 1 3/4 cups flour to make a soft dough. On a lightly floured surface, gently knead the dough just until smooth, about 1 minute.
3. Line a baking sheet with waxed paper. Place a large wire cake rack over a jelly roll pan. In a deep Dutch oven, melt vegetable shortening over high heat to a depth of 2 to 3 inches and heat it to 375 F.
4. On a lightly floured work surface, pat the dough out into a thick rectangle and dust the top with flour. Roll out the dough until 1/2 inch thick. Using a doughnut cutter, cut out the doughnuts. Or, use a 3-inch round biscuit cutter to cut out the doughnuts and a 1 1/4-inch round cutter to cut out the holes. Cut straight down, without twisting the cutter, so the doughnuts will rise properly when deep-fried. Transfer the doughnuts and holes to the waxed paper. Gather up the dough, knead gently, and reroll until all of the doughnuts have been cut out.
5. In batches, slip a metal spatula under one doughnut at a time and lower it into the hot shortening. Deep-fry without crowding, turning once, until golden brown, 3 to 4 minutes. Using a wire-mesh skimmer, transfer to the wire racks to drain. When all of the doughnuts have been fried, fry the doughnut holes until golden brown, about 2 minutes. Let them cool completely.
6. TO MAKE THE GLAZE: In a small bowl, whisk the confectioners' sugar and boiling cider together. Holding them by the edges, briefly dip the doughnuts into the glaze, letting the excess drip back into the bowl. Place the doughnuts, iced sides up, on a wire cake rack to set the icing. The doughnuts are best served the day they are made.

Recipe formatted with the Cook'n Recipe Software from DVO Enterprises.
---