NOTES FROM FOLKS
---

Liven Up Lunch!

---
What can I do to liven up my child's (and spouses) Lunch?
---
Choose fruits that are easy to eat and not messy. Be sure to peel fruits that need it, and cut them into finger-size pieces for younger children.
Write a riddle on the peel of a banana or orange or draw a cartoon picture with words of endearment or encouragement to brighten up the day.
Vary the bread offerings from plain sliced bread to raisin bread, pita pockets, dinner rolls, flour tortillas, or mini-bagels.
Rice cakes are a fun addition. Pack tuna salad, peanut butter or cheese spread in a separate container to be spooned on at lunchtime so the cakes don't get soggy.
If your child/spouse likes cold pizza, send it along for lunch! Pizza is actually not a bad choice.
A thermos of hot soup is perfect for cold days, along with crackers.
Cut sandwiches into diamonds, triangles, rectangles, or other fun shapes. Kids and spouses seem to think they taste better this way!
Make your own trail mix at home using their favorite cereal, raisins, nuts, and mini-pretzels. Toss in a few fruit gummies or M&M's (my favorite) as a surprise.
Send along naturally-sweetened fruit cocktail in a container to mix with yogurt.
Mix cream cheese with raisins and a dash of honey to spread on graham crackers.
It doesn't have to be a sandwich. Pack string cheese and ham sticks with a honey mustard sauce for dipping.
Mix shredded carrots with raisins, unflavored yogurt and a bit of honey for a crunchy salad.
Make fruit kabobs of cubes of favorite fruits using thin strips of celery for skewers.
An old favorite is Ants on a Log. Fill celery sticks with cream cheese, sprinkle with grated carrot, and push in raisins for ants.
Bean dip and baked tortilla chips make a fun side.
Cut veggies into fingerfood-size, and accompany with seasoned cream cheese for dipping.
Popcorn is always a welcome treat, and the low-fat microwave versions make it easy to pop up quickly to send along. Be sure to put it in a sealed baggie to retain freshness.
---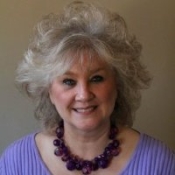 Barbara Williams
"Dan's Right Hand"
Creative DVO Employee since 2007