Tomato Time!



---

À la Caprese

---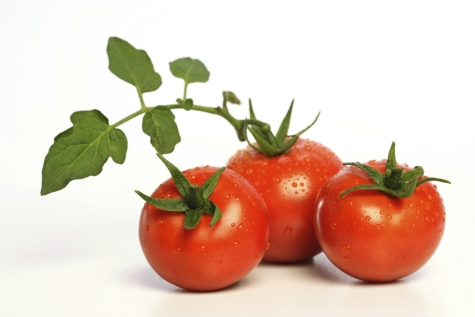 Tomatoes are at their seasonal peak right now. And hallelujah! We've suffered for months consuming insipid red orbs that barely passed as tomatoes. But the suffering is over, at least for awhile.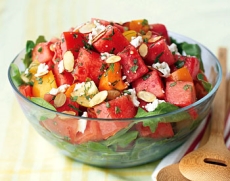 I've gotten bolder over the years and have been testing fresh tomato reccipes outside the typical tossed salad. For instance, at a restaurant I like, Meditrina, I tried a salad made with various colored cherry tomato halves and watermelon cubes. This surprising combination of juicy, sweet and savory is hearty enough to be a main dish (thanks to the addition of mozzarella chunks). It was amazing.
This unusual flavor combination got me to thinking about other ways to use tomatoes. That's when I stepped into the world of an Italian tradition—the Caprese salad. Insalata Caprese is a simple salad, made of sliced fresh mozzarella, tomatoes and basil, seasoned with salt, and olive oil. In Italy, unlike most salads, it is usually served as an antipasto. Sliced tomato, fresh mozzarella, and basil. Who knew this delightful blend could be multiplied into an infinite number of delicious variations?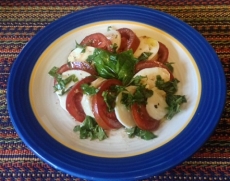 My first try was simple: I fanned sliced tomatoes on a plate and placed rounds of fresh mozzarella in between. I garnished with fresh basil leaves and drizzled garlic-flavored extra virgin olive oil over the entire arrangement. This was served with a variety of whole grain crackers and a fresh fruit salad. Perfect summer meal!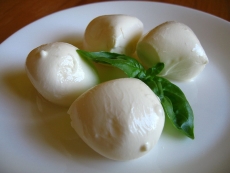 From here I tried combining grape tomatoes with pitted kalamata olives bocconcini. Bocconcini are small balls of mozzarella cheese, about the size of very small eggs. It's made with heavy cream, so this style of mozzarella is extra smooth and really mild. We drizzled balsamic vinegar and extra virgin olive oil over it all and tossed lightly. The garnish was fresh arugula. This was not only scrumptious, but beautiful!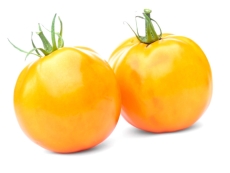 Finally, along came the lovely yellow tomato. I cut them in half, scooped out a little of the insides of each half, and filled them with goat cheese. You can make nice round scoops of cheese easily by using a small oiled ice cream disher. Then I criss-crossed each tomato-cheese dish with fresh pesto drizzle. The garnish for each tomato half was a few leaves of fresh basil. Oh my-this was amazing.
We know fresh tomato season never lasts long enough, so try these ideas and others you come up with—it's tomato time!
---
Sources:
www.tsgquickdishing.com
www.epicurious.com
www.whatscookingamerica.net
www.cheese.com
www.mimaggie.com
---


Alice Osborne
Weekly Newsletter Contributer since 2006