All the Things You Can Do with an Ice Cream Cone!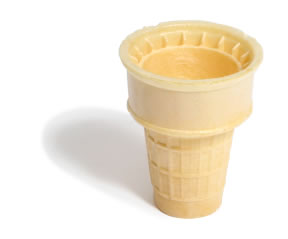 There are so many more things an ice cream cone can hold besides ice cream. And over the years great cooks have come up with some pretty clever ideas! For instance: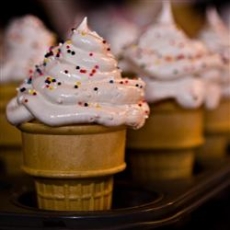 It's not new news that you can bake cake batter in flat-bottomed ice cream cones and turn out the cutest "cupcakes." To do this you just prepare cake mix batter according to directions, or make any standard cake recipe batter (i.e. white, chocolate, etc.). Then place flat-bottomed ice cream cones in the cups of a regular muffin pan. Pour enough batter into each cone to fill from 1/2 to 2/3 full. Bake at time and temperature as recommended for cupcakes. After they have cooled, frost with your favorite canned or home-prepared frosting recipe. Decorating with sprinkles or other decorations of your choice tops it all off.
But there are other uses as well. For instance:
I've used conical and flat bottomed cones to hold a variety of candies on a buffet dessert table.
Speaking of buffet dessert tables, I also use ice cream cones to hold donut holes—various flavors piled high in cones really look inviting. I got the idea when I saw this display of paper cones holding various treats. I thought, "Hey, why not real cones holding donut holes?"
They make great cups for holding fresh fruits such as grapes, berries, and peeled mandarin orange sections (think Cuties). This is my sneaky way of getting kids to eat their fruit.
And a very unique idea I tried (keep an open mind for this): I filled them with guacamole so folks at our barbecue could have their own serving. The cones aren't meant to be part of the experience—they're just a cute way to provide portable individual servings.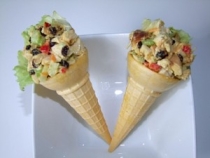 Now here's an idea I found in a localhealth newsletter, Be Well (provided by EMI Health): flat-bottomed or conical ice cream cones make the perfect containers for chicken salad! Who knew? The author of the article says you can use any recipe and the one she experimented with is the typical chicken salad calling for diced or shredded chicken breast, halved grapes, diced celery, and mayonnaise.
I'm sure we're not done with this concept. Are there other things YOU use ice cream cones for? If so, let me know. I'd love to keep going with this idea and share your creativity!
---
Sources:
www.allrecipes.com
www.justfindit4u.com
www.maisondecor8.blogspot.com
www.ebay.com
www.wallpapersad.com
---


Alice Osborne
Weekly Newsletter Contributer since 2006