Did you know that the world was first introduced to Kool-Aid in 1927? For more than 85 years we've had the pleasure of drinking this tasty treat. Growing up we would have Kool-Aid quite often and now that I've grown up I still drink it. I was sitting on my couch one afternoon, drinking a glass of Kool-Aid when I began to wonder what you could do with it. I had heard that you could dye hair with it, I've had friends who've made colorful, flavorful ice cubes with it, but what else can you do? My curiosity got the best of me and I found a handful of fun, creative things to do with Kool-Aid.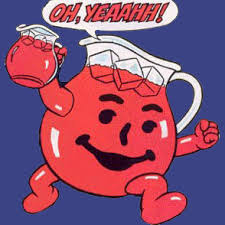 Use Kool-Aid to Dye Easter eggs
Want to make some bright colored Easter eggs but don't know what to do? Why not use Kool-Aid. Pour 1 envelope of whatever color you'd like into a 10-12 oz container. Add 2/3 cup water to each color and stir until dissolved. Then place your eggs in the dye until they reach the desired color.
Kool-Aid Makes Great Paint
Are you out of watercolors but really want to paint? Fear not! Grab some cups, paint brushes a tablespoon of water and the Kool-Aid flavors of your choice. Pour the mixes into the cups, add the water and stir. Now you can paint all you want! The colors are bright and if you have small children this is a great art project you can do together!
Homemade Lip Gloss
To make fruity, fun, homemade lip gloss melt a little bit of petroleum jelly in the microwave. Then add any color of Kool-Aid to the jelly (add enough to make the desired color), mix in a little sugar and place back in the microwave for five or six seconds to soften the mixture a bit.
Remove Chlorine From Your Hair
Has your hair turned green from being in the pool too long? No problem. Take a small amount of lemonade flavored Kool-Aid and a dab of shampoo and lather your hair. Let the mixture stand on your hair for fifteen minutes and then rinse. Try not to get it in your eyes because it will sting.
Use Kool-Aid to Create Delicious Desserts
You can use Kool-Aid to flavor frosting, cupcakes, basically anything. There are a lot of different recipes out there that call for Kool-Aid. Here's a really easy one.
---
Kool-Aid Pie
Serving size:

5


Calories per serving:

168




Ingredients:
1
graham cracker pie crust
8 - 12

ounce

whipped topping

(depending on crust depth)
1 can
sweetened condensed milk
1 packet

of your favorite flavor of Kool-Aid
Directions:
1. Mix the whipped topping, condensed milk and Kool-Aid in bowl.
2. Pour filling into crust.
3. Chill until filling is thickened.

Recipe formatted with the Cook'n Recipe Software from DVO Enterprises.
---
These are just a few things you can do with Kool-Aid. Get creative and enjoy this timeless classic.
---
Sources:
http://www.thechocolatemuffintree.com/2011/07/kool-aid-painting.html
http://voices.yahoo.com/10-unusual-uses-kool-aid-brand-soft-drink-powder-314195.html
http://www.kraftrecipes.com/recipes/kool-aid-tie-dye-easter-eggs-143963.aspx
---


Whitney Saupan
Weekly Newsletter Contributer since 2013