The Delicious and Beautiful World of Wraps
Wraps are so popular, and for good reason. For those trying to cut back on calories or minimize grain intake, a tortilla wrap is a great substitute for sandwich bread. They don't get soggy, they're so portable, and they're pretty. That's a big one for me: we eat with our eyes before we ever take a bite.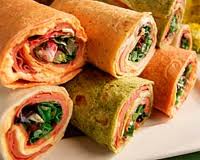 Wraps come open-ended or closed. When I first started making these, I struggled a bit with the wrapping process. After lots of experimentation, I've found a routine that works well every time, no matter what the filling is. If you can relate to the clumsiness of wrapping, you might like this information. This is how I wrap a wrap.
Smear sandwich spread within an inch of the perimeter of the tortilla.
Lay sandwich goodies in a wide swath down the center of the tortilla and to within a couple inches of the left and right edges-kind of a rough rectangle.
To make a closed end wrap, fold both the right and the left edges over the goodies and roll from the bottom. To make an open-ended wrap, fold only one edge.
To serve closed ended wraps, they are prettier if they are cut in two and arranged on a serving platter with cut ends facing out.
OR, you can set them upright as shown in this photo from the Food-n-More website: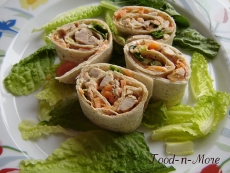 If the tortilla is a little stiff, then it can be hard to wrap and keep closed. So I microwave the tortilla under a paper towel for 15 to 20 seconds. They come out much more pliable. You just have to be careful with time or you'll make them crispy and stiffer.
And don't be shy about crossing culinary borders to make new flavor combinations. The average wrap combines elements of more than one cuisine in every bite. Wrap teriyaki beef in a pita, curried chicken in a tortilla, or tuna salad in naan. Anything goes.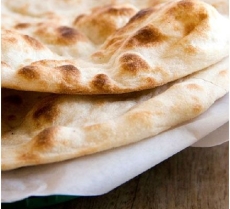 The most common and widely available flatbread to use for the wrapper is a tortilla. In addition to traditional flour tortillas, try herb, pesto, whole wheat, jalapeño, lemon, spinach, and tomato flavors. Try pita and naan breads, spring roll wrappers, or crêpes.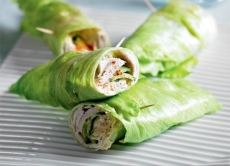 Finally, really think outside the box by looking to butterhead lettuce. It also works nicely for wrapping around fillings because the leaves are large and can fold without breaking. And it's the perfect approach for those that want to include more raw food into their diet!
---
Sources:
www.npr.com
www.einsteinbrothers.com
www.preparedpantry.com
---


Alice Osborne
Weekly Newsletter Contributor since 2006