Let's Get Organized and Throw More Parties!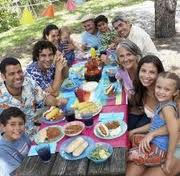 Don't you think we ought to celebrate - throw parties - more? As my children are all going their separate ways, I've come to think it will be the celebrations and parties that keep us connected and help us make memories. Plus, in this very disconnected society that we live in today, it's getting clear (and more and more important) that we assertively take steps to create relationships with neighbors and keep our existing friendships strong - gathering for a celebration or good party is a fun and easy way to do this.
All this said, we know that attending a celebration or party is one thing, throwing the affair is another, in terms of time and effort involved. And the reality is, most of us are spread thinner than a drink of water. So with this reality in mind, I've been hunting for quick and easy (and inexpensive is nice, too) ways to jazz up my party repertoire. The idea is that if it's easy, we'll be more inclined to do it.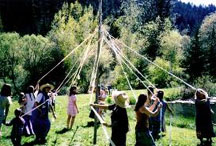 Probably the first place to start is to create a notebook for the purpose, and organize it into sections. And I bet you seasoned party-throwers out there would suggest that a key section would be THEMES? (Why not a "May Day Party" complete with a dance around a Maypole, or a "Harvest Celebration" that includes a meal made from the fresh fruits and veggies available now, or an "Honoring Friends Gathering" that's focused on toasting the many wonderful things our friends have contributed to our lives this past year? The ideas go on...)
Perhaps another section would be DECORATING IDEAS, and then we'd definitely need a FAVORITE RECIPES section (that complimented the themes). Another good section to our customized party-planner would be RESOURCES (addresses, phone numbers, and products of any business we might frequent for our party purposes). And being the organizer that I am, I would also add an ASSESSMENT section - a place to note the event, purpose of it, who was invited, what went well, what should be done differently next time, new ideas to try, etc.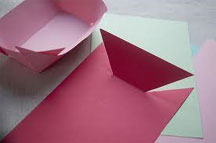 Then once we've made up our mind that more gatherings are going to fill our calendar, we will want to start collecting things we'll need. I've been flipping through magazines (Martha Stewart's Living is good for this) and clipping pictures, recipes, and so on, then tucking into my party notebook for future reference. I'm also acquiring items I find on sale that would contribute to my goal - pretty paper goods, strings of lights, cutlery holders, a couple large ice and drink tubs, nice baskets - you get the idea. Finally, I've set up a "Party Center" in my pantry to efficiently house all my party gear - remember, if we make it easy on ourselves, we're more inclined to do it.
The Internet also has lots of great party related information, tips, ideas, recipes, and so on. We're holding a Mexican Fiesta to celebrate our daughter's engagement and upcoming wedding in Cancun next year, so the Internet is where I've been looking for some cute decorating ideas. Lo and behold, did I find the best idea for little cardstock nacho baskets! Visualize individual nacho baskets in colors that match the theme - won't that be pretty - and what an easy and inexpensive way to add ambience and pizzazz to the affair.
Here is the pattern I'll be using (found on www.rubberstamping.about.com) - you may find it useful for some of your gatherings. So let's get organized, let's start connecting, and let's celebrate more. And let the party begin!