Make Yummy Fish Cakes!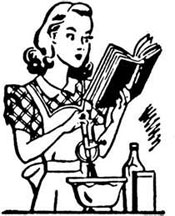 I love a good crab or salmon cake. But to be honest, I've never even tried making one. So, here is the deal: I'll try one of these recipes, if you will. Reviews on both have been great, so I figure we have nothing to lose - and a new "keeper" recipe to gain!
Let me know what you think. Fortunately, this salmon cake is good for you because it is a healthy fish. This means that it is an appropriate recipe for diabetics, has low saturated fat content, is heart healthy, and high in calcium and fiber. I'm ready to put on my apron!
---
Salmon Cakes With Creamy Dill Sauce
4 servings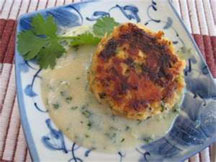 3 teaspoons extra-virgin olive oil, divided
1 small onion, finely chopped
1 stalk celery, finely diced
2 tablespoons chopped fresh parsley
15 ounces canned salmon, drained, or 1 1/2 cups cooked salmon
1 large egg, lightly beaten
1 1/2 teaspoons Dijon mustard
1 3/4 cups fresh whole-wheat breadcrumbs, (see Tip)
1/2 teaspoon freshly ground pepper
Creamy Dill Sauce, (recipe follows)
1 lemon, cut into wedges
1. Preheat oven to 450 degrees F. Coat a baking sheet with cooking spray.
2. Heat 1 1/2 teaspoons oil in a large nonstick skillet over medium-high heat. Add onion and celery; cook, stirring, until softened, about 3 minutes. Stir in parsley; remove from the heat.
3. Place salmon in a medium bowl. Flake apart with a fork; remove any bones and skin. Add egg and mustard; mix well. Add the onion mixture, breadcrumbs and pepper; mix well. Shape the mixture into 8 patties, about 2 1/2 inches wide.
4. Heat remaining 1 1/2 teaspoons oil in the pan over medium heat. Add 4 patties and cook until the undersides are golden, 2 to 3 minutes. Using a wide spatula, turn them over onto the prepared baking sheet. Repeat with the remaining patties.
5. Bake the salmon cakes until golden on top and heated through, 15 to 20 minutes. Meanwhile, prepare Creamy Dill Sauce. Serve salmon cakes with sauce and lemon wedges.
Tips & Notes
Make Ahead Tip: Prepare through Step 3. Cover and refrigerate for up to 8 hours.
Tip: To make fresh breadcrumbs: Trim crusts from firm sandwich bread. Tear the bread into pieces and process in a food processor until coarse crumbs form. One slice makes about 1/3 cup.
Creamy Dill Sauce
Makes 1/2 Cup
(Because you are making this sauce with yogurt instead of all mayonnaise, it is much healthier with less fat!)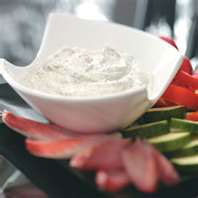 1/4 cup reduced-fat mayonnaise
1/4 cup nonfat plain yogurt
2 scallions, thinly sliced
1 tablespoon lemon juice
1 tablespoon finely chopped fresh dill, or parsley
Freshly ground pepper, to taste
Combine mayonnaise, yogurt, scallions, lemon juice, dill (or parsley) and pepper in a small bowl and mix well.
Tips & Notes
Make Ahead Tip: Cover and refrigerate for up to 2 days.
---
Crab Cakes
By Paula Deen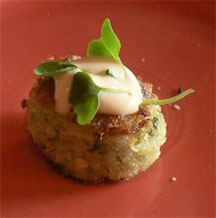 1 pound crabmeat, picked free of shells
1/3 cup crushed crackers (recommended: Ritz)
3 green onions (green and white parts), finely chopped
1/2 cup finely chopped bell pepper
1/4 cup mayonnaise
1 egg
1 teaspoon Worcestershire sauce
1 teaspoon dry mustard
1/2 lemon, juiced
1/4 teaspoon garlic powder
1 teaspoon salt
Dash cayenne pepper
Flour, for dusting
1/2 cup peanut oil
Favorite dipping sauce, for serving
In a large bowl, mix together all ingredients, except for the flour and peanut oil. Shape into patties and dust with flour.
Heat oil in a large skillet over medium heat. When oil is hot, carefully place crab cakes, in batches, in pan and fry until browned, about 4 to 5 minutes. Carefully flip crab cakes and fry on other side until golden brown, about 4 minutes. Serve warm with preferred sauce.